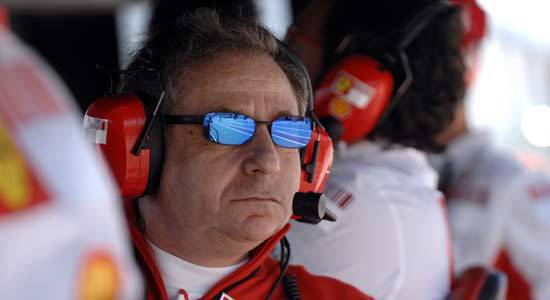 Former Ferrari team principal Jean Todt took over the Fédération Internationale de l'Automobile's (FIA) leadership last week after a landslide victory against rally champion Ari Vatanen for the race to lead motorsports' global governing body.
Todt was endorsed by former FIA president Max Mosley, who stepped down after 16 years in office.
ADVERTISEMENT - CONTINUE READING BELOW ↓
Although anyone who follows F1 knows that Todt served as the Ferrari F1 team's boss during Michael Schumacher's glory days, not much else is known about the portly, diminutive Frenchman. Here are some little known facts about the new FIA president.
1. Todt started his motorsport career not in F1 but in rally, serving as a co-driver to college classmate Jean-Claude Lefebvre. They entered Todt's father's Mini Cooper S while still in school.
2. By 1969, Todt was already competing in international rallying, but still as a co-driver. In 1970, he won the Tour de France Automobile as co-driver for Jean-Pierre Beltoise and Patrick Depailler. His first major victory came a year later as he, together with driver Jean-Pierre Nicolas, won the 1971 Rally de Portugal in a BMW 2002 TI.
3. Todt has served as co-driver for some of rally driving's great names in the 1970s like "left-foot braking inventor" Rauno Aaltonen, Ove Andersson, Achim Warmbold, and Hannu Mikkola.
ADVERTISEMENT - CONTINUE READING BELOW ↓
Recommended Videos
4. Todt's most successful stint in rallying came in 1981 as co-driver for fellow Frenchman Guy Fréquelin in a Talbot Sunbeam Lotus. Although Fréquelin lost the World Rally Championship (WRC) driver's title to Todt's future rival for the FIA presidency, Ari Vatanen, Talbot did win the WRC manufacturer's title. As successful as this season was for Todt, he chose to retire from competitive racing once the season wrapped up.
5. Todt didn't stay away from motorsport for too long though as he was soon tapped by French carmaker Peugeot to set up the new competition department for PSA Peugeot-Citroen which then became known as Peugeot Talbot Sport.
Click "next" for more Jean Todt trivia.
6. As Peugeot's motorsport boss, Todt nixed the Talbot F1 program and concentrated on making Peugeot a WRC champion with the Peugeot 205 T16. Under Todt's helm, Peugeot dominated the WRC in 1985 and 1986, capturing 16 wins and two manufacturer's titles. Todt's hands in Peugeot's WRC success earned him the title of Chevalier de la Legion d'Honneur, the French equivalent of a knighthood.
ADVERTISEMENT - CONTINUE READING BELOW ↓
7. In 1987, Todt had Peugeot switch from the WRC to rally raids after the FIA cancelled the Group B section which the 205 was a part of. Despite the switch, Peugeot won four Paris-to-Dakar rallies from 1987 to 1990 with the 205 and its successor, the 405. Peugeot also won the fabled Pikes Peak hillclimb race in 1988 and 1989 using the 205 and 405 respectively.
8. After his success in rally racing both as a co-driver and as a manager, Todt set for himself a new challenge: to win the World Sportscar Championship and the Le Mans 24 Hours for Peugeot. After just two years developing the Peugeot 905, Peugeot won the 1992 World Sportscar Championship and the 1992 24 Hours of Le Mans endurance race, earning for him the rank of Officier de la Legion d'Honneur. After the Peugeot 905 scored a 1-2-3 win at the 1993 24 Hours of Le Mans, Todt became a national hero.
ADVERTISEMENT - CONTINUE READING BELOW ↓
9. After Todt's success in rally racing and the 24 Hours of Le Mans, there was only one motorsport discipline missing from his string of victories--Formula One. The big bosses at Peugeot, however, dismissed his proposal to take the French car maker into F1 as a works team. So when Ferrari president Luca di Montezemolo offered Todt the chance to run Ferrari's F1 team, Todt took it in July 1993 and never looked back. The rest, as they say, is history. As a side note, after Schumacher retired in 2006 and a year before Todt stepped down as Scuderia Ferrari's team principal, Todt was honored as Grand Officier de la Legion d'Honneur, France's second highest honor.
10. Todt has close ties to Malaysia owing to his engagement to Malaysian actress and one-time Bond girl Michelle Yeoh despite their 16-year age difference. Such is Todt's closeness to Malaysia that he was given the official Malaysian royal title of Datuk, the Malaysian equivalent of a British knighthood, by the Sultan of Terengganu, the constitutional head of Malaysia's Terengganu state in July 2006. In April 2009, Todt signed up for the Malaysia My Second Home Program which allows foreigners who fulfill certain criteria to stay in Malaysia for as long as possible on a multiple-entry social visit pass. Todt was also Tourism Malaysia's Ambassador in May 2009.
ADVERTISEMENT - CONTINUE READING BELOW ↓
And here's a little bonus trivia: Todt and Schumacher appeared cameo in the 2008 French film Asterix at the Olympics! Check out the clip below.