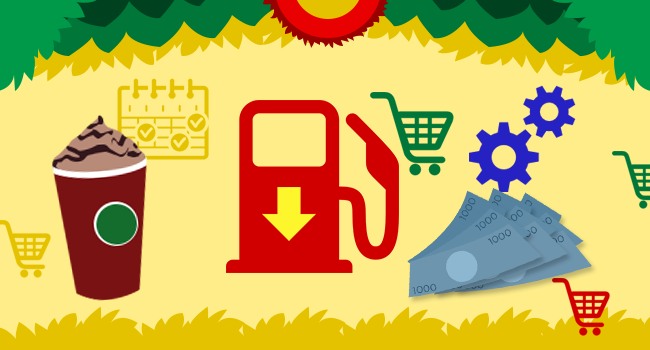 There's a good chance you're reading this on your smartphone while your vehicle isn't moving. You have lots of time in your car, because it seems as if gridlock in Metro Manila has deteriorated from downright terrible to the Ninth Circle of Hell. Nothing is moving, and your sanity hangs by a thread as you vent your frustrations on social media.
But even in the midst of despair, even while it feels as if life is being sucked out of you, there are things to be thankful for, both big and small. Because while we can't do anything about urban traffic in the meantime, we can do something about how we address this stressful situation.
Here are some things to be grateful for even while Metro Manila streets turn into a huge parking lot. We hope they help.
1. Starbucks Christmas coffee flavors - Every holiday season, Starbucks releases special Christmas beverages to celebrate the Yuletide spirit. Sometimes we can be a little sleepy behind the wheel, and it's good to know we can get a toffee nut latte, peppermint mocha or Christmas cookie latte to keep our energy up during the long drive home. No, Starbucks didn't give us free coffee to say that.
Continue reading below ↓
Recommended Videos
2. Thirteenth-month pay - Strictly speaking, it's not a bonus but an extra month's salary mandated by law. But it's still cool that you can now buy that new head unit or set of wheels you've been eyeing.
3. Holiday cheer - Even with all the Yuletide-related stress, people are still generally happier. Yes, there might be a twinkle of pamasko in the eye of the traffic enforcer that apprehends you, but at least he's still cheerful. Cynicism aside, we Filipinos have the best Christmas in the world, and it's because of our attitude during the holiday season.
4. Christmas carols - Music has always been the salve that eases the burden of our daily commute. With Christmas tunes being played again on the radio, tapping your fingers on the steering wheel to 'Someday At Christmas' will elicit some needed positive energy.
5. Extended mall hours - With most malls open until 11pm (or even midnight), there's no need to rush out of the office for Christmas shopping. You can even watch a movie to kill time, and enjoy good flicks before the Metro Manila Film Fest arrives in theaters.
6. Seeing friends and family - It's the season of parties and reunions. There's a chance one of your destinations while plodding through traffic is a gathering to see loved ones and friends. Reconnecting is a good motivation to be patient and not let gridlock dampen our mood.
7. Lower fuel prices - Oil prices started to fall in June, and this resulted in price cuts that kept coming. Now our gasoline prices are the lowest in recent memory. That's good news in any situation.
8. Napoles, Estrada and Revilla are locked up - Yes, they still have the alleged millions they stole, but they're detained and we bet they will give anything to be where we are--outside and driving our own cars. Few things are worse than being locked up. Imagine being inside your house 24/7 and only being allowed out by court order. Enjoy your freedom, guys. And let's hope crooks who steal from us will rot in don't-pick-up-the-soap jail.
9. Christmas automotive promos - Carmakers are offering special low-down-payment packages this month, hoping to convince those considering a new car to visit showrooms. Others are giving away gadgets and raffling off a car. It's the best time to be in the market for a new ride.
10. Holiday vacation - Between December 24 and January 4, most companies have only one working day, and that is December 29 (so remember to plan your banking needs ahead). That means a lot of opportunities to rest and recover from the yearlong stress. Just get past Christmas Day, and the worst of traffic nightmares will be over. Just remember, think positive!