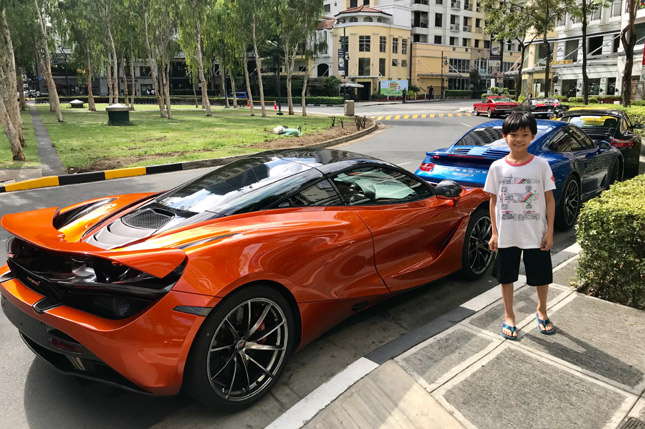 We had some house guests visiting from California over the Easter holiday. August, the 10-year-old, had just one request: He wanted to see some exotic supercars.
I thought I would take him to some showrooms, but realized it was like spotting creatures in a contained space like a zoo or an aquarium. It's so much more exciting to go on safari and see animals in the wild, or to go on a dive trip and spot sharks and mantas in the deep blue.
Fortunately, I remembered a nearby neighbor had a whole fleet of fancy black cars (well to me, they were fancy) parked in front of his home. As we walked over, I told August, "Maybe, if you call out a name, it will come."
Continue reading below ↓
Recommended Videos
"Ferrari!" said August. Just then, a sports car sped past the intersection a block away.
"Whoa! That was a 2009 Ferrari 458 Spider*, " he shouted. "You're right! I should call out more names."
When we got to the neighbor's, we saw a Mercedes-Benz SUV, two classic Porsches and a Jaguar, but they weren't supercars. Only one, a 2004 Ferrari 612 Scaglietti, made the cut, I was informed by a somewhat disappointed little man.
"Thank you for trying though," he said. "I appreciate it."
It was desperate times so I had to resort to desperate measures: Crowdsourcing on Facebook.
"My 10-year-old house guest loves spotting exotic cars," I wrote. "What time and where can we find them on Sundays? (Fingers crossed they'll be around on Easter Sunday.)"
The responses came immediately. Interestingly enough, the first replies were from women.
"I have seen them around Burgos Circle on Sunday mornings," wrote Beverly Tiu.
"Early for breakfast at Burgos Circle," said Corito Lim. "About 9am."
Anya Katigbak Cajucom even attached a map. "8 Forbes Town Center. The one where there's Starbucks and J. CO Donuts. Right in front of the rows of restaurants. Bondi and Burke, etc," she said.
And so at 8:30am on Easter Sunday we headed to Forbes Town. While other kids his age were hunting for fancy Easter eggs, we were out to track fancy cars.
"I must warn you, it's Easter Sunday," I told August. "Many rich people are out of town."
As we drove down Forbes Town Road, my eyes darted from side to side. Nothing out of the ordinary. Finally, as we neared the end of the road, we spotted three cars parked in front. "There! Over there!" I pointed.
Sure enough, there were three cars parked in front of the donut shop. What a relief. Thankfully, three car owners had not gone out of town, and we would not go home too disappointed.
Then the road opened up to Burgos Circle.
Jackpot. The golden eggs. Exotic cars in bright colors were parked around the loop and then some.
"My head is exploding! I'm overwhelmed with joy!" yelled August, his eyes as large as Easter eggs.
We spent the next hour walking the circle, as August excitedly introduced us to various supercars, with details such as make, model, fastest speed, and horsepower. I must say it was intriguing.
After lunch, August declined to join an Easter Egg Hunt and decided to read more about cars at the library. The next day, we drove off to Tagaytay .
"Will we see any more exotic cars?" asked August, as we loaded up on gas at a filling station.
"The drivers are probably all back at work," I told him. "But we're going to see a volcano! Is that cool enough?"
The words were hardly out of my mouth when an Aston Martin Vanquish S pulled up right behind us at the Petron station.
We didn't see any more prancing horses (Ferrari) or galloping ponies (Mustangs). We did see a prancing horse cloud on top of the volcano though.
August's dream car? A Mercedes-AMG Project One—a concept car with a Formula 1 engine.
Here's a list August made of some of the cars he spotted in the Philippines:
*McLaren 720s
*Lamborghini Huracan LP 610-4
*Porsche 911 Turbo S
*Porsche 911 GT3 RS
*Ford GT (2006)
*Nissan GT-R
*Porsche Cayman S
*Porsche Boxster S
*Ferrari 458 Spider
*Ferrari California T
*Ferrari 430 Scuderia
*BMW M3 (2008)
*BMW 1 Series M
*Porsche 356
*Chevy Camaro SS
*Ford Mustang GT (1968)
*Ford Mustang GT (2015)
*Ferrari 612 Scaglietti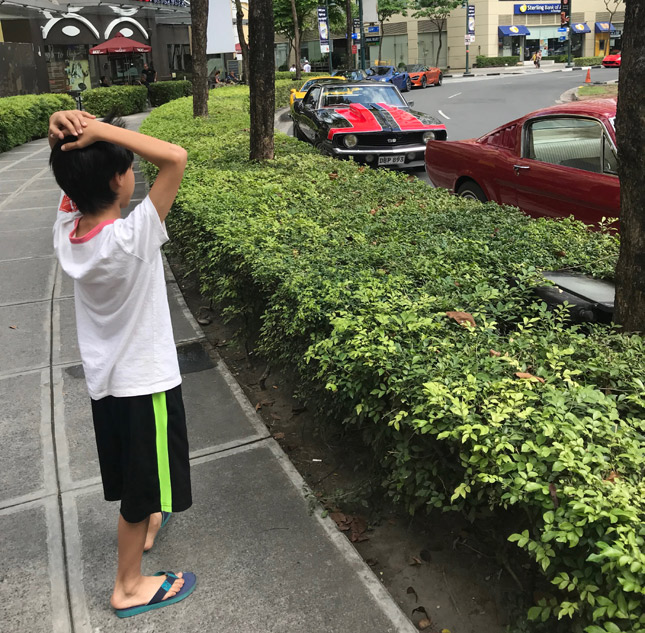 *NOTE: The 458 Spider was actually revealed in 2011, but we're still mighty impressed with August's stock knowledge. Give us a ring after you finish college, kid.