20) Split/Second: Velocity (2010)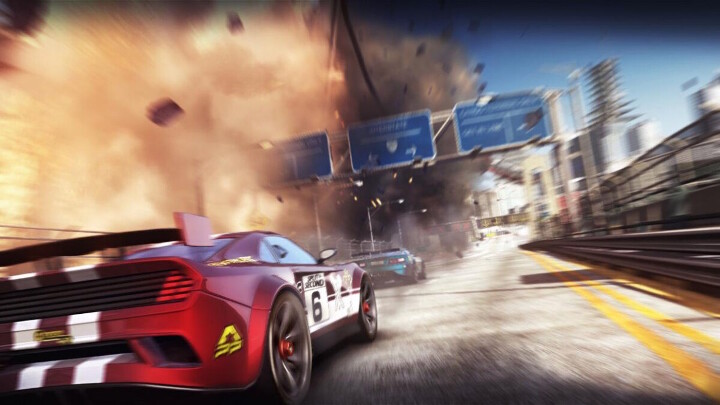 Split/Second's formula for great television is much the same as Top Gear's: fast cars and explosions. The game's futuristic reality-TV-show conceit was an excuse for the inclusion of 'Power Plays,' which allowed you to detonate the scenery in the middle of the race and drop it on top of your opponents. We're not just talking about the odd red barrel, either; you could destroy an entire hydroelectric dam for the sole purpose of obliterating your rivals and winning the 'episode.' Certainly makes a refreshing change from watching people eat kangaroo unmentionables.
Continue reading below ↓
Recommended Videos
19) RaceRoom Racing Experience (2013)
This free-to-play PC sim got off to an inauspicious start, not least because of its boring name. R3E, as it's known, was always fundamentally brilliant to drive, though, and in the last six years, the game has built up a vast and often unique selection of cars and circuits. We have a particular soft spot for the period-accurate 1992 DTM field, which, in real life, featured racing so good that even ex-F1 champ Keke Rosberg sacked off competing at Le Mans in favor of it. Still well worth a look even today.
18) Driver: San Francisco (2011)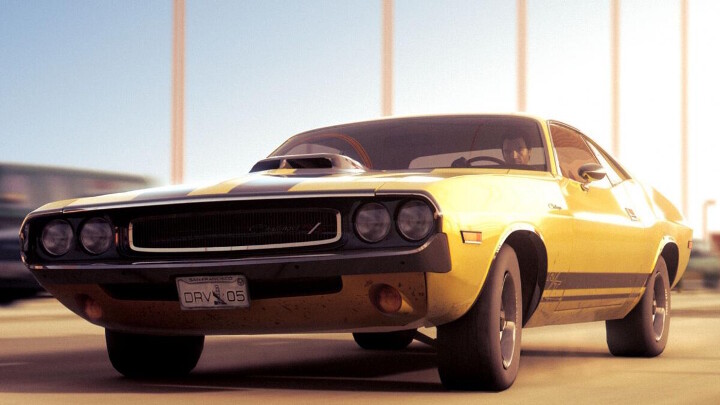 Adding a storyline to a driving game is always risky business. Usually, it turns out to be soap-opera schlock. Driver: San Francisco, on the other hand, was just plain weird. Your character suffers a car accident at the very beginning and spends the rest of the game in a coma—something you'd have thought would put a severe crimp on his career as a wheelman.
Quite the opposite as the entire game takes place inside his head and he becomes a sort of vehicular poltergeist who can possess literally any driver in the entirety of San Francisco. We already told you—plain weird.
17) Euro Truck Simulator 2 (2012)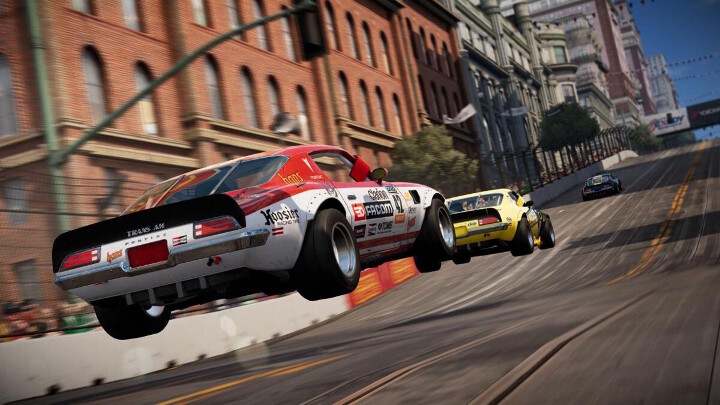 Certainly slower-paced than the majority of the entries on this list, Euro Truck Simulator 2 is not really about scything through traffic at speed. Instead, it's all about the understated joy of spending multiple hours in the cab of a Scania, trying not to fall asleep at the wheel and jackknife your load across three lanes.
There's a sort of hypnotic beauty to watching the rolling countryside evolve as you gradually cross the continent, and a surprisingly involved management element means you're not just racking up the miles and empty cans of service-station energy drinks, but also building a mini haulage empire. Far more fun than it sounds, which we'll admit is a fairly low bar to clear.
16) Grid (2019)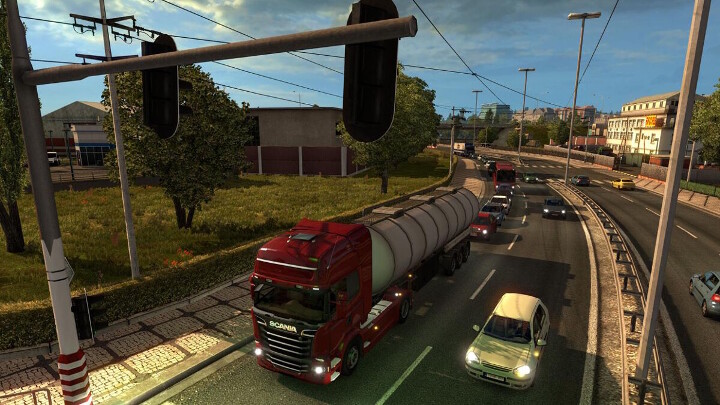 This recent reboot of the BAFTA-winning racing series managed to rebottle a lot of the magic that made us fall in love with the original. It's mainly the AI opponents, who offer up thrilling, door-handle-banging scraps and make convincing errors in the heat of battle.
If you really tick them off with repeated collisions, a new 'nemesis' system ensures they drop all pretense of professionalism and spend the rest of the race trying to run you off the road to the detriment of both yours and their race. We've heard enough Formula 1 drivers screaming expletives down the radio to know that, in that regard at least, this unashamedly arcade racer is as realistic as any sim.
15) Mudrunner: A Spintires Game (2017)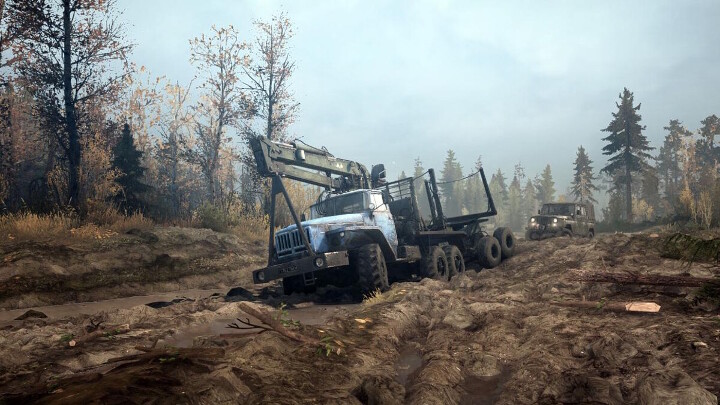 In some driving games, the greatest challenge is the intimidating 21km-long, 150-or-so corner Nürburgring Nordschleife, famed for its complexity and unforgiving nature. In Mudrunner, it might be a particularly large puddle.
This off-roading title is all about getting stuck in a muddy bog, then attempting to extricate yourself using a combination of low-range gearing, measured inputs, and a spot of tactical winching. It can take 20 minutes to cover the same distance you would clear in a tenth of a second in a racing game, but there's something enormously satisfying about dragging an enormous truck out of a seemingly inescapable mire.
In the interests of balance, there's also something enormously frustrating about realizing you've become irretrievably stuck and that your vehicle will remain fossilized there until you admit defeat and restart the mission.
14) The Crew (2014)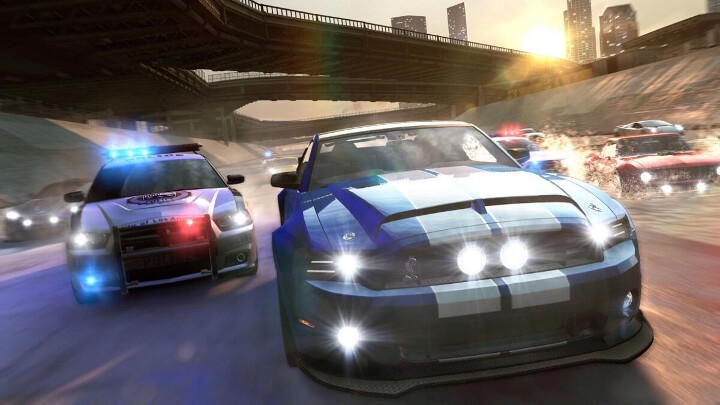 We like an ambitious game here at Top Gear, and they don't come much more ambitious than attempting to cram the continental United States into your open-world racing game. That's precisely what The Crew did with its scaled down, coast-to-coast highlight reel of North America. What's more, it was a playground that was shared with other players, offering the chance to embark on transcontinental road trips with your mates.
A nonsensical storyline, a grind-heavy progression system, and a main character that looked like a geography teacher did their best to spoil your adventure, but the game shepherded you across the US in such a way that it felt like a proper Kerouacian voyage of discovery. Much cheaper on fuel than the real thing, too...
13) rFactor 2 (2013)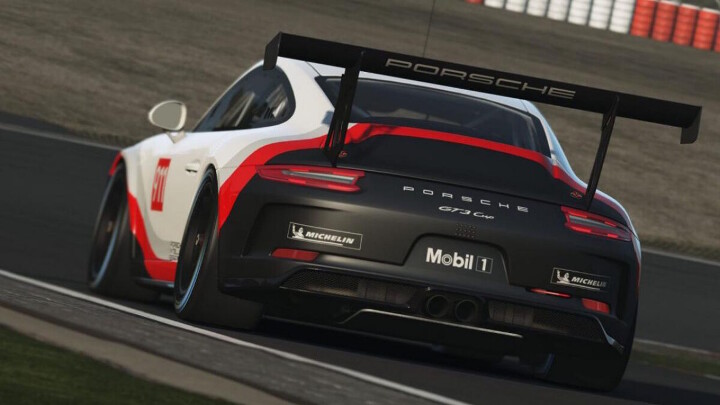 If you're not plugged into the world of hard-core PC simulations, you might never have heard of rFactor 2, but if Einstein had been into motorsport (and made it to the ripe old age of 140), this would be his favorite racing game.
The level of detail in the physics model is far beyond what our primitive monkey brains can comprehend, but on release rFactor 2, was sorely lacking in content compared with other sims. The game's current custodians Studio 397 have spent the last few years remedying that by adding real world stuff as diverse as Formula E's Hong Kong street circuit, an Ayrton Senna-era McLaren racer, and a laser-scanned Le Mans. If you're good enough to be quick in rFactor 2, it's probably time to start ringing round the F1 teams.
12) Driveclub (2014)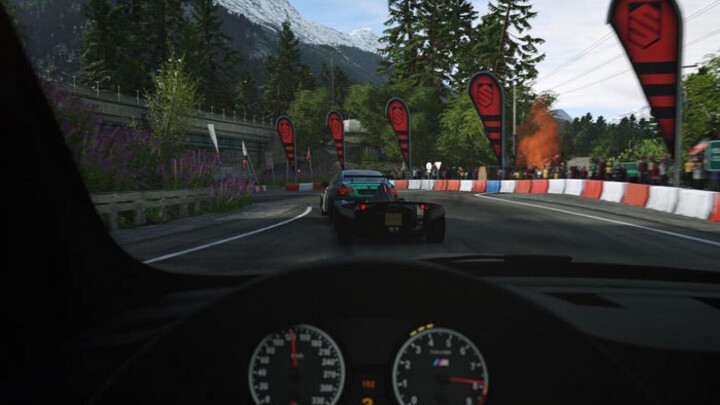 Sony's other PlayStation-exclusive racing franchise in this decade, Driveclub aimed to be a socially connected racer, pitting you against your mates in mid-race mini-challenges. The system was a bit broken at launch, but developer Evolution worked feverishly to improve the game, also adding impressive dynamic weather effects and even motorbikes over the course of the game's lifespan. Apology well and truly accepted.
In 2016, a virtual-reality version gave Driveclub another new lease of life. Be warned, though, that with VR motion sickness being a very real condition, it might also give your lunch a new lease of life if you have a big-enough crash.
11) Project CARS 2 (2017)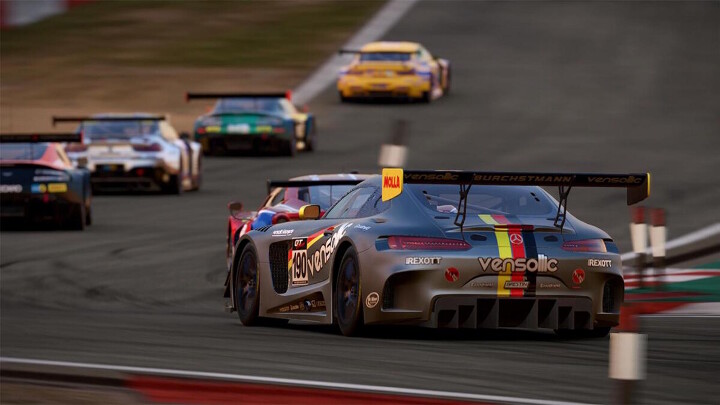 While the first Project CARS was the original 'by the fans, for the fans' racing sim, the sequel smoothed off a lot of the rough edges from that first, ambitious, crowdfunded project. The most notable tweak for the sequel was to that game's occasionally wayward handling model, and while the selection of cars can still be hit or miss, the fundamentals are great. They'd need to be, too, now that you were contesting with surfaces ranging from sun-baked asphalt to a blanket of snow.
Plus, the sequel dollops even more content onto your sim-racing platter, with more cars and circuits than you could reasonably expect to master within a single human lifespan. And that's without the presumably catastrophic health consequences of spending literally all your time playing a videogame.
Stay tuned for part two.
NOTE: This article first appeared on TopGear.com. Minor edits have been made.