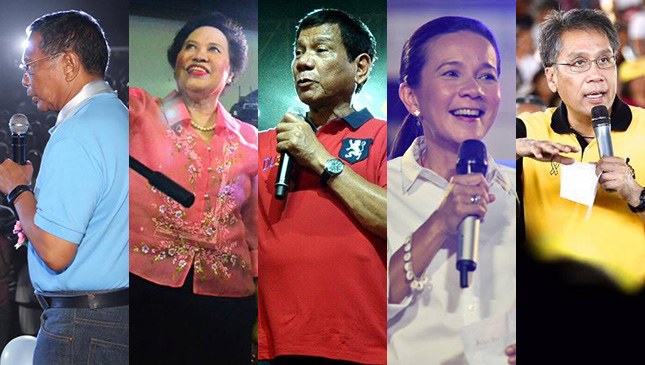 This past week, we sent an e-mail to representatives of the five presidential candidates currently running for office, asking them for the detailed traffic and transport platforms of their candidate. With less than 24 hours until the polls officially open, this report card hopes to showcase side by side our presidentiables' specific plans in addressing the worsening traffic and transport issues of our country, which is costing our country over P876 billion per year, according to the Japan International Cooperation Agency.
Each of the candidate's platforms are provided, graded and assessed based on five main criteria: comprehensiveness of the plans; knowledge of the root causes of the issues; support for mass public transport; feasibility of their proposals; and originality of ideas.
Mass public transport gets its own criterion because anyone who has ever traveled to a first-world country knows that a developed country is where everyone from all walks of life equally takes efficient mass transport systems--be it trains, MRTs, LRTs or subway systems. The grades for each criterion are tallied to arrive at the overall grade of the presidentiable's platform.
The length of the narration of the plans for each candidate is wholly dependent on the exhaustiveness of the platforms sent to us. For those who want to read the full documents submitted, you may download them here.
(EDITOR'S NOTE: The author is the former traffic director of the MMDA. His personal and professional assessment can be found in the grades given and the analysis that comes after.)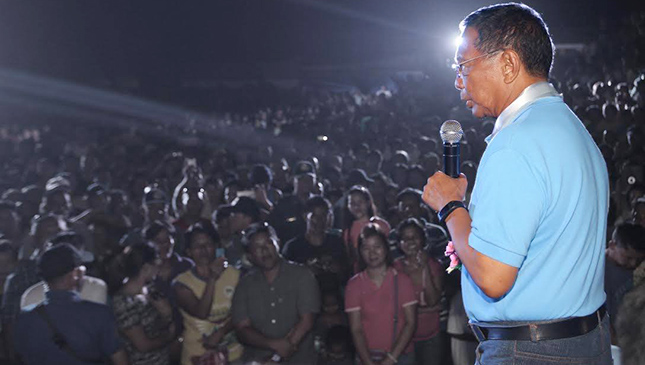 JEJOMAR BINAY
The Vice President's plans start with a promise to ensure that every Filipino can travel safely and quickly to and from their homes. To accomplish this, he starts with the fast-tracking of the completion of the NAIA expressway project Phase 2, accelerating the stalled development of the Clark airport, and the utilization of the Subic and Batangas sea ports. On a more long-term basis, Binay plans to invest in mass transport systems, accelerate the development of the bus rapid transit (BRT) system, award MRT maintenance to an experienced contractor with a good track record, complete the NLEX-SLEX connector and ongoing flood control projects, and recapitalize the Philippine National Railway.
Binay's platform also includes a plan to separate the existing Department of Transportation and Communications into two separate entities: (1) Department of Transportation and (2) Department of Information, Communications and Technology, adding that he will only appoint competent people to these offices. He also wants to implement a comprehensive air, sea and land transportation plan, and supports investing in necessary infrastructure such as the improvement of mass transit network, modernization of road-based public transport, and the upgrading of the main urban roads and expressway network.  He also plans to redevelop NAIA, expand the capacity of ports, harbors, train stations and other airports. Finally, his platform on this subject includes a plan to institute climate change and environment adaptation into government policy.
ADVERTISEMENT - CONTINUE READING BELOW
Grades:
* Comprehensiveness of the plans: A
* Knowledge of the root causes of the issues: B
* Support for mass public transport: A
* Feasibility of the proposals: C
* Originality of ideas: C
Overall grade: B-
Assessment: Vice President Binay gets strong grades on his solid push for mass transport systems. His plans also cover all modes of transportation. Unfortunately, his plans suffer from lack of originality, either because several of them are already being implemented (DOTC has long turned over the C portion to the Office of the President, and the DICT bill has passed both Houses of Congress) or these are simply restatements of ongoing projects started from the past or present administration. He also does not provide any concrete plan on how he intends to fund the projects and proposals brought forth.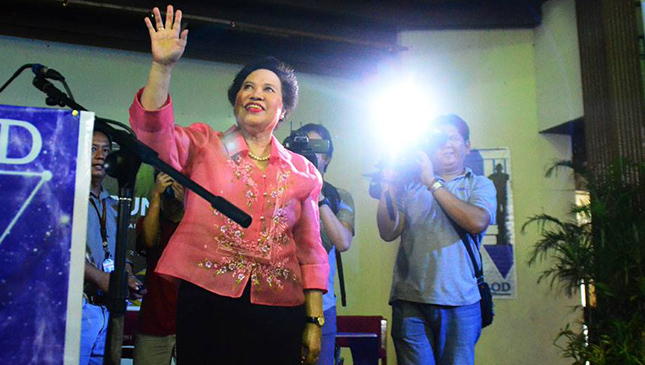 MIRIAM DEFENSOR-SANTIAGO
Senator Santiago's platform starts with an order to review the effectiveness of the number-coding scheme. She also plans to impose--with legislative support--a progressive taxing scheme for the purchase of more than one car per family, as well as seek regulations for car loans. She also plans to require large malls and commercial centers to provide areas for proper bus stops.
The lawmaker also proposes to impose a fixed salary system for drivers in the PUV industry, to discourage the loading and unloading of passengers just about anywhere on the road. She also plans to continue and replicate further the LTFRB's point-to-point bus system.
As for her long-term plans, Santiago is pushing for the development of a new, modern international airport; an entirely new railway system from Manila to Sorsogon; a modern integrated urban transit system in Metro Manila with lines reaching urban communities in Bulacan, Rizal, Cavite and Laguna; a mixed-use government center for each of the Metro Manila LGUs and a main one for NCR; and one major project per province.
As for budget allocation, the senator starts at P819 billion in 2017 for these infrastructure projects, going up to P1.3 trillion by 2022.
Grades:
* Comprehensiveness of the plans: C
* Knowledge of the root causes of the issues: B
* Support for mass public transport: B
* Feasibility of the proposals: B
* Originality of ideas: C
Overall grade: C+
Assessment: Senator Miriam's plans were not very clear as to what the mass transport system improvements for Metro Manila would be. Decongestion of NCR is not thoroughly discussed, as the plans overall could use more detailed and original ideas. She gets high grades for addressing the issue on the alarming increase in private car ownership. She clearly shows how she intends to fund the projects pushed, and this is reflected in her feasibility grade. Her comprehensiveness and originality grades are pulled down by the fact that in her already limited number of proposals, several are already being implemented (fixed wages for bus drivers, P2P bus system, bus stops in major malls).
ADVERTISEMENT - CONTINUE READING BELOW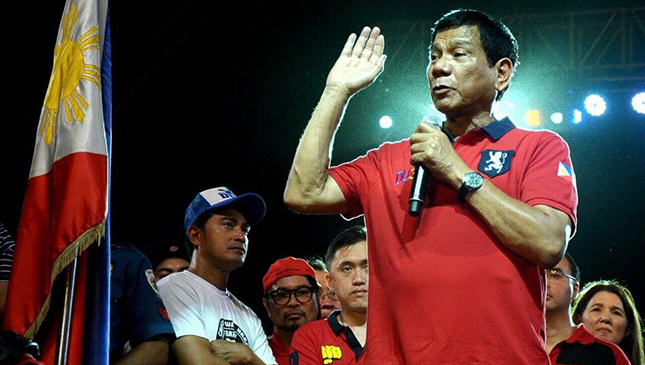 RODRIGO DUTERTE
Davao City Mayor Duterte starts with a promise to decongest Metro Manila by all means. He plans to pursue the implementation of the metro rail projects in Metro Manila, and to construct more skyways, even possibly along EDSA. If necessary, he plans to construct more roads in Metro Manila, even along Pasig River and the creeks that connect to it. Also part of his traffic plans is to ensure that Metro Manila is flood-free.
As for decongestion, Duterte plans to create new communities in neighboring regions to relocate the excess population in Metro Manila. He also plans to establish a National Railway System, which he notes was envisioned hundreds of years ago by our forebears, to connect the various regions of our country.
Duterte's overall platform of government includes a specific heading that states: "Ending Traffic Congestion In The Metropolitan Areas In 2019."
Grades:
* Comprehensiveness of the plans: D
* Knowledge of the root causes of the issues: B
* Support for mass public transport: A
* Feasibility of the proposals: C
* Originality of ideas: B
Overall grade: B-
Assessment: Mayor Duterte's plans contain the fewest details among all the traffic and transport platforms sent to us, but they have some of the most ambitious and original ideas. He gets high grades for the importance he gives to mass transport systems, a national rail network, an EDSA skyway, and a Pasig River highway. His plan includes a token solution to address congestion, one that is shared by the other candidates as well. His feasibility grade is affected by the lack of a budget plan on how to fund the proposals mentioned, while his comprehensive grade is affected by the extreme shortness and lack of details and coverage of his platform on this subject.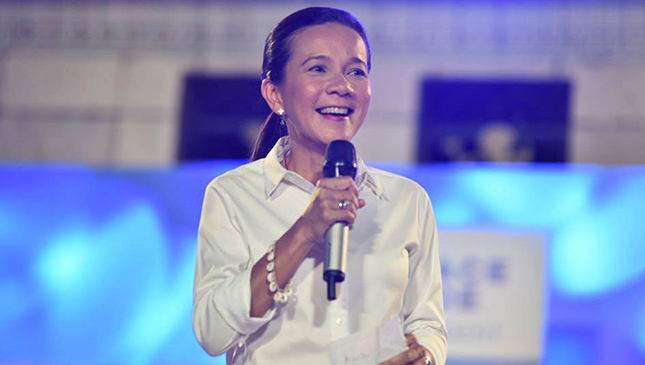 GRACE POE
Senator Poe's traffic platform begin with ensuring that sound, timely infrastructure investments are made, as well as the elimination of bottlenecks in the implementation of infrastructure projects. She plans to increase government's spending on public infrastructure to 7% of the GDP--this to be achieved by increasing the infrastructure budget by around P250 billion a year. Poe also plans to continue to tap the private sector through Public-Private Partnerships (PPPs), while at the same time encouraging foreign investments in infrastructure beyond what is currently allowed. Removing barriers to infrastructure projects includes the full implementation of the Right of Way Act, tasking DPWH and DOTC to assert the dominance of national laws over LGU ordinances, and the passing of the PPP bill.
ADVERTISEMENT - CONTINUE READING BELOW
On mass transportation, Poe's platform revolves around demand-driven management. For road, this includes investing in a Gold Standard Bus Rapid Transit System; building quality and climate-resilient road networks; and increasing the number of integrated transport terminals. For railway, this means the increase in modal share of mass light rail transit in Metro Manila; the expansion of heavy rail coverage throughout the country; and the development of a subway master plan for Mega Manila.
Seaport transport shall be improved by prioritizing the upgrading of port facilities, the building of new ports, and improvements to the RoRo ports. Congestion in Manila ports shall also be reduced by upgrading and encouraging greater use of the ports of Batangas and Subic. For air, Senator Poe plans to purchase world-class navigation equipment and upgrade air traffic controls and runway systems, as well as relocate the international airport with efficient transport service to and from Metro Manila with a one-hour travel time.
The lawmaker's platform includes a section on innovative road-use solutions that include the implementation of a commuter-friendly road use plan along major highways, and the promotion of road-sharing solutions such as high-occupancy vehicles lanes. She also plans to promote non-motorized transport through the provision of bicycle lanes and pedestrian safety facilities. She likewise plans to implement data-driven, intelligent transport systems such as electronic road pricing and road crash information management system, and expand the coverage of smart traffic signaling systems. Like the other candidates, she also intends to do away with the boundary and performance-based system of compensation for PUV drivers. Her plan also states the removal of colorum public utility vehicles.
Her platform features the improvement of governance in traffic and transportation agencies, by ensuring that only competent officials are appointed to said agencies. She also espouses the creation of a Central Traffic Authority in major urban cities; the creation of a Public Transport Development, Safety and Advisory Council; and the amendment of the MMDA charter to improve its traffic and floor-management powers. She is also considering moving government centers outside Metro Manila beginning with offices offering non-frontline services as part of her decongestion efforts.
Grades:
* Comprehensiveness of the plans: A
* Knowledge of the root causes of the issues: A
* Support for mass public transport: B
* Feasibility of the proposals: B
* Originality of ideas: B
Overall grade: A-
Assessment: Poe's platform is the longest and most exhaustive one sent to us, and this reflects in her grade for comprehensiveness. Her plans include a mix of original ideas (Gold Standard BRT), standard ideas (remove colorum PUVs), and shared ideas (move government centers outside Metro Manila). The exhaustiveness of her plans shows the depth of her team's knowledge of the various root causes, but also shows a hint of being a hodgepodge of several ideas thrown in by a team of experts behind her. The feasibility of accomplishing all her plans is also doubtful given the six-year term limit in our Constitution, but her grade here is pulled up by her set budget plan.
ADVERTISEMENT - CONTINUE READING BELOW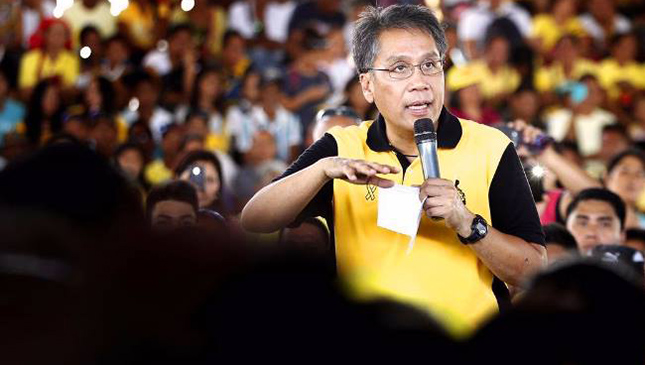 MAR ROXAS
DILG Secretary Roxas's platform includes familiar projects such as the NLEX-SLEX connector; Metro Railway extension; BRT for Cebu; commuter railway connecting Calamba to NCR and another connecting Calamba to Bicol; the improved maintenance of the MRT under its new maintenance provider; and the addition of new coaches for the MRT. In addition, Roxas's platform includes the expansion of the BRT plans to cover other rapidly growing metropolitan areas, as well as a plan to ask Congress for special powers in order to hasten the procurement of vital transport solutions, especially for the MRT.
On decongestion, Roxas's platform includes a plan to develop the countryside by directly supporting local government units and stimulating growth in local economies through the Bottom Up Budgeting Program, which consists of P100-billion development funds for LGUs. He also plans to double the current number of eco-zones, to ensure that people will no longer be forced to move out of their original hometowns and into the cities just to find better employment opportunities. Part of his decongestion plans is a commitment to transfer NAIA to Clark, including the creation of an efficient railway system that will connect the new airport to central hubs.
Roxas plans to centralize all city bus operations into one entity following one route, one schedule, and one management. Bus drivers will get fixed monthly compensation, which will replace the percentage-based computation of their wages, similar to how it is now with the P2P bus service launched last year. He also plans to convert jeepneys into electric vehicles, and buses to compressed natural gas vehicles.
He also advocates the installation of even more CCTV cameras to monitor violations through no-contact apprehension, and he wants to expand said program to other cities. Secretary Roxas's transport platform ends with a commitment to proactively anticipate emerging traffic and urban congestion problems in rapidly urbanizing cities so solutions can be found even before the problems actually rise.
Grades:
* Comprehensiveness of the plans: A
* Knowledge of the root causes of the issues: A
* Support for mass public transport: B
* Feasibility of the proposals: B
* Originality of ideas: C
Overall grade: B+
Assessment: For the most part, Roxas's platform is a continuation of the plans and programs that have already been started during the present administration. Having been head of the DOTC for one year, Roxas has laid down plans that show a deep knowledge of the root causes of the issues involved. His plans for mass transport and discipline are lacking new and original details, merely continuing what the DOTC, the LTFRB and the MMDA have already started. He also did not include a budget plan for his proposals, which affected his feasibility grade.
ADVERTISEMENT - CONTINUE READING BELOW
SPECIAL THANKS: Jay Layug for Jejomar Binay; Arvin Patria for Miriam Defensor-Santiago; Robert Brillante for Rodrigo Duterte; Bud Britanico for Grace Poe; and Mars Veloso for Mar Roxas. These are the representatives who submitted the presidentiables' platforms.
Photos from the presidentiables' official Facebook pages