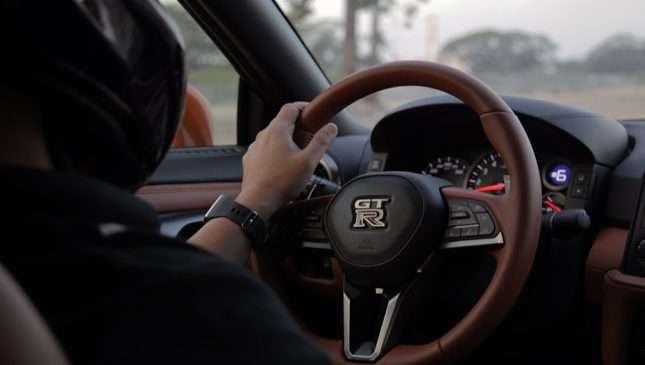 The 2017 Nissan GT-R is as monstrous as its famous nickname implies. It's fast, powerful, and…carries you around like a soft teddy bear. Huh?
Yep, you read that right. We were recently invited by Nissan Philippines to try out its legendary car in Clark, Pampanga. Our wheel time included a brief road test around the area, followed by a few laps on Clark International Speedway.
From the moment I released the handbrake, what surprised me most about the latest version of Godzilla is how comfortable it is to drive. For all you hear about the GT-R's speed and power, there usually isn't a lot of chatter about how the 2017 version's ride quality has been improved.
Continue reading below ↓
Recommended Videos
In GT mode, it cruises around like a luxurious grand tourer that you could easily use on a day-to-day basis. Even when you floor the pedal in race mode on the track, you don't ever feel that spine-crushing stiffness you expect from a car that packs this much punch. Nor do you feel any sense of impending doom as the speedometer climbs higher and higher. The cabin is well-insulated from any outside distractions (although the roar of the 3.8-liter V6 is still oh-so-sweet). The leather seats feel plush, while the driver-centric cabin layout and pleasant suspension puts you at ease.
This new level of luxury in the GT-R is thanks to a more rigid body structure and a new suspension, which results in better stability through quick lateral transitions and higher overall cornering speed. These improvements were explained to me last year by the GT-R's mad scientist, Hiroshi Tamura: "[The suspension] is not soft. It's appropriate. [For example], if you improve acceleration power, you have to also improve the stopping power in the braking system, and so on. A balanced type of car is fun to drive."
Fast forward a few months, and Tamura-san was back in town as I drove the car he designed for the first time. He outlined that the GT-R's design is built on two pillars: the 'GT' zone, which is the luxurious, high-speed cruising of your "mature" side, and the vaunted 'R' performance zone that the Godzilla name is born from.
"The 'GT' zone must have some appropriate riding comfort with the best handling. On the other hand, the 'R' zone you can enjoy [on the track]," Tamura said.
And you know what? Those changes make perfect sense. As Tamura explained, the new GT-R can cater to both a mature crowd that wants appropriate comfort while cruising, as well as the track nuts who want to push the car to its limits. It's equally at home taking you to the office as it is pushing you past 200kph. Pretty much anyone (with P7.35 million to spare) can enjoy this car.
As for what our experience with Godzilla on the track was like, we'll have that story up for you very soon. Stay tuned.