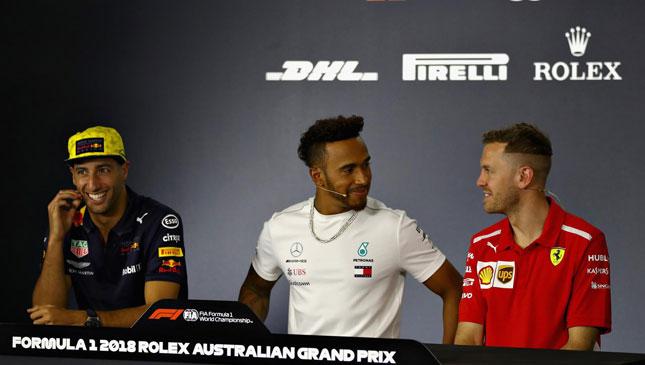 It's that time of the year again when just before the first race of the F1 season, I get a little warm, excited feeling of not knowing.
In my heart, I'm thinking it's going to be the best race ever. Three to four cars dicing for the lead. Wall-to-wall overtaking. Late-braking heroics. Inexplicable radio outbursts from Kimi and Fernando. Proper F1.
ADVERTISEMENT - CONTINUE READING BELOW ↓
However, this tends to disperse gradually more and more as the weekend progresses through practice and qualifying, and it dawns on me that yet again, it's going to be a one-horse race. The start of last year was exciting as it genuinely looked like Ferrari might do it. Then Lewis Hamilton put his now famous hammer down. Will this year be any different?
Well, it needs to be. It's my belief that the first half of the season is going to be critical to F1's survival and its popularity. Liberty Media is certainly investing a lot--changing logos, doing more marketing, changing how we view and consume the sport on TV or online--in the hope of appealing to a younger audience. And to regain some of the viewing figures it needs back.
But does any of this really matter? The simple truth is no, it doesn't. What matters is the racing. Over the last 10 years or so we've either had Red Bull or Mercedes dominating at the front (I can't believe Ferrari is not in that as I wrote this) and the last thing the sport needs is another one-horse race. And while some of those seasons have been exciting--Rosberg and Hamilton's titanic clash for one--what the sport needs is unpredictability. We need at least four teams up there taking the championship to the season finale.
ADVERTISEMENT - CONTINUE READING BELOW ↓
Recommended Videos
If we went by testing alone then perhaps we might have a three-way fight on our hands. But testing is notoriously unpredictable and many are saying Merc hasn't shown its full hand yet. But then have the others? It's not until the lights go out on Sunday that we'll truly find out. If over the first part of the season it starts to look like one team will rule them all, viewers will simply switch off, and the ever-evolving categories like Formula E and Rallycross will fill that void.
I, for one, hope we have Hamilton, Vettel, Ricciardo, Verstappen, and Alonso all in with a chance. At the same time, the midfield teams need to be more competitive to pick up points, and again if testing is anything to go by then it looks close.
History dictates that as rules stay consistent, the racing will be tighter, because it's harder to make giant gains and easier for those below to catch up.
ADVERTISEMENT - CONTINUE READING BELOW ↓
But whatever happens, Liberty needs to listen, learn and react to changing the sport for the better if needed. Let's hope later this season I'm back writing how exciting F1 is again, and how we really don't know who will win it.
Roll on Sunday. All fingers and toes crossed.
What's your prediction? Let us know in the comments below.
NOTE: This article first appeared on TopGear.com. Minor edits have been made.