What is that?
A 125cc miniature motorbike with an iconic design and pretty much idiot-proof controls. So probably the easiest and most amusing entrance into the world of two wheels. Put simply, it's the return of a legend--a freshly rebooted Honda Monkey bike for 2018.
What the heck is a Monkey bike?
Ah, you must be a Millennial. Well, back in the '70s the Monkey bike was a neat motorcycle that incited palpitations of want in pretty much every flare-wearer worth their hippy bath salts. Especially those that appreciated clever, simple design and perfect proportions.
Although Monkey mayhem hit fever pitch in the '70s, the first bikes date back to 1961 when an amusement park in Tokyo wanted some tiny bikes for kids to tool around on. Honda stepped up to the plate and developed what was effectively a tiny, two-wheeled 49cc toy.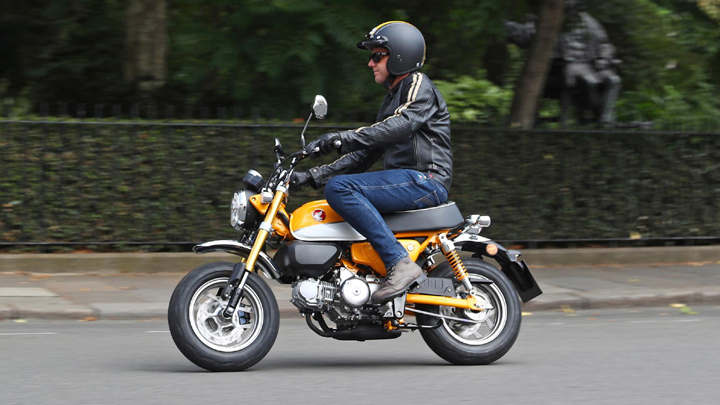 ADVERTISEMENT - CONTINUE READING BELOW ↓
But with an adorable design, distinctive chrome tank, folding handlebars and five-inch diameter rigidly-mounted wheels, it proved to be a massive draw for child-minded adults too. So much so, that a road-going version was developed and exported to America and Europe in 1963.
Over the next decade, it kept on developing and getting both physically and culturally bigger. By 1969 its wheels had increased to eight inches, and in 1970 it gained quick-detach forks, meaning it could fit into the boot of a small car, making it the perfect tender for people needing to mooch around town.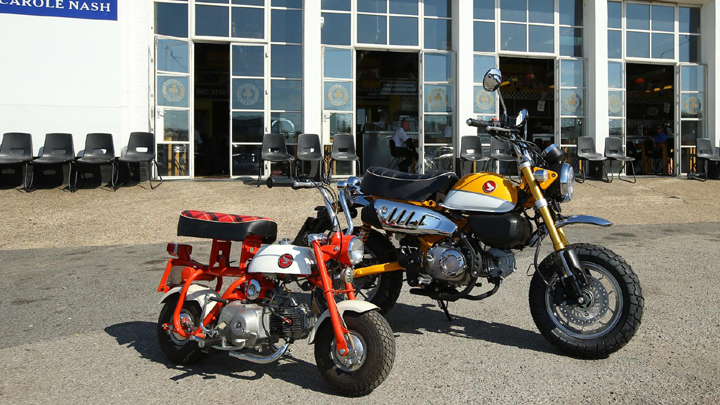 ADVERTISEMENT - CONTINUE READING BELOW ↓
Recommended Videos
Was it actually any good?
Being the baby scale of a 'proper' bike and having a three-speed gearbox and centrifugal clutch, all you had do was twist and go, making it approachable for everyone. And by the end of the '70s--where it had a re-styled teardrop fuel tank, chunky tires, mini 'ape' style handlebars and a big, squashy seat--everyone from Michael Jackson to The Beatles was biffing around on them.
Think of them as the 1970s answer to those battery-powered hoverboards. Y'know, the ones Mike Tyson falls off. Just less fiery. And more iconic.
So iconic, in fact, that they've become exceedingly valuable (John Lennon's sold for £57,500 last year) so Honda's decided to bring it back in a very similar way that car manufacturers have brought back and modernized iconic shapes such as the Volkswagen Beetle and Mini, cats that now fall under the banner of 'retro.'
ADVERTISEMENT - CONTINUE READING BELOW ↓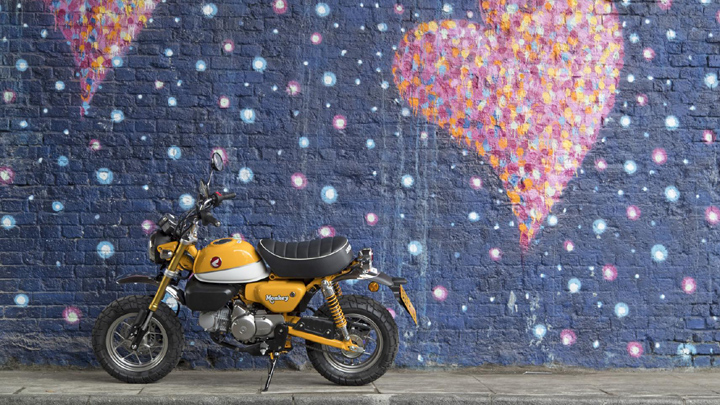 Is it true to the original?
In parts. Like all those cars that have been given a new 21st-century lease of life, the new Monkey bike is a lot bigger than its predecessors. It's still small for a motorbike, but not as diminutive as its granddad. Probably a good thing given everything else has got bigger on the road too.
ADVERTISEMENT - CONTINUE READING BELOW ↓
But where you could easily limbo the original between the wheels of a truck if you really wanted to, it'd be a lot harder now. It's difficult to tell its scale from the photos, but think of it as the Russian doll in between a full-on scooter and your traditional pit bike. The increased proportions are largely due to the fact that this new-age Monkey has been designed to be a fully-fledged motorbike from the outset, not a toy that's been made road-legal.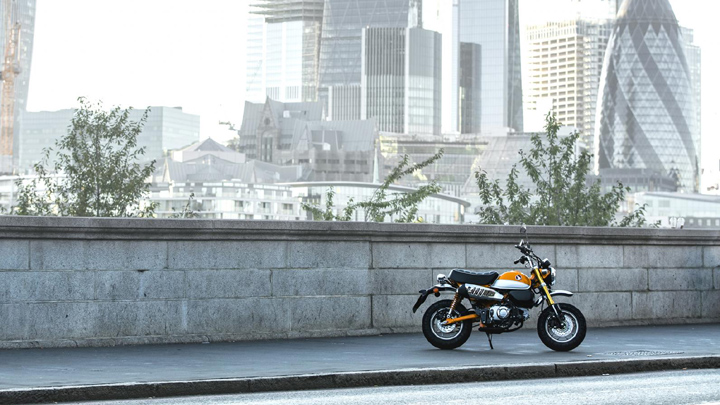 ADVERTISEMENT - CONTINUE READING BELOW ↓
Tell me about the oily bits
It's based on Honda's other incredibly fun and popular mini bike, the MSX125. The Monkey robs its frame and engine, as well as the wheels, brakes and front suspension.
Powered by a 125cc air-cooled engine delivering--wait for it--9.25hp you'd think it couldn't even be used by delivery riders, as a large Indian takeaway hanging off the back would bog it down completely.
But only weighing 107kg, it's surprisingly nippy. It's also now got a four-speed 'box (compared to the three-speed original) and the centrifugal auto-clutch has been binned in favor of a standard left-hand clutch lever. But having such a small, fuel-injected engine and being remarkably light, it's also a force of efficiency, which means you'd get just over 370km out of the tiny 5.6-liter tank. Looks cool…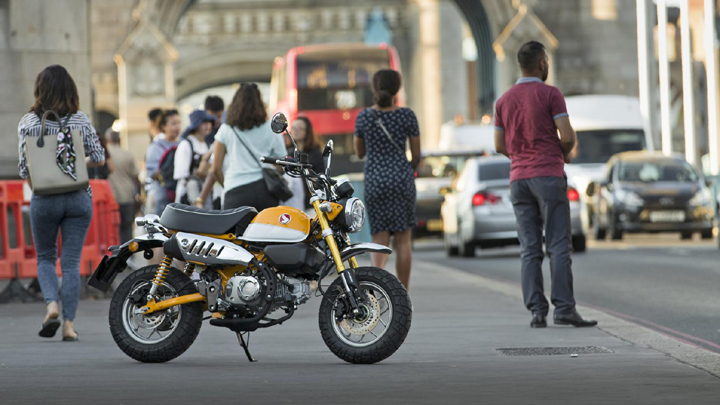 ADVERTISEMENT - CONTINUE READING BELOW ↓
Sure does. A little bit flabby in places compared to the original, but it carries its charm. It still has a steel frame, skinny swing arm and it wears the classic Honda logo, but it's been hit with the modern stick as there are some surprising electronic creature comforts and tech.
There's an LCD dash, full LED lighting throughout and IMU-based ABS to prevent rear wheel lift, plus the world's smallest USD forks. And everything that looks like metal is metal, so it feels proper to the touch.
What's it like to ride?
Probably as easy as riding a geared bike can get. Even if you're over six-foot-tall, with a 30-inch seat height the controls are simple to operate and you don't feel like you're simply crouched over on top of it like the original.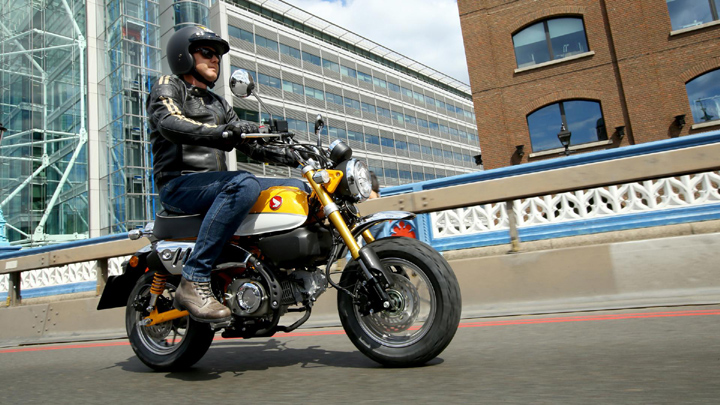 ADVERTISEMENT - CONTINUE READING BELOW ↓
All the major components feel like they've been engineered with 30% extra softness to make it uber-appealing to novice riders. You can practically pull the clutch in using The Force, and clicking through the gears only requires a little nudge of your foot in either direction. There's also plenty of squidge in the suspension (four inches of travel) and those fat little 12-inch V-Rubber tires and huge cushioned seat mean you can nerf it into potholes and take speed bumps at a lick without having to worry that you'll be jettisoned over the handlebars.
Does it cope with 9.25hp?
The engine has the same soft thrum of a sewing machine and is so small and quiet that sometimes you can forget it's even on, so you clench your thighs against the tank to feel if it's ticking away. Saying that, less than 10hp is still enough to see off anything away from the lights and it buzzes you up to around 60kph with surprising pace. Which, let's face it, is all you need in town.
ADVERTISEMENT - CONTINUE READING BELOW ↓
In an urban environment the Monkey is an absolute efficiency assassin. It can cut commute times in half thanks to its hilarious proportions and narrow shoulders. You can cheekily sieve through traffic with a huge smile on your face as it gets through gaps other bikes couldn't--or wouldn't--dream of. And, if you get really stuck, you can just pick one end of it up and man-handle it wherever you need to.
ADVERTISEMENT - CONTINUE READING BELOW ↓
Thankfully, you also don't feel unnecessarily or dangerously small compared to other traffic, and when finished in bright 'Banana Yellow' you'll stand out. However, you can easily lose it in a crowd of parked bikes. But don't worry, Honda has you covered as the internal alarm also has an 'answer back' button on the fob just in case you lose it in the sea of scooters.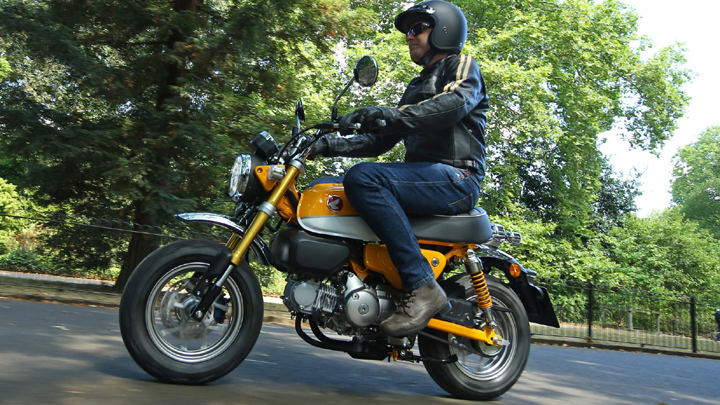 ADVERTISEMENT - CONTINUE READING BELOW ↓
Should I buy one?
Because of its size, it's easy to dismiss the new Monkey bike as a toy. But it's not. It's a proper motorbike, just tiny. It's massively fun to ride and a real time-saver in the city, as well as a great introduction for people who want to learn to get on two wheels. Especially if you're on the small side of the human spectrum.
Costing £3,699 (P260,000) it's a little more than the MSX125 Grom that it's based on. But it's got iconic appeal and ranks higher in the cooler stakes, so is worth the extra.
NOTE: This article first appeared on TopGear.com. Minor edits have been made.