Currently, the local compact-crossover segment—which features nameplates with notably refined interiors and generally sound driving dynamics—is a pretty enticing one. Thanks to their size and style, these vehicles are attractive propositions whether for car shoppers looking for a new daily driver or small families not looking to deal with the dimensions of a full-blown midsize SUV.
It helps that almost every major car manufacturer has something to offer, too: There's the Honda CR-V with its newfound ability to seat seven, the Mazda CX-5 with its top-notch interior and driving feel, the recently launched all-new Forester, and the Nissan X-Trail with newly added safety features. And all that's just off the top of our heads.
Did we mention we've driven all the models mentioned above? You can check out each one of our reviews in the compilation below. Let us know which compact crossover you'd pick in the comments.
ADVERTISEMENT - CONTINUE READING BELOW ↓
2020 Honda CR-V
"The top-of-the-line unit runs on a 1.6-liter i-DTEC turbodiesel with 118hp and 300Nm of torque. Now, we know what you're thinking: 'Underpowered.' Actually, no.
"The small displacement and modest horsepower figures can be misleading. With five individuals on board, the CR-V's powertrain performs wonderfully: It gets up to speed surprisingly quick (at least quicker than I initially thought it would), and the nine-speed automatic transmission performs as smoothly as advertised. The torque on tap gives the impression that the CR-V packs a more potent engine, too, especially during overtakes.
ADVERTISEMENT - CONTINUE READING BELOW ↓
Recommended Videos
"With seven passengers on board? The CR-V's mill begins to have its work cut out for it. I still wouldn't call it underpowered, but you do notice how much more effort the engine exerts to get going. But in my experience, everything remained smooth, and it never came to a point where I was flooring the pedal or using the paddle shifters to get ahead of slower vehicles. If you do feel you need a little extra oomph with a full load, I found that shifting into Sport mode does help considerably."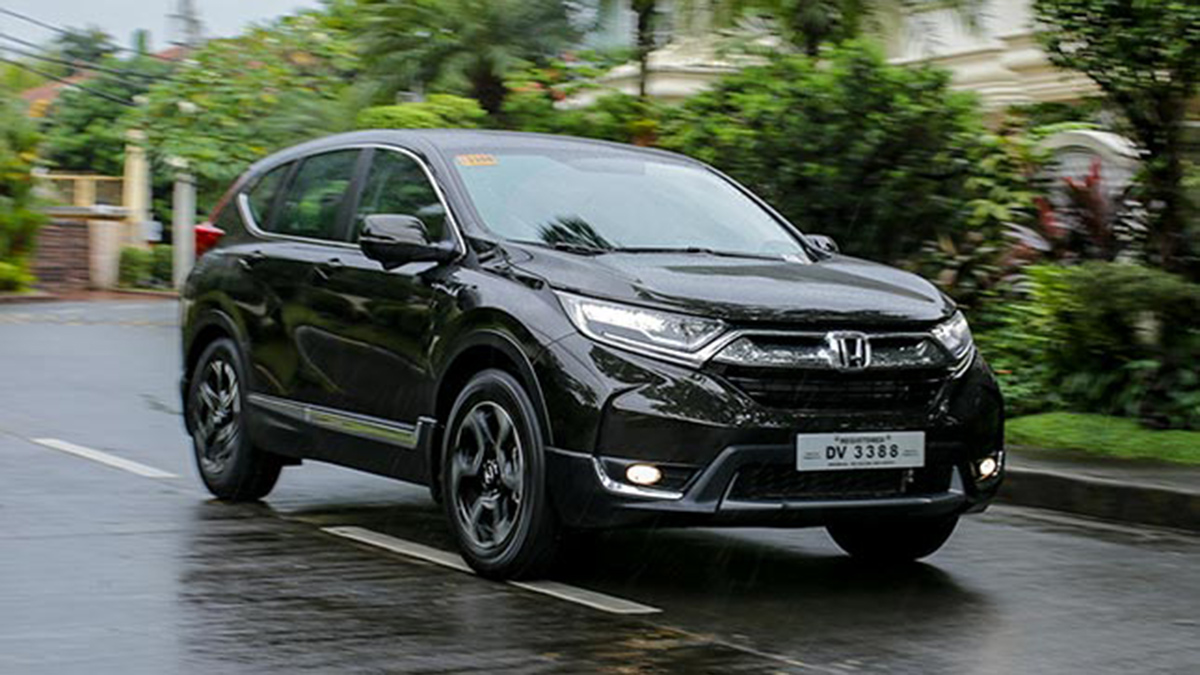 ADVERTISEMENT - CONTINUE READING BELOW ↓
"On the road, the CR-V cedes whatever sportiness it had to its smaller brothers like the HR-V—although that isn't very sporty, either. Its main attribute is riding and driving comfort, and now that I've entered my forties, I appreciate being insulated from road imperfections more. There's still fun to be had behind the wheel, thankfully, even if you have to coax it out a bit.
"The 2.0-liter engine has enough grunt to move this Honda easily, but not enough to push you back into your seat. As with a typical gasoline engine, the powerband is way up at 3,000rpm. With 152 horses, the gasoline CR-V doesn't feel underpowered, but I can't help longing for a turbo sometimes. As I expected, fuel economy is nothing spectacular—about 7-8km/L in the city. That's about right for this chassis and powerplant.
"Overall, I like this CR-V. Driving it is relaxing, and the 208mm ground clearance allows me not to worry about curbs. It has all the features of a midsize sedan: auto headlights, next-gen smartphone connectivity (Apple CarPlay and Android Auto), backing-up camera (with multiple angles), corner sensors, tire pressure warning, LED headlights. If there were rain-sensing wipers, it would have been perfect."
ADVERTISEMENT - CONTINUE READING BELOW ↓
2020 Mazda CX-5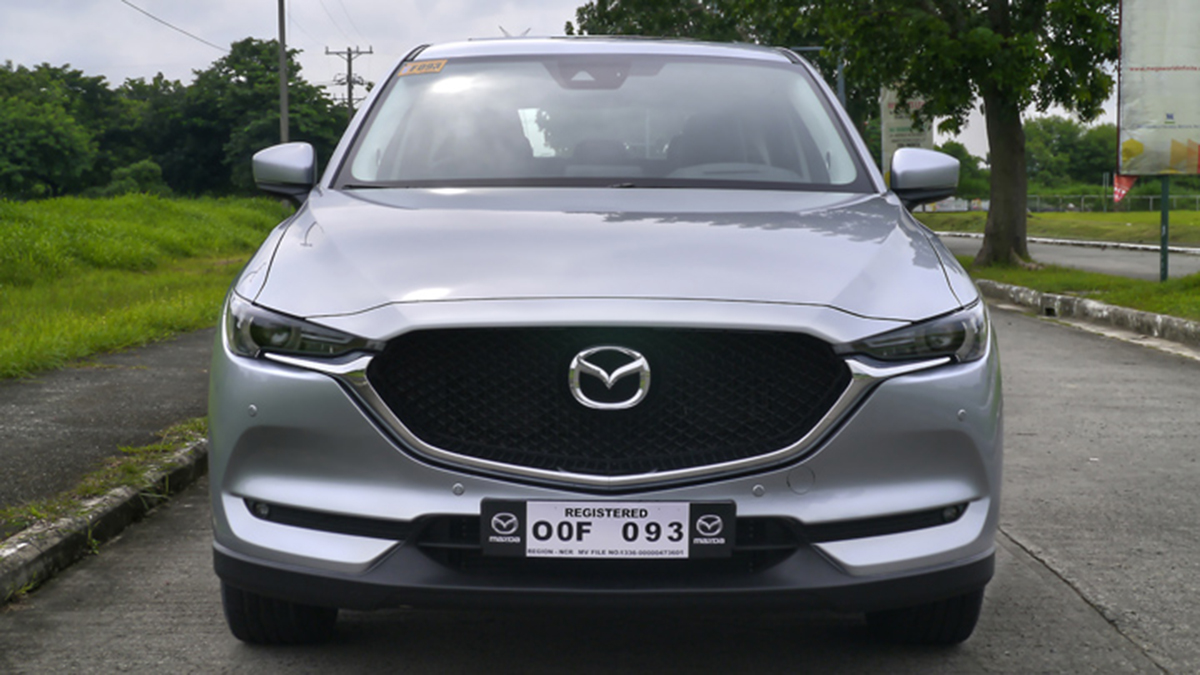 "The 172hp 2.2-liter SkyActiv Diesel carries over basically unchanged, but that's no bad thing. Mazda's innovative low compression, sequential turbocharged diesel provides nearly lag-free performance compared to variable geometry turbo competitors. There's a limit to how much you can make a big, powerful, laggy turbo act like a small, quick-spooling one, so Mazda decided to use both. The result is seamless acceleration up to 5,200rpm, without the on-off nature of VGTs. The six-speed automatic is snappily responsive, eliminating the need for gimmicky paddle shifters, though there's still a manual mode on the shifter. Not that you need to use it that often. Flooring the accelerator to hit the infamous Mazda 'kickdown switch'–triggering multiple downshifts instantly–can be quite satisfying.
ADVERTISEMENT - CONTINUE READING BELOW ↓
"Thanks to long gearing, the engine turning just 1,400rpm at 80kph, the CX-5 easily does over 20km/L on the highway. Not as impressive as the X1 diesel we tested last year, but the CX-5 is bigger, heavier, and just as quick as the more expensive Europeans, despite boasting 20 horsepower less. And in traffic, the Mazda's 'i-Stop' auto-start/stop system is more refined, helping eke out an extra kilometer or two per liter without making you sweat."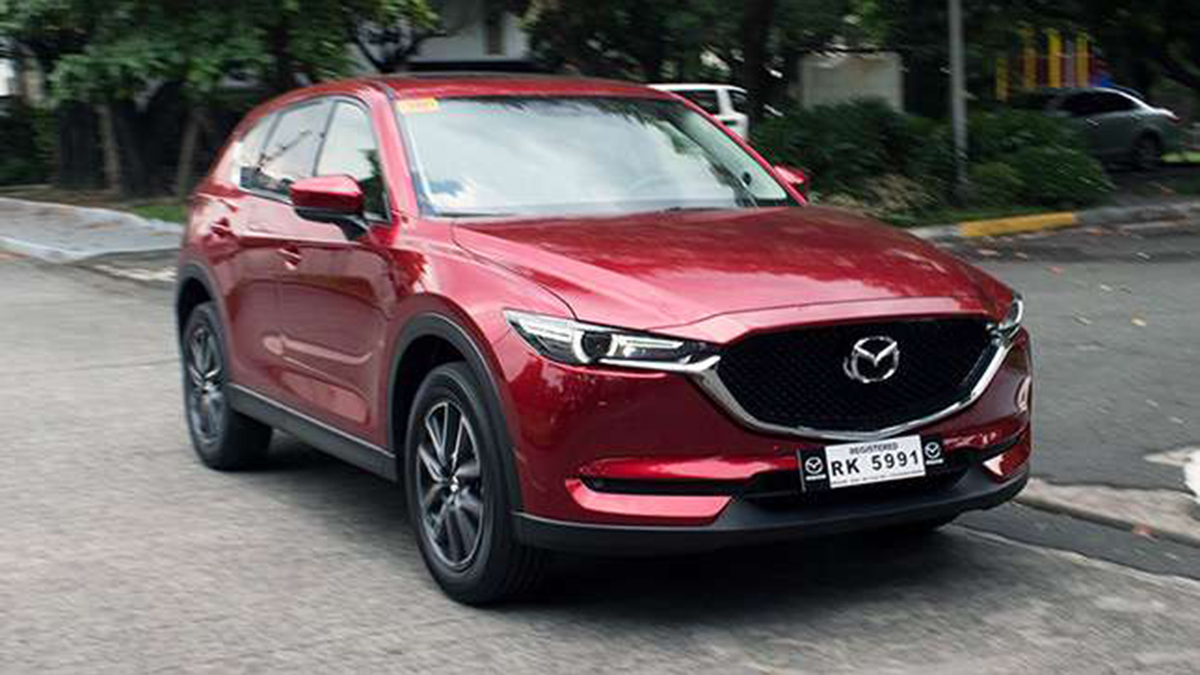 ADVERTISEMENT - CONTINUE READING BELOW ↓
"On the street, this Mazda lives up to its jinba ittai (horse and rider) company DNA. The body is rock solid thanks to better materials used in its construction, the NVH is superb, and the cabin insulates you from the unpleasantness of the outside world.
"The body does feel heavier though, and the specs confirm there has been weight gain—about 50 - 70kg. I feel a slight delay off the line; the 187hp and 251Nm from the 2.5-liter in-line-four pausing just a bit as it gathers power.
"Once I get going, I flick the driving mode into Sport and everything becomes more responsive, so I leave it there. There's very little body roll, and the brakes are easy to modulate. My fuel economy doesn't suffer so much; I manage to average almost 8km/L in urban driving.
"The all-new Mazda CX-5 improves on its predecessor in nearly every way, although it now comes with a higher price tag. Are the improvements worth the extra cost? If you keep staring at it on the street in admiration, then you already know the answer."
ADVERTISEMENT - CONTINUE READING BELOW ↓
2020 Subaru Forester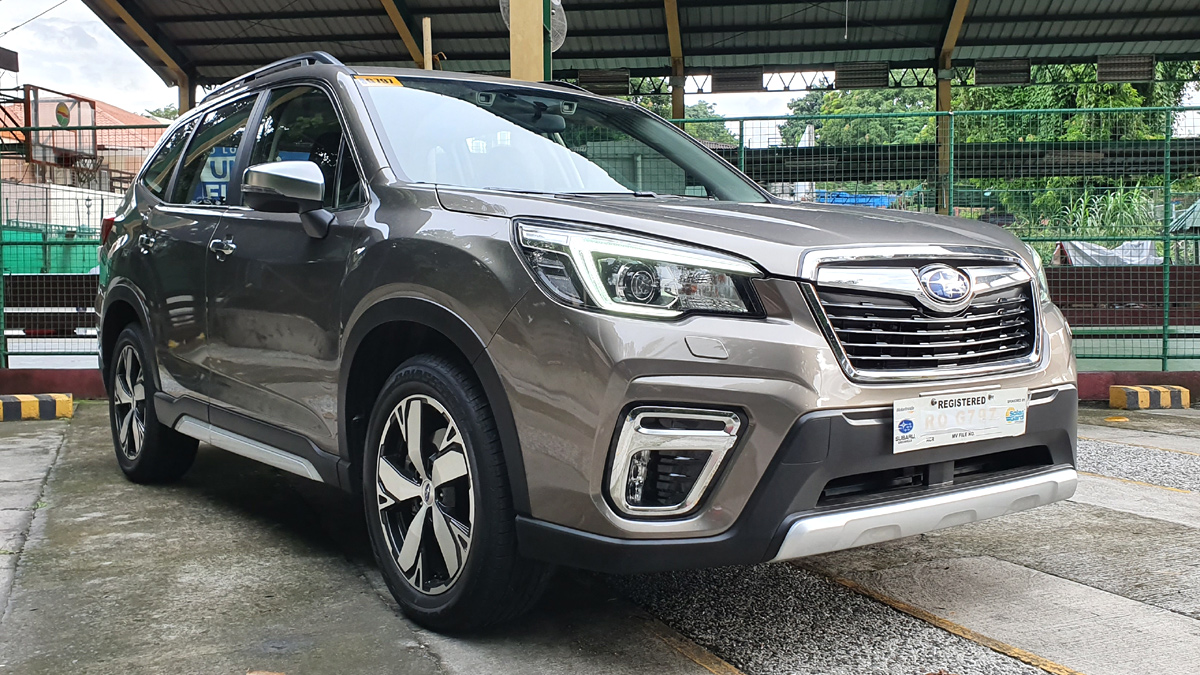 "A lot of people will say you can barely tell the difference between this and the previous-generation model, and from afar, that's true to an extent as the Forester retains the same overall shape and proportions; this one measures in just slightly longer and wider than the last). Ground clearance is still good, too, at 220mm.
ADVERTISEMENT - CONTINUE READING BELOW ↓
"Step closer, though, and the changes become more apparent. There's a little more going on up front, with a fair amount of chrome trim surrounding the grille and the foglight housings, and the headlights are improved upon with much more prominent daytime running lights. The boxy taillights have also been ditched for an edgier C-shaped design.
"Roof rails and some plastic cladding lend the vehicle a slightly rugged appearance, while the new five-spoke alloy wheels and rear spoiler give off the impression that this is a ride that knows how to get going on a whim. Overall, Subaru has managed not to mess with a formula that's worked well for it so far despite carrying over none of the previous model's body panels—wise decision, if you ask us."
2020 Nissan X-Trail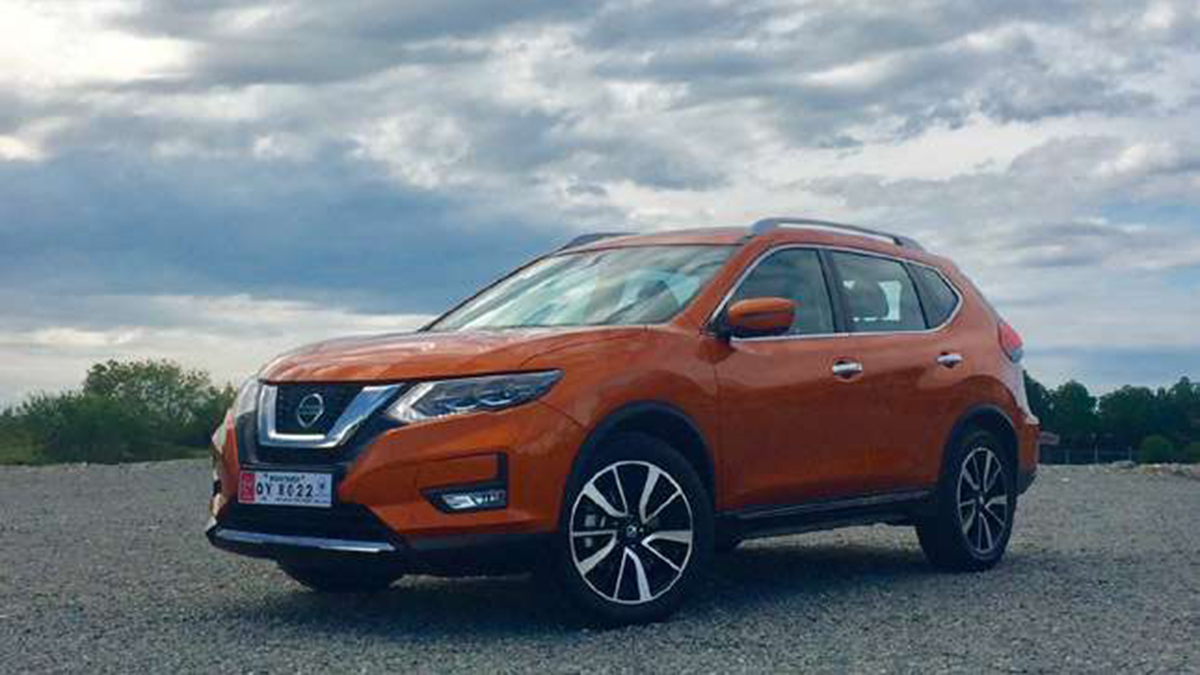 ADVERTISEMENT - CONTINUE READING BELOW ↓
"Since the previous naturally aspirated 2.5-liter four-banger mated to a six-speed Xtronic CVT was carried over, my excitement waned as I recollected my mild disappointment when I tested the 2015 version at a time while I was car shopping. Blame it on the CVT, I guess.
"Fortunately, after my initial drive, I realized that Nissan had tweaked the tuning for a substantial improvement in throttle response and smoother power delivery of its 169hp backed up with a palpable 233Nm of torque as it propels you from 0-100kph in about 10 seconds. The rubber band effect of the tranny is still evident when you floor the accelerator, but it all works out fairly well.
"Fuel consumption was tested to 16.1km/L on the tollways maintaining 100kph with cruise control and 14km/L on the national highway with occasional traffic—not bad at all. In Manila's gridlock, it returned 6.5km/L. Then again, any other vehicle wouldn't do so good either under such congestion."
ADVERTISEMENT - CONTINUE READING BELOW ↓
2020 Hyundai Tucson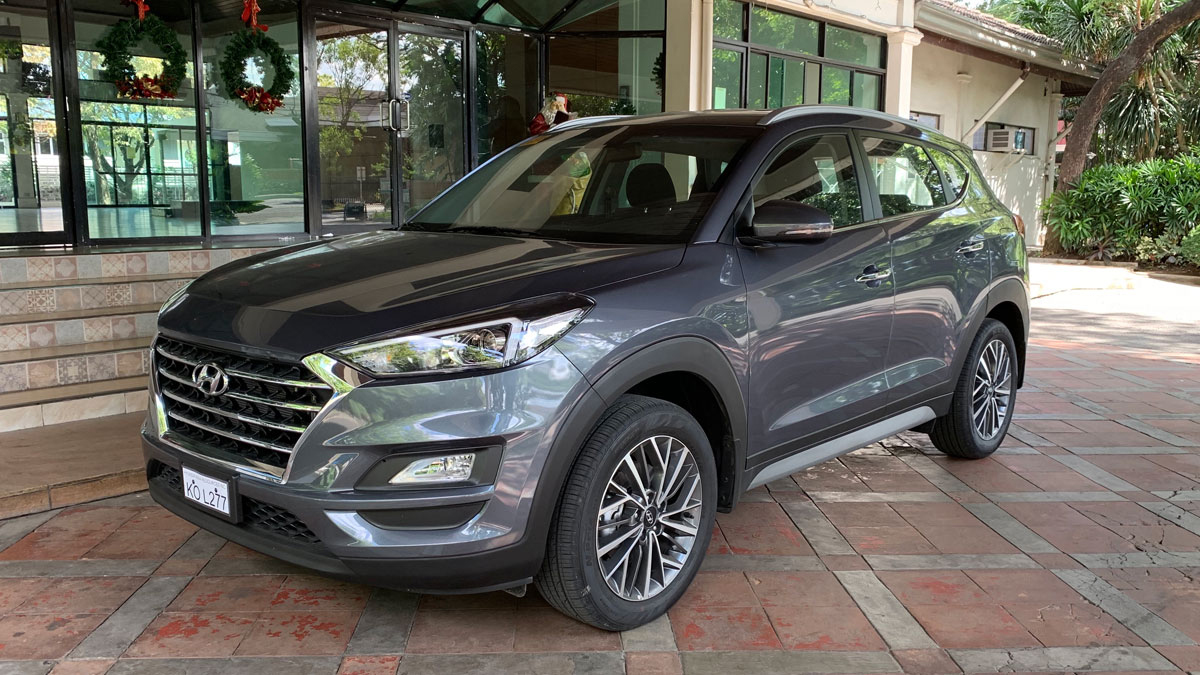 "The compact-SUV/crossover segment used to be the hot category in the automotive sector. But like how interest in compact sedans has shifted toward subcompacts (and maybe even to the smaller mini-car category), the subcompact crossovers are beginning to take off. The Tucson nevertheless proves it still has a lot to offer, in a feature-packed body that's still nimble enough to navigate our cramped metropolis.
ADVERTISEMENT - CONTINUE READING BELOW ↓
"The Koreans have come a long way, and the latest facelifted Tucson is moving proof. It may be missing a feature or two that would have given it a perfect score, but it's still a compelling choice in a segment full of stylish and well-engineered options."