I was really excited for this test drive. Ever since Hyundai Asia Resources (HARI) announced the upcoming availability of the Hyundai Kona's electric version at the Manila International Auto Show in April 2019, I had been excited to try out this car, electric or otherwise.
From not knowing much about the Kona, I was suddenly doing a lot of research about it—reading motoring articles from both local and international outlets, and watching video reviews on YouTube. I even went as far as to check out the Kona EV in person at a Singapore showroom during a trip there. By doing so, I got to experience the cockpit, sit in the front and back seats, see the full spec sheet of the model they offered in SG, and learn a lot about the different features of the Kona EV. I couldn't test-drive it, though, as SG cars are right-hand-drive.
All said, for a good couple of months in 2019, I was telling my wife, "Our next car will be a Kona EV."
So, when executive editor Dinzo Tabamo offered a weekend with the regular Kona 2.0 GLS AT that HARI is currently selling in the country, I grabbed the opportunity to try it out. Just like in my previous review of the Mazda 6 2.5G Skyactiv Turbo Sedan, there were some good things, some bad ones, and some surprises I learned along the way. This time, I'm sharing my thoughts on the Hyundai Kona with a special mention on appreciating it from the point of view of an electric kick scooter rider.
Continue reading below ↓
Recommended Videos
The good
Overall fuel consumption and power are impressive.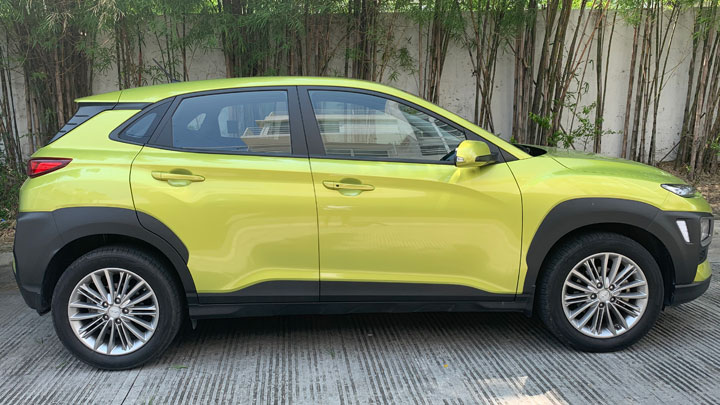 I was getting something around 9-11km/L in pure city driving (I didn't get to test the car on the highways). Most other reviews are getting the same range or better with mixed city and highway driving, and overall, I can say that the Kona 2.0 GLS is one of the most fuel-efficient cars I've driven (beaten only by that hybrid Toyota C-HR we drove a thousand miles in Spain). And what it gains in fuel consumption, it didn't have to sacrifice in power.
The overall engine output is just right. You're not gonna be burning rubber on the streets with this crossover, nor doing quarter-mile runs with it. But behind the wheel, the Kona gives the driver the general feeling that you have 'just enough' power to do basic overtakes and quick sprints when needed.
That sleek exterior look.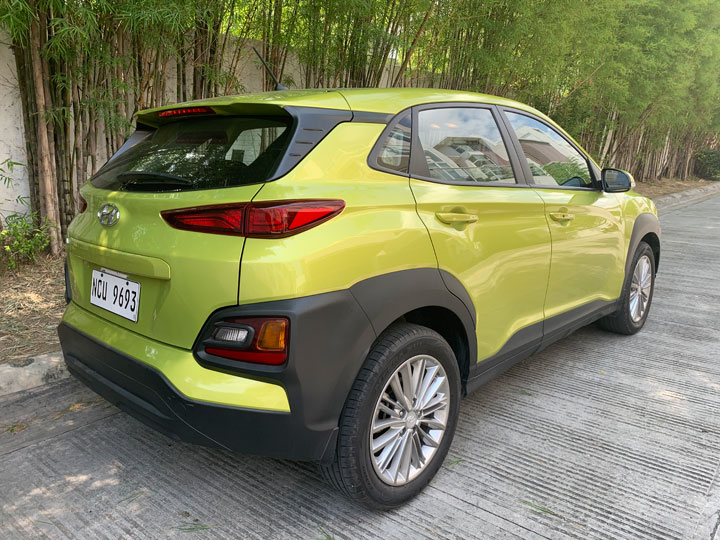 Among its contemporaries (which include the Honda HR-V and the Mazda CX-3), the Kona easily gets podium or a close second place in the exterior-looks department. From its futuristic-looking face with sleek headlights and imposing dual foglamps, to its sporty side profile ending with equally slick taillights and two-tone design in the rear, everything about the exterior of the Kona exudes sleekiness.
I'm not a big fan of the Acid Yellow paint job on this test unit, but even with that handicap, I still felt excited every time I stared at the body of the Kona. Even now, when I see one on the streets, especially in Chalk White or Lake Silver, I still think it's one of the best-looking cars in its class.
The bad
The '90s called—they want their stereo system back.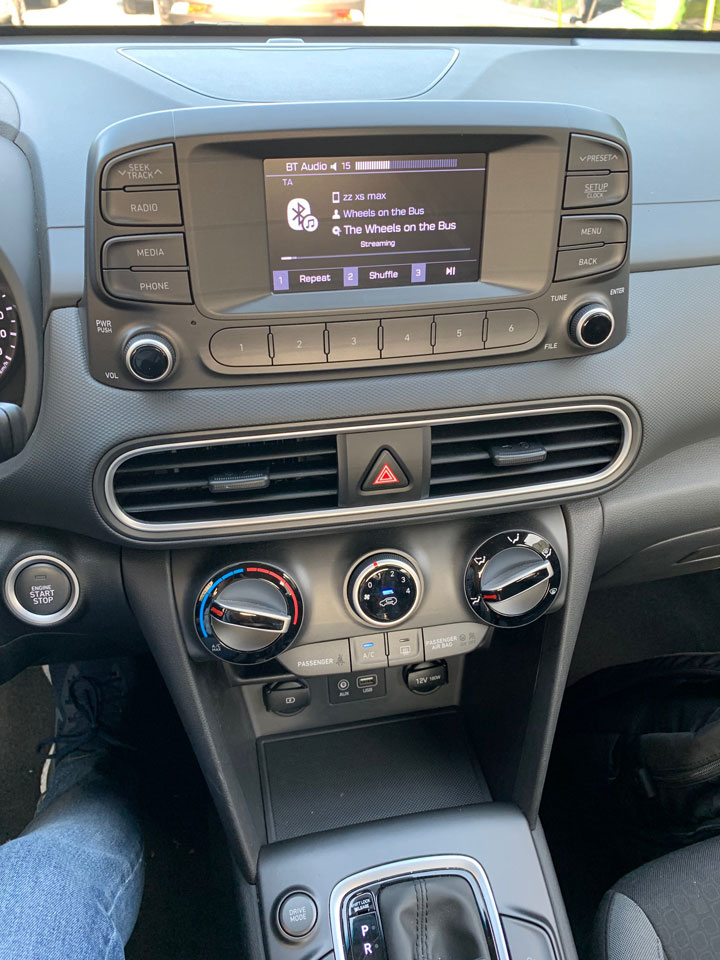 I don't think I need to say much more, but seriously, the entertainment system in this model looked and felt like it came from two decades ago. It has a strong nostalgic '90s appearance that makes me want to play some T.G.I.S. songs on it. Its most redeeming feature is that it has Bluetooth, for...you know, when you need to play music in the present (that's 2019).
It's a travesty that any car sold at over P1 million has a stereo system that looks this prehistoric. The speakers are average-sounding—nothing too fancy, but nothing to rave about, either.
Plastic, plastic everywhere.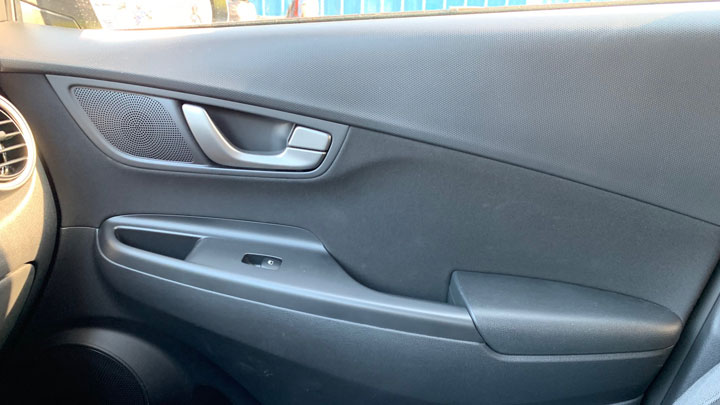 From the dashboard to the door panels to the center console, almost everything at eye level in the cockpit is built with plastic materials. They're not bad-looking, but when you touch and knock on them, you can really feel how plasticky they are. Again, for a vehicle that costs over a million pesos, this feels like a bit of a letdown. The Kona EV model I checked out in Singapore had a better mix of plastic and other materials in the cabin, so the overall impression left on me by the PH spec one was 'meh.'
The surprise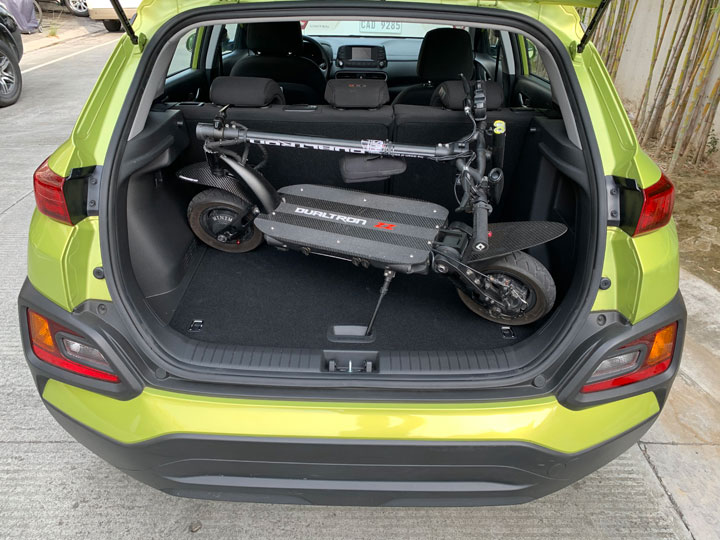 It can fit my electric kick scooter perfectly. This was the most important test for me: Would the Kona's trunk space be able to hold my Dualtron electric kick scooter (EKS)? The answer was an amazing yes. I had to take out the removable trunk cover, but as you can see in the photo above, the Kona's cargo area is sufficient enough to hold a pretty hefty EKS. For those who are getting into this alternative mode of personal mobility, this crossover is a good option for when you need to bring your EKS over longer distances.
In summary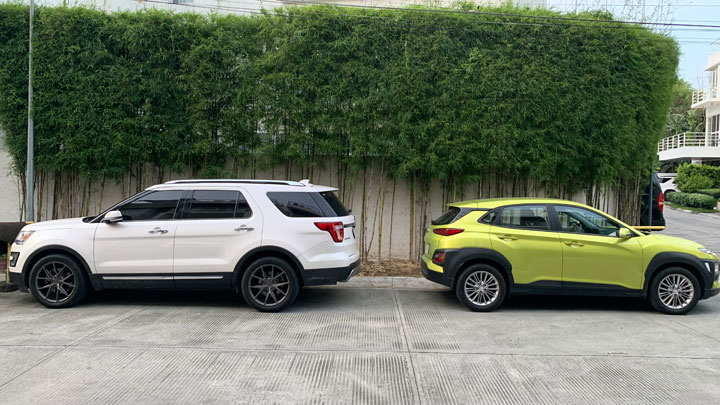 All in all, I would say that this variant of the Kona is a very good car, but it's not a great one (yet). The cost cutting done on the stereo system and the materials inside the cabin makes this vehicle feel like a very bare-bones entry-level variant. The Kona EV, for example, comes with either a seven-inch touchscreen head unit with Android Auto and Apple CarPlay built in. The Kona EV Sunroof version sold in Singapore comes with an even better eight-inch touchscreen, seat ventilation, and power liftgate. None of these features are present in the PH-spec GLS.
The one thing I am really looking forward to? My Hyundai dealer mentioned to me that when the Kona EV finally launches in here, it will come with better features than what was previously announced during MIAS. But until then, this GLS is the only option available option for PH buyers, and that's a bit of a bummer.