The Philippine subcompact sedan segment has heated up over the past year or two. A segment once dominated by Japanese offerings like the Toyota Vios, the Honda City, and the Mazda 2, it has now been livened up by new competitors from other car manufacturers.
There's the Volkswagen Santana, which is spearheading the German carmaker's resurgence in the local market thanks to its budget-friendly price tag. The Kia Soluto is on the same boat, brought in by a revamped Kia Philippines at the start of 2019. The Suzuki Dzire has seen new life, too, thanks to a more solid-looking design and an equally enticing price point.
So we have the Japanese, the Koreans, and even the Germans with considerable market presence now. The more, the merrier—but at the same time, choosing a subcompact sedan has never been a more head-scratching proposition, on account of all the options around these days. But we figure that's a relatively good problem to have, right?
With that in mind, here's every review we have of the current crop of subcompact sedans in the market. If you or someone you know is looking into buying a new ride, read this and share.
2019 Volkswagen Santana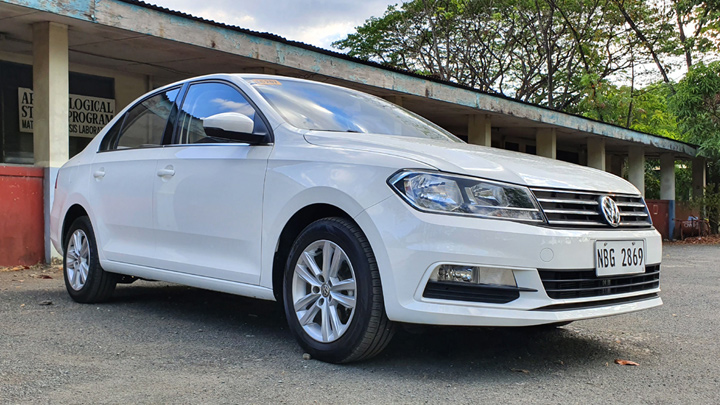 "Powering this Santana is a 1.5-liter gasoline engine capable of 108hp at 6,000rpm and 150Nm of torque at 4,000rpm. The mill itself is fine; the car won't wow in terms of outright quickness, though it does get up to speed in decent time and can tackle steep ascents with little to no issue. After over a hundred kilometers in Metro Manila traffic with two to four passengers, the Santana returned a fuel-economy figure of 8.5km/L. This was with the automatic start/stop feature switched off.
"The six-speed automatic transmission did leave a little to be desired. It takes its time during downshifts, and in stop-and-go traffic, there are occasional noticeable lapses before the Santana gets moving again. Nowhere close to deal-breaking jerkiness, though.
"It's not perfect, but as a top-of-the-line variant sitting below the P1-million mark, the Santana 180 MPI AT SE at least deserves consideration among segment staples like the Toyota Vios and the Honda City. If you're willing to ditch the sunroof and the automatic transmission (which could be the way to go if you're looking for a more consistent drive), there's even more value for money to be had by checking out the car's lower variants."
2019 Kia Soluto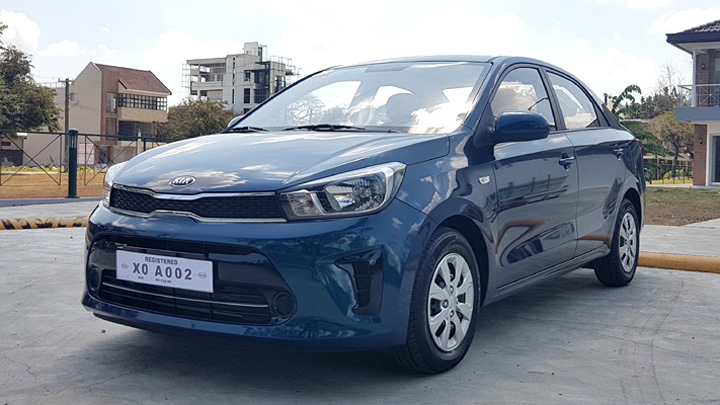 "All Soluto units come packing a 1.4-liter in-line-four capable of 94hp at 6,000rpm and 132Nm of torque at 4,000rpm—just on a par with the 1.3-liter Toyota Vios. It can definitely get up to highway speed, and packs just enough juice to overtake slower vehicles out on the expressway—at least when the four-speed automatic transmission is cooperating.
"In the city, the transmission does its job well. Take an automatic Soluto out to where the roads open up, however, and its performance and throttle response can be inconsistent. At times, the speedometer climbs up as smoothly as you'd expect of a car with this engine; other times, the needle's left stalled around the 50kph mark.
"This isn't a good look on the highway, or when you're trying to tackle steep inclines. Fuel economy hovered around 11km/L in mixed city and expressway conditions. We do have to mention that our unit was barely broken-in when it was handed to us, so this can be a factor to consider."
2019 Suzuki Dzire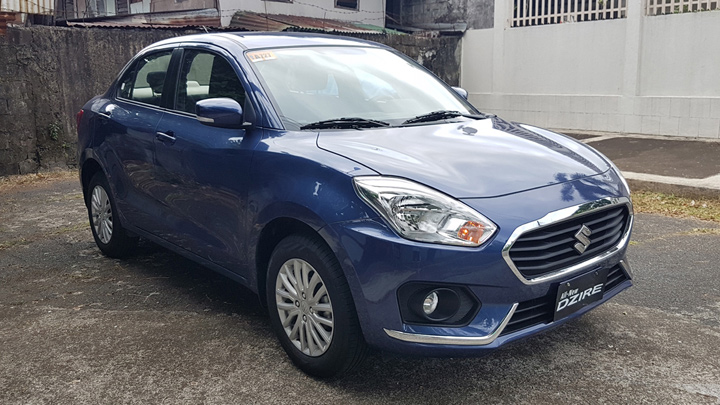 "We can't stress this enough: The all-new Dzire looks worlds better than its predecessor.
"The main reason for this is, well, the sedan no longer looks like a Swift with an identity crisis. The rear end and the roofline are better tapered now, and appear more in line with the front end's proportions as well.
"Its modern headlight design looks as though it was carried over directly from its hatchback sibling, but the grille—with chrome accents surrounding the lower fascia and the foglight housings—is entirely its own.
"The Dzire also runs on 15-inch alloys that convey a higher presence than what its actual dimensions will suggest. It's not as tall as its predecessor (1,515mm vs 1,555mm), but you can hardly tell. Length, at 3,995mm, remains the same, though the wheelbase has increased by 20mm.
"Overall, it's a classy albeit simple look with its rounded-out fenders and clean lines. We dig it."
2019 Toyota Vios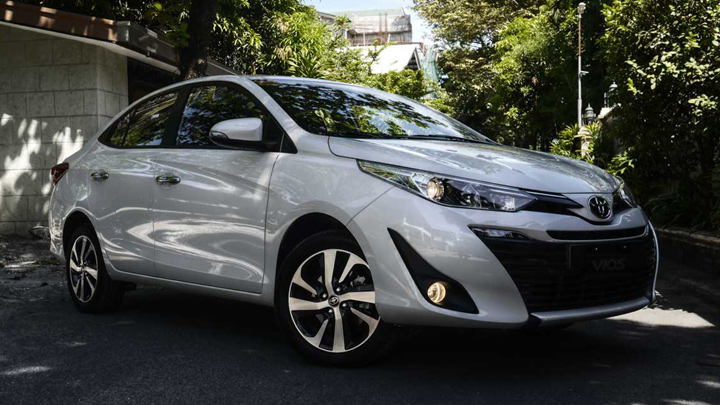 "As the G shares the same suspension setup as the Prime, down to the 195/50 R16 Bridgestone Turanzas, it drives quite nicely. The steering is still not the most feelsome, but there's a reassuring weight to it, and the car feels much more confident than before.
"It still isn't perfect. There's still some body roll, and big humps will still scrape the underchassis if you hurdle them at more than crawling pace. The brakes on this unit are also a bit grabby, though the Prime we last drove didn't have the same issue. Refinement overall is good, and this variant is, if anything, a bit quieter than the CVT-equipped Prime. Less whirring under power. The clutch and gearshift are light and easy to use, even when executing twenty-point turns in a parking lot.
"On the debit side, there are no backup sensors or camera to aid in parking. Not that the Vios is hard to park, but for newbie drivers, this can be problematic."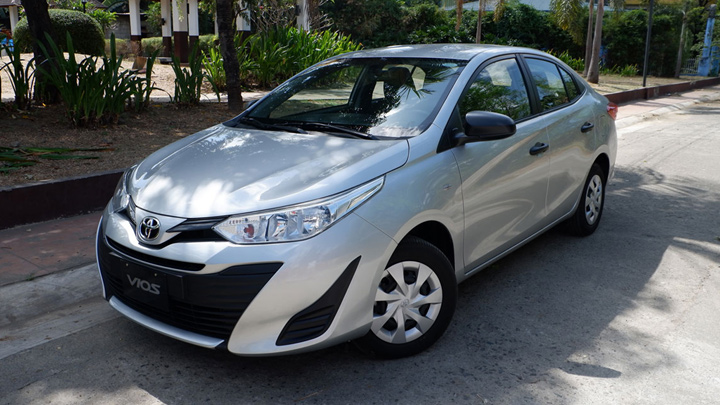 "The XE is powered by a 1.3-liter Dual VVT-i with 98hp and 123Nm on tap. On flat roads, it gives you as much pep as you need and even a little more when your cargo is light. On uphill climbs, though, some might find it to be a bit lacking. That's not to say it won't reach the summit, but it might take a while to get there. It doesn't help that the throttle response can feel dull once the incline changes.
"The CVT, which is Toyota's selling point for the XE, isn't the most responsive one we've tried. There's a distinct lag when you try to wring more torque out of the engine, and you find yourself testing the throttle's travel while the revs increase slowly. For city driving, this set-up is fine, but expect a bit of trouble on out-of-town trips with steep inclines. Still, the promise of fuel-efficiency while traversing bumper-to-bumper city gridlock is there, thanks to the small-displacement engine and CVT combo."
2019 Honda City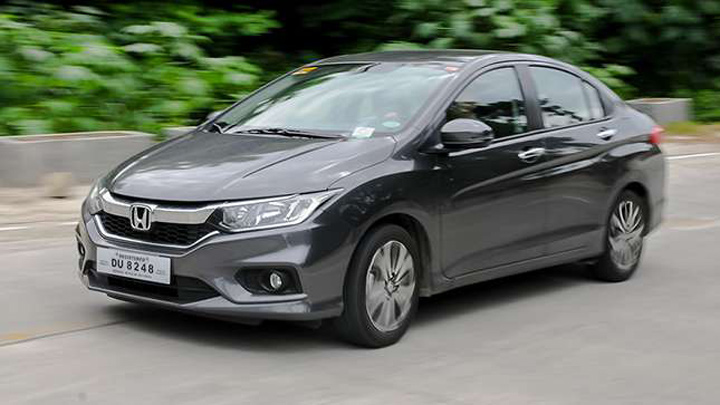 "Inside are seats clad in black fabric, with the top-of-the-line VX+ still getting the all-leather treatment. There is great visibility out of the cockpit in any direction, and despite this being my first time in a fourth-generation City, I find it easy to just fall into the driver seat and work out a good driving position, aided in part by the tilt-and-telescopic tiller. The seats have good lumbar and thigh support, although the shoulder area is a bit tight around my wide-ish frame. As in the outgoing model, only the VX+ gets 60/40 split-folding rear seats. The VX's bench-only rear accommodations is impressive for a B-segment car, and the comfort is definitely still there.
"There's a new seven-inch touchscreen Honda AVN (Audio Visual Navigation) system with a more upscale-looking user interface, and A/C touch controls carried over from the pre-facelift model. I find the lack of tactility a bit burdensome, though, especially when you need to fiddle with the controls while keeping your eyes on the road.
"The engine nets an impressive 11.1km/L in mixed conditions, despite my using Sport mode and the paddle shifters during most of my seat time.
"The new City features subtle changes that make the most of its handsome lines and bring it up to spec alongside its stablemates. It's nice to see Honda continuously improving on a great product, and we'll just have to wait and see if there are still undiscovered secrets with the current platform, or if something brand-new and exciting is just around the corner."
2019 Mazda 2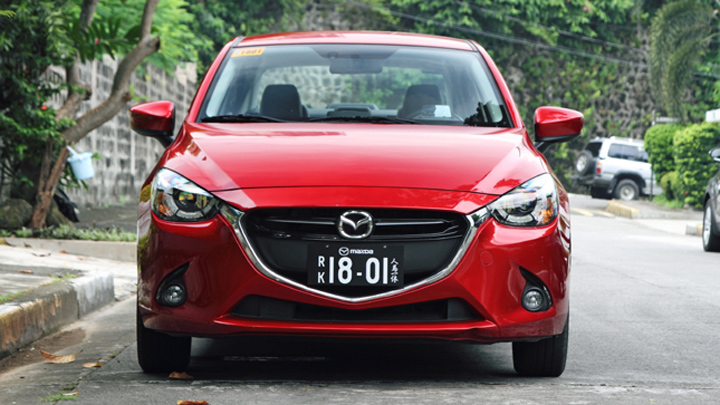 "The Skyactiv 1.5-liter engine fires up with a naughty blare--the only time when it's really audible. It soon settles down into near-silence, where it's content to stay. The claim to fame of the Skyactiv gasoline engines is their high compression ratio, meant to produce more torque and better responsiveness even at low revs. It works in the 2, where gentle throttle inputs are enough to keep up with city traffic. Less stomping on the throttle to get going means less fuel consumed. The fuel-consumption reading during our test period was around 9-10km/L, even after driving through bladder-bursting traffic. The motor takes regular 91-octane unleaded.
"Likewise, the six-speed transmission is crisp and responsive. It shifts to higher gears early to use up less fuel, and is just as eager to downshift. There's a manual shift gate, and paddles behind the steering wheel for manual override. But, as our Mazda guru taught us, it's best to leave it in D. The gearbox is able to read road situations uncannily well. It stays in gear in uphill passages and during spirited driving, and shifts to lower gear in downhill passages. There's a Sport mode switch, too, sitting just behind the shifter. Push it forward and the engine will keep on revving until near redline or a deliberate lift of the throttle."
2019 Chevrolet Sail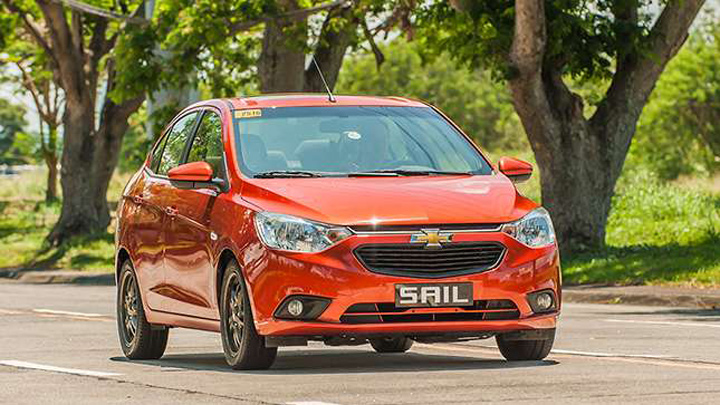 "When the new tax scheme is approved, prospective car buyers will likely set their sights on just two vehicle categories: subcompact and mini. For practical and safety reasons, more people will likely go for the former—it will offer more interior space and engine power.
"This is where the Sail shines best. It offers ample head- and legroom for all occupants, and cargo space big enough to take two golf bags or scuba gear. That said, a little more improvement on NVH levels will be very much appreciated; the engine noise—particularly the cooling fan—can be heard in the cabin when the car is stationary. Also, the steering becomes lighter as you pick up speed, and there's noticeable body roll when cornering.
"Overall, though, the vehicle is stable in quicker highway running even when confronted by strong crosswinds at 150kph, and floats impressively over imperfections on rugged roads. I also love visibility all around, supplemented by the rear sensor and the reversing camera.
"This being a daily transport, engine performance is crucial. The Sail's 1.5-liter engine that spews out 107hp is punchy enough to make the driving experience feel a bit sporty. It's mated to a smooth-shifting four-speed automatic transmission that's very convenient for city use. There's a manual mode, but the button on shifter is barely visible.
"When it comes to safety features, the Sail is not left behind—it packs ABS, EBD, and driver and passenger airbags. What's more, there's a safety cage of reinforced steel, so you know you're definitely not driving a tin can. All this for a list price of P858,888. But even without those lucky 8's in the price, I believe this little sedan has great potential in its segment."