Toyota Motor Philippines (TMP) has just unveiled the third-generation Toyota Avanza, and the difference between the all-new model and its predecessor is like night and day. We'll take a closer look and compare the all-new small MPV to the model it replaces and to the upcoming refreshed Xpander.
All-new Avanza versus old Avanza
The Japanese carmaker has finally ditched the almost two-decade-old rear-wheel-drive architecture which it has underpinned two generations of the popular MPV. The all-new Avanza now rides on the front-wheel-drive DNGA platform, something it shares with the shorter two-row Raize.
While the third-gen Avanza features familiar engines, these are now mounted transversely instead of longitudinally. This new space-efficient package allows the larger MPV to further optimize interior room. How much has Toyota's small MPV grown? To make things easier, we will be focusing on the 1.5 G variant.
At 4,395mm x 1,730mm x 1,700mm, the all-new Avanza is 205mm longer, 70mm wider, and 5mm taller than the model it replaces. Its long 2,750mm wheelbase is 95mm longer than the old model. Ground clearance has also increased by 10mm to 190mm. The wheel and tire package has also been enlarged, as the G variant now sports 16-inch alloys shod with wider 195/60 R16 tires.
ADVERTISEMENT - CONTINUE READING BELOW ↓
ADVERTISEMENT - CONTINUE READING BELOW ↓
Recommended Videos
ALSO READ:
DPWH: Detailed engineering design of Bataan-Cavite Interlink Bridge now 34% completeToyota Corolla Altis GR-S to land in PH this month, prices could start at P1.302-M
All-new Avanza 1.5 G CVT versus Mitsubishi Xpander
Mitsubishi Motors Philippines has just previewed the refreshed Xpander, which is set to go on sale this coming May. We'll take a closer look and see how Toyota's new-generation small MPV compares to Mitsubishi's updated people-mover. Our comparison will be centered on the range-topping Avanza 1.5 G variant and the 1.5-liter-only Xpander.
The all-new Avanza is 200mm shorter, 20mm narrower, and 50mm lower than the refreshed Xpander. We should note that while the Xpander's restyled front fascia and rear bumper added an extra 120mm to its overall length, the Mitsubishi MPV's body is unchanged.
The wheelbase of Toyota's small people-hauler is only 5mm shy of its Mitsubishi counterpart's. The all-new Avanza's ground clearance is 35mm less than the updated Xpander, which gained extra millimeters during its update. The Avanza 1.5 G's 25.2-inch-diameter 195/60R16 tires are 0.7 inches smaller than the refreshed Xpander's upgraded 205/55R17 tires.
ADVERTISEMENT - CONTINUE READING BELOW ↓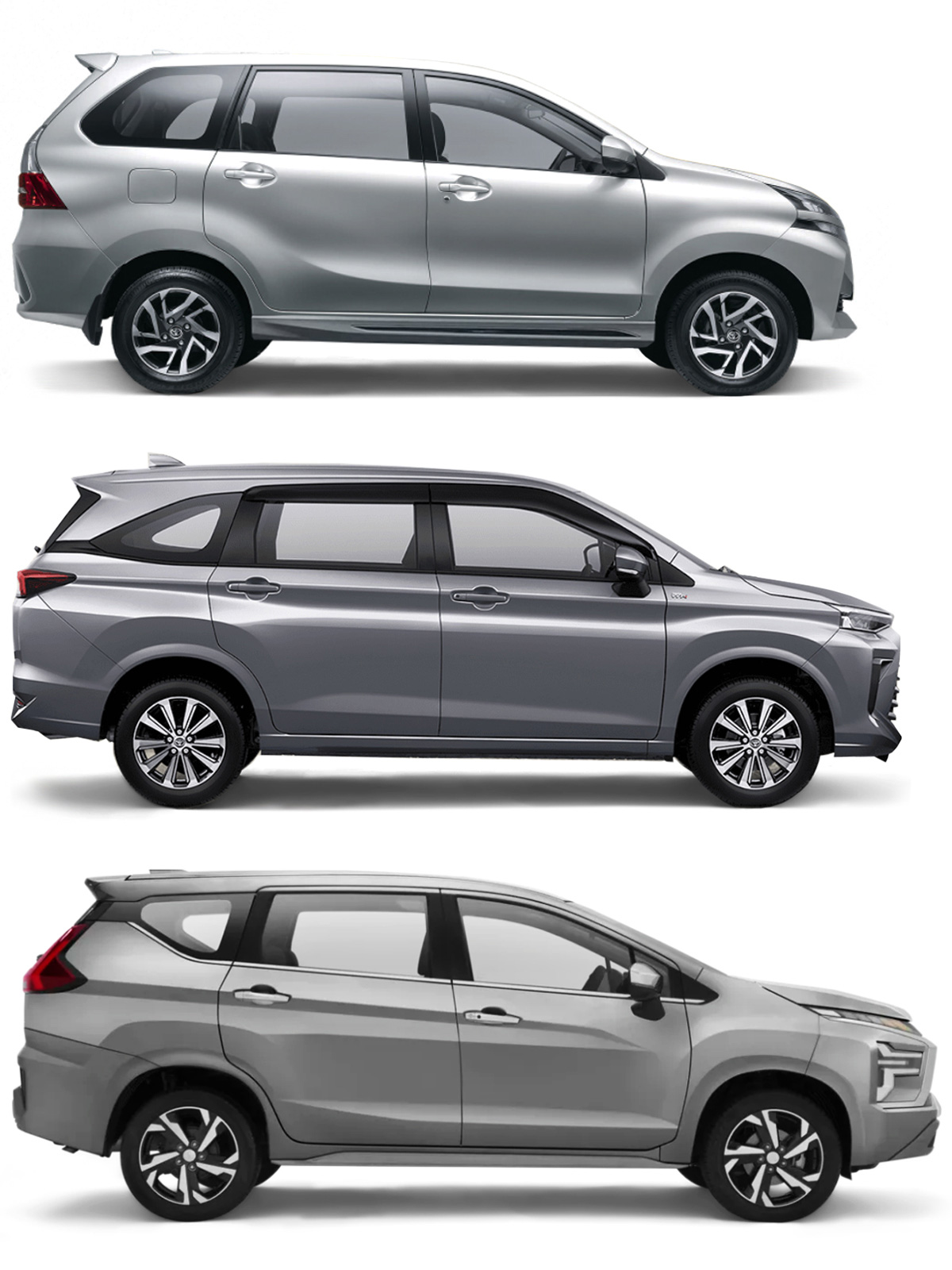 The all-new Avanza is still available with lower sub-P1 million 1.3-liter variants, while the Xpander is only available with 1.5-liter variants that start over P1 million. The price of the Avanza 1.5 G CVT (P1.039 million) overlaps with the Xpander's lower GLX variants (P1.03 to P1.09 million). While the two may not be 100% direct competitors, the all-new Avanza's larger body, modern platform, and updated features have narrowed the gap between the two seven-seater MPVs.
ADVERTISEMENT - CONTINUE READING BELOW ↓
Do you think the range-topping 1.5 G variant can now go head-to-head with the latest Xpander, particularly the similarly priced GLX variants?
Top Gear Philippines is now on Quento! Click here to download the app and enjoy more articles and videos from Top Gear Philippines and your favorite websites.