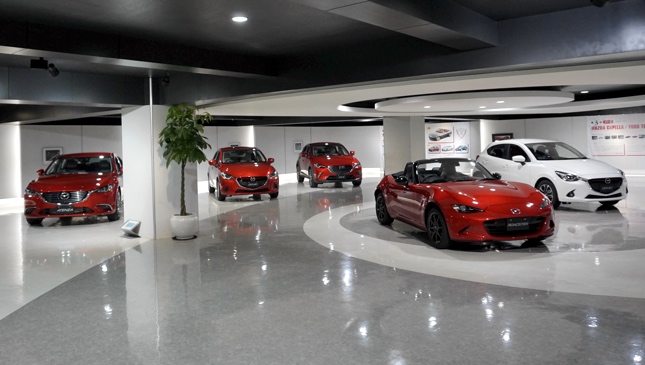 The home city of any carmaker--that is, any automotive company that cherishes its heritage--has a museum. Mazda is no different in this regard. During a recent trip to its Hiroshima hometown in Japan, among the many places we visited in Mazda's sprawling complex was its own museum.
The Mazda Museum is a nondescript two-floor building set amid the factories and assembly plants in the Japanese carmaker's Hiroshima plant. On the first level is a spacious entrance hall. During our visit, Mazda's latest models were on display in the main hall: the 2, the MX-5, the CX-3 and the slightly older 6.
Upstairs is where the more permanent exhibits lie. The first section is the throwback area, where the 1935 Type TCS three-wheel truck, Mazda's very first vehicle, will be the first thing you see. The collection progresses a bit quickly from there, proceeding to the '60s with the R360 Coupe and the Familia 800 sedan.
Things began to get really interesting when we reached a glossy bright-green 1978 RX-7. We wondered if and when this model line would be revived. Then we saw the 787B racing car that won the 1991 24 Hours of Le Mans endurance race. Its rotary engine was on display, an amazing powerplant designed to generate 690hp.
Continue reading below ↓
Recommended Videos
Another RX-7, several engines (including the latest SkyActiv mills), and a few more notable Mazdas throughout history followed. We also saw a diorama depicting the modern manufacturing process. This was followed by a short walk through the real factory via a special walkway that had its own museum exit and entrance.
Our only disappointment during the tour was that the museum shop was closed. We were looking forward to buying some die-cast models and stickers. Hopefully, we can visit this place again someday.
Enjoy the photos.
Photos by Dinzo Tabamo