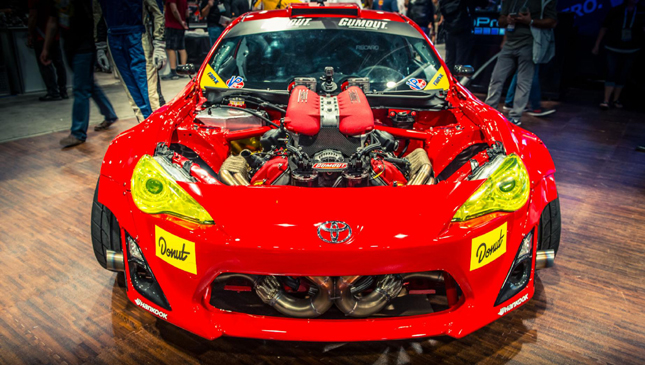 There's no real structure to SEMA. Where conventional motor shows have cars grouped by country, then filtered down by marque and splintered off into models on separate, well-signposted and lit stands, at SEMA cars are just drizzled around the various halls in a wonderfully disorganized fashion.
They're packed in too. The show is so dense it's very easy to miss stuff if you haven't got your eyes peeled. Absolute gems pop out of nowhere which you end up ogling over for far too long.
ADVERTISEMENT - CONTINUE READING BELOW ↓
But there are some cars that take the nuttiness to a whole new level. These are cars that have to be seen to be believed. Creations that make you wonder if you've accidentally walked into the wrong wardrobe and into some demented car-based coo-coo land.
Mad engine swaps, a record-breaking high-horsepower log, Rolls-Royce rat rods, 900hp Winnebagos, suspect GT-Rs, and even a chrome Yoda—they're all here rounded up for your pleasure. So enter this crazy Narnia at your own risk.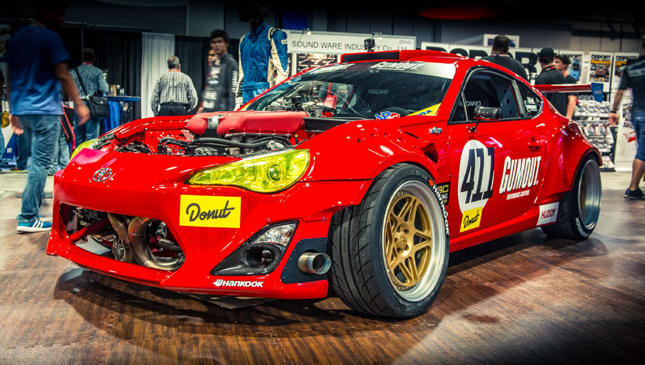 ADVERTISEMENT - CONTINUE READING BELOW ↓
Recommended Videos
Toyota GT4586
The concept of a V8 engine swap is not a new one. Very few people though, are brave enough to pilfer a Ferrari V8 and shove it into something, let alone a Toyota. People like pro drifter Ryan Tuerck, who has done just so with the help of Huddy MotorSports.
They took the normally mid-mounted 570hp, 539Nm Ferrari V8 from a 458 and shoved it in the front of a Toyota 86. As you can see, plumbing the thing in required quite a lot of head-scratching and bespoke fabrication.
We have to say, the exhaust manifolds that spill out the front of the engine and then split down to each corner of the front bumper are superb. And the fact they shoot flames ahead of the front tires while delivering an unmolested hi-def version of that trademark screaming flat-plane crank V8 is just icing on the cake.
There are too many unbelievable details for us to pore over on this car. So we think we have to get up close to it, drive it and give it more space to do this crazy build justice, don't you?
ADVERTISEMENT - CONTINUE READING BELOW ↓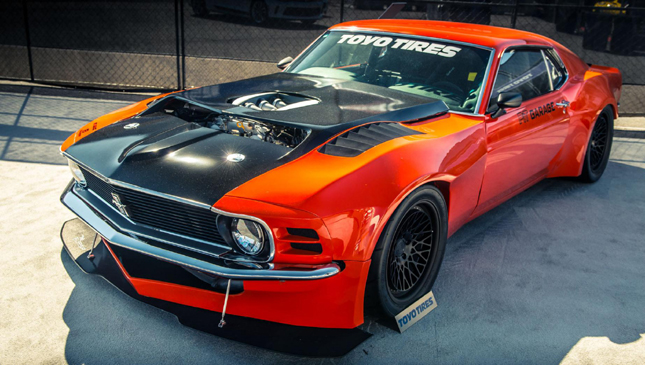 Muzilla
From one mad engine swap to another. What you are looking at is a 1970 Ford Mustang Fastback—often heralded as one of the best American muscle cars of all time—albeit a slightly bloated one.
That's not the news here. Because if you have a peek at the hood you may see something that'll cause you to spit out whatever is in your mouth. Yep, that's a 3.8-liter twin-turbo Nissan VR38DETT GT-R engine, folks.
ADVERTISEMENT - CONTINUE READING BELOW ↓
Now, we're not sure where a wide-body Mustang slotted over a four-wheel-drive GT-R chassis registers on the Blasphemy Scale, but we're pretty sure this will cause a stir in the comments. So allow us to pull the pin on this particular grenade and throw it your way.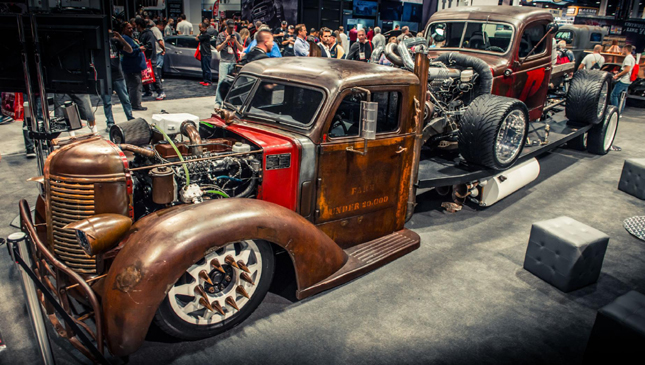 ADVERTISEMENT - CONTINUE READING BELOW ↓
Long Haul and Six Pack
We forgive you if your knowledge of '30s trucks is a bit, er, rusty. What you see above is a 1938 Diamond T.
It was favored by Brits and used prevalently in North Africa for transporting tanks back in the day. Not anymore as this now 30-foot long, 600hp, 24-valve Cummins single turbodiesel-engined Diamond T has been given a new lease of life by Weaver Customs. And it has something equally interesting clinging onto its back.
It's called 'Six Pack'—a '40s Dodge 1.5-ton truck slung over a modified 1994 Dodge Ram chassis. It's also a bit of a boozer, with its drink of choice being nitrous. Lots of it. With all that nitrous on the back, the dual-compound-charged 12-valve Cummins diesel engine chucks out 1,500hp and enough carcinogenic black smoke to wipe out a generation.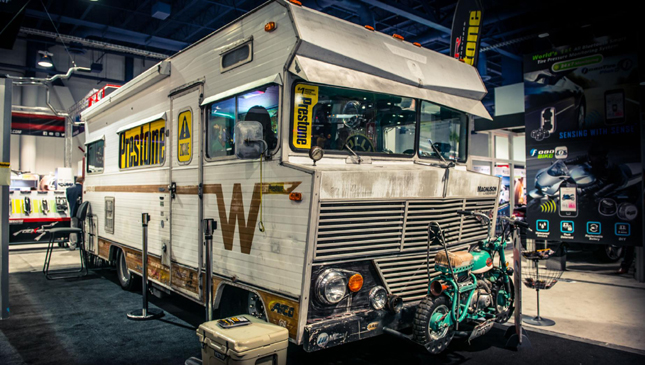 ADVERTISEMENT - CONTINUE READING BELOW ↓
Winnebago Happy Camper
May we proudly present the greatest RV in the world. It's a 1972 Winnebago Brave christened 'Happy Camper', and is probably the most excellent rolling home-from-home on the planet.
No, not because it has a monkey bike attached to the front. Or a Weber barbeque strapped to the back (although they both do help its cause greatly). This is excellent because of what's nestled in the middle: a supercharged Wegner Motorsports LS 408 that's powering it with a nutty 900hp. Yes, you read that right. Nine hundred. In an RV. Shut up and take our money already.
It's the work of Jim and Mike Ring, co-founders of Ringbrothers, the Wisconsin-based firm famed for putting silly power and carbon fiber bodies on America's finest muscle cars of old.
And they haven't settled for half measures with this project. Put simply, it's basically a dragster dressed up as Breaking Bad. There's Wegner ported LSA heads, a 4L80 transmission, Flowmaster headers, Inconel exhaust, and a rear end from a 2005 F-550 ambulance.
ADVERTISEMENT - CONTINUE READING BELOW ↓
Considering it weighs over four tons, it can hit 80kph from a standstill in an impressive 3.2 seconds. That's the great thing about 900hp and fat tires. Though it isn't all about numbers; one look at the inside will tell you that.
The interior is handmade from aluminum, beaten out by the Ring brothers to give a WWII bomber vibe. There are amenities too: TVs, a glass cover to show the engine and supercharger, popcorn maker, pizza oven, ratty awning and graffitied walls in the style of a toilet cubical from a London bar. Authentic.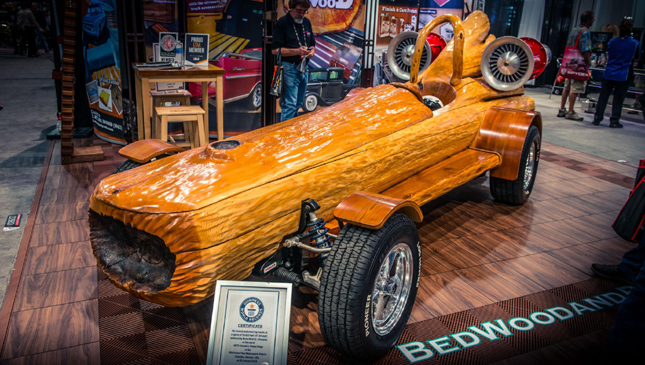 ADVERTISEMENT - CONTINUE READING BELOW ↓
The Log Car
Unlike the ones on theme park rides, this is an actual, bona fide log… carved into a car.
Wood—from a Western Red Cedar—was hollowed out to make a cabin, then finished with wooden fenders, a wooden rollbar, and four wheels poking out of each corner. They, unfortunately, are not made of wood. Neither are the two turbines protruding from its rear.
But this isn't some Wacky Races exhibit. It's an actual car and a record breaker at that. With the help of its electric drivetrain and the hard bits of an old Mazda RX-7, this log recently fired down a dragstrip at a splintering 80kph to claim the Guinness World Record for the fastest log car in the world.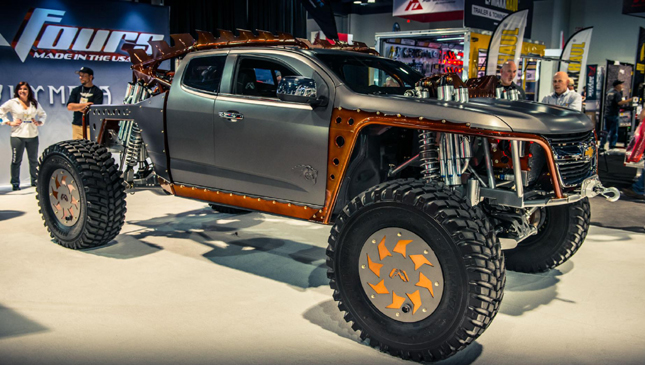 ADVERTISEMENT - CONTINUE READING BELOW ↓
Fab Fours Kymera
Once upon a time this was a 2015 Chevrolet Colorado. That was until South Carolina-based off-road firm Fab Fours got its grubby hands on it and fed it into the Mad Max/Death Race/General Apocalypse machine.
It's now called Kymera, a silver and bronze sawblade Mohican'd madman that you really, really don't want to pick a fight with.
The war report of its modifications is so long you'd need to write it on the back of the Bayeux Tapestry to get them all in. Here are the highlights, though: It's got a twin-turbo 5.9-liter Cummins diesel engine, 5.5-ton axles front and rear, Fox Racing quadruple bypass shocks, three-inch remote reservoir coilovers and hydraulic bump stops, air lockers, and 20-inch custom wheels with bead locks. A serious kit, then. And one that's got our name written all over it.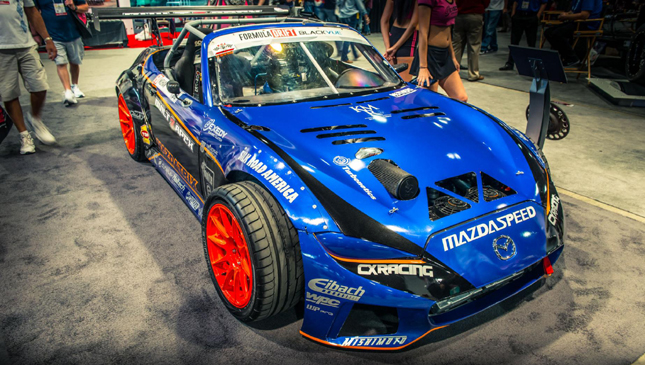 ADVERTISEMENT - CONTINUE READING BELOW ↓
Formula D MX-5
The MX-5 is loved for being a light, small and peppy two-seat, cheap thrills drop-top. With four cylinders and zero turbos, it's simple and keen to thump the rev-happy, naturally aspirated tub. This MX-5 though, didn't get the memo.
It's Kyle Mohan's Formula Drift MX-5, a KMR-built Mazda powered by a turbocharged, nitrous-fed, three-rotor engine developed by Mazdatrix. Pretty much the whole drivetrain is new and has resulted in excess of 1,000hp. You also may have noticed the exaggerated track widths and seemingly infinite amount of possible steering lock.
Still think MX-5s are hairdressers cars?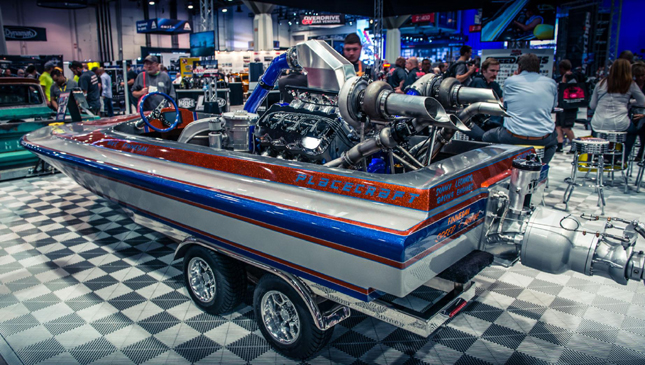 ADVERTISEMENT - CONTINUE READING BELOW ↓
Peterson Placecraft
Yes, we know it's not a car. But this is one badass boat. It's a 2015 Peterson Placecraft drag jet boat with a Sonny Leonard 711 cubic-inch Hemi V8 that makes more than 1,200 horsepower.
But that, apparently, wasn't enough. So owner Mike Finnegan slapped a pair of turbochargers on the back, then added nitrous. Which will probably be enough horsepower to drain any lake, or ocean for that matter, of its water.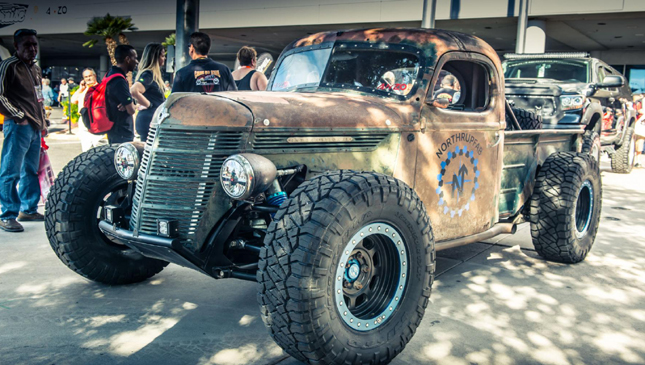 ADVERTISEMENT - CONTINUE READING BELOW ↓
Rat Rod Trophy Truck
Trophy trucks are awesome. With their endless suspension travel, knobbly tires and ability to look at pretty much any landscape on earth and say, 'yeah, I'll have that', you can't help but love them.
Rat rods are equally awesome. It's a school of design that pays homage to the American hot rods of the Forties, Fifties and Sixties, that favors unfinished, bare-boned, rusty aesthetics. More often than not, they're also stuffed with a full-fat V8.
Now, when you put two in a blender you get the above. A rat rod trophy truck. Or trophy rat if you're a fan of portmanteau. Basically, double awesome.
It's a derelict 1937 International pickup body plonked on a bespoke spaceframe chassis, with 2.5-inch King coilover shocks with 14-inches of vertical travel at each corner, and a hefty 5.7-liter LS6 V8 engine up front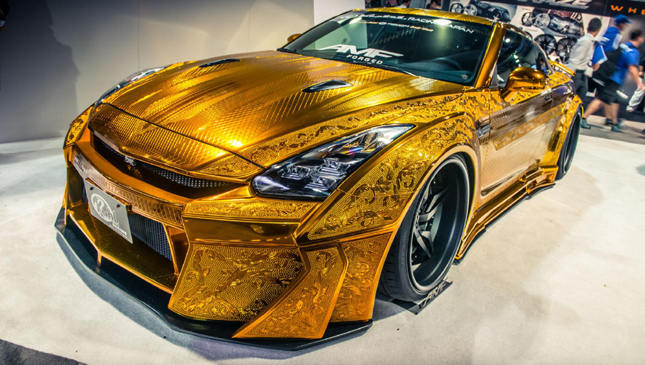 ADVERTISEMENT - CONTINUE READING BELOW ↓
Kuhl Racing Nissan GT-R
Look at that paint job. Seriously, look. With its gold Smith and Wesson/cowboy boot and belt buckle-style engraving, you're probably thinking this is Texas' answer to the mighty GT-R.
But no, this hails from Japan. That unique, incredibly detailed—and slightly dubious—engraving is actually etched by hand onto metal (not the usual fiberglass) arches and other parts during the painting process.
Kuhl didn't want to use the standard panels as they could warp when jiggling down a bumpy road, leading the paintwork to literally fall off. So they swapped them out, but as they were going to all that effort, they made the arches wider; 50mm at the front and 70mm at the rear.
The whole car took seven months to complete and is finished in an Aero Monster widebody kit by Love Lark, a shopping trolley's worth of performance parts from Biltz, and deep-dish three-piece wheels from AMF Forged.
ADVERTISEMENT - CONTINUE READING BELOW ↓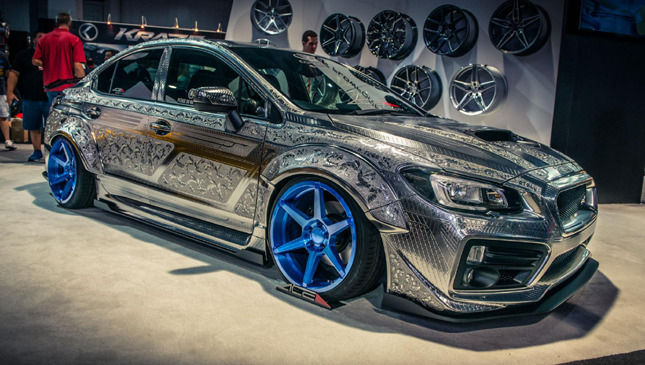 Kuhl Racing Subaru WRX STI
Cover your eyes! It turns out this engraving business is officially becoming a trend, as the GT-R now has a Subaru stablemate. We must kill this cancerous car cladding.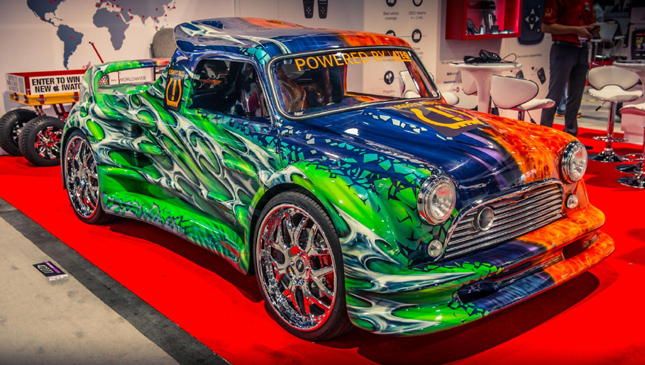 ADVERTISEMENT - CONTINUE READING BELOW ↓
Twin-engined 1,000hp Mini
Did you feel that? That was you hopping back to 2003 tuning culture through this twin-engined, 1000hp turbocharged Mini pick-up.
As you can see, this is quite a nostalgic throwback to car mods of old. A time where Von Dutch trucker hats were socially acceptable and everyone had too much disposable income for their own good, so put everything they could find on their car. Which, in this case, included another engine.
This whole car is an exercise in more, more, more. And how do we like it? Well, not very much, to be honest.
It's been painted in all the colors and lacquered on to a rather extreme body kit that features faux air vents and a roof that is wholly spoiler. At each corner sits an oversized, chrome alloy. While inside the airbrushing continues onto the one-piece fiberglass central seating position that looks out on to—no joke—24 gauges and a bank of 16 switches.
ADVERTISEMENT - CONTINUE READING BELOW ↓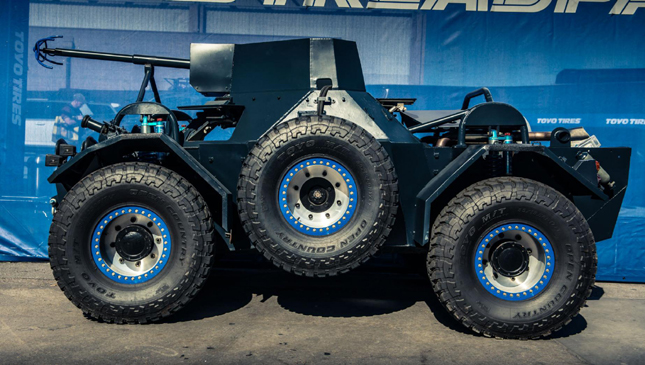 BJ Baldwin's tank
What we have here is BJ Baldwin's new company car. It's a six-wheeled 1959 Ferret Scout that the off-road supremo has been bashing in for YouTube's benefit. It's an actual tank that was made in the UK between 1952-1971. Initially, it was powered by Rolls-Royce's short-stroke inline-six cylinder, but not BJ's.
ADVERTISEMENT - CONTINUE READING BELOW ↓
It's been overhauled with an LS V8 and given two extra wheels for good measure. They can be engaged via hydraulic motors, while King provided slinky-style suspension with loads of travel and the central turret was turned into an Action Man-style grappling hook launcher that's attached to a winch. You know, just in case power alone isn't enough to get you out of the hole you find yourself stuck in.
UP NEXT: More insane rides
[previous|page|next]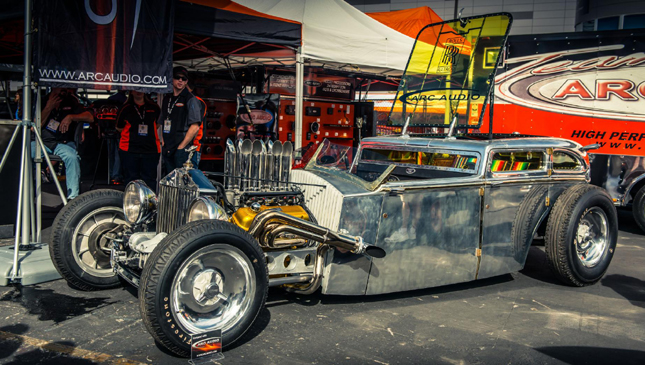 ADVERTISEMENT - CONTINUE READING BELOW ↓
Rolls-Royce rat rod
Normally, a Rolls-Royce signifies wealth, privilege and luxury all wrapped up in a stately land yacht of a car. Well, this is what happens when one goes off the rails. This, peeps, is the Rolls-Royce rat rod.
It's a big, shiny middle finger to the Roller establishment and we love it. As you can see, the front section of the carriage is a speedster, while the rear is covered.
The whole thing has been chopped down and slammed to the deck with a Mohican set of pipes coming out the gold-plated engine and giant skull attached to the gear stick.
As tradition dictates, the Spirit of Ecstasy still sits up front, guiding the ship. But she probably needs a studded leather jacket to really fit in.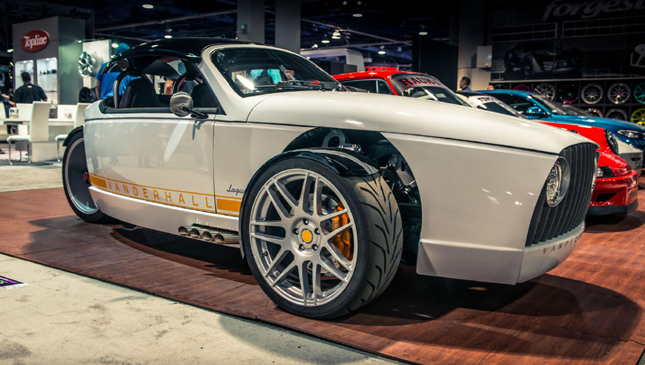 ADVERTISEMENT - CONTINUE READING BELOW ↓
Vanderhall Laguna
If you're in the market for a three-wheeler but have poo-poo'd the Morgan Three-Wheeler for being too quaint and the Polaris Slingshot for being too plasticky, you may want to try this—the Vanderhall Laguna.
It's a front-wheel-drive art deco tripod with a Chevrolet Sonic 1.4-litre turbo engine, aluminum chassis, carbon fiber body, and best of all, eight exhaust pipes. Eight! Yours for $75,000 (P3.64 million). Gulp.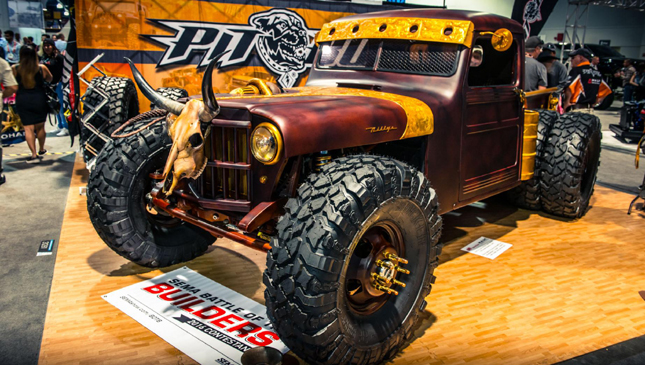 ADVERTISEMENT - CONTINUE READING BELOW ↓
Hauk 45
Nothing quite scares other road users like a carcass stuck to your front grille. That's exactly what this 1948 Willys Pickup has, so deal with it.
Built by Hauk in just six weeks, this Jeep is a tribute to the Old Wild West and the guns from that era.
The cab has been stretched by eight inches, chopped down by three while the engine bay has been extended by a further 11 inches to make way for a 12-valve Cummins diesel engine.
There are some fantastic details too. Like the taillights made from upcycled motorbike lights, hand-engraved turbo, reclaimed chicken wire in the windscreen, aged antique walnut pickup bed, leather interior, three-link Fox suspension, and door handles made from Colt .45s.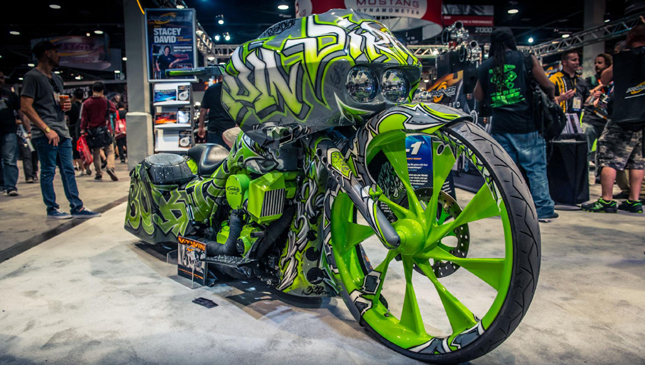 ADVERTISEMENT - CONTINUE READING BELOW ↓
Harley Road Glide
Here we have the Organ Donor Association's dream: a 150+hp turbocharged Harley painted in 'Shoreditch Alleyway Green'. So if you're in the market for a new pancreas, speak to the owner of this, as it could be yours after they take it out for a wet, early morning ride.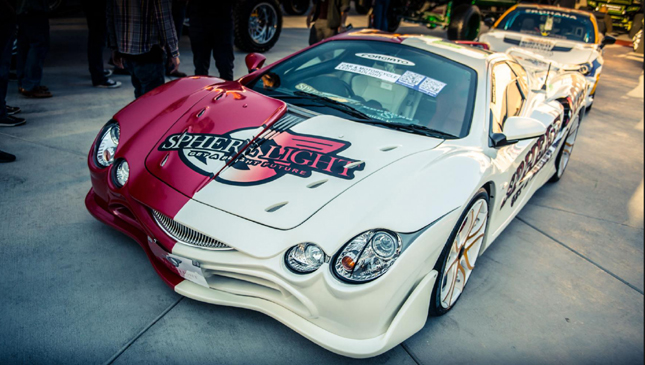 ADVERTISEMENT - CONTINUE READING BELOW ↓
Mitsuoka Orochi
Here's a supercar those pesky Instagram supercar snappers would love to have on their digital timeline. It's Japan's recently deceased Mitsuoka Orochi.
For those not in the know, it's a supercar that looks like it's melting and fitted with a mid-mounted 3.3-liter Toyota V6 sending 230hp to the rear wheels via a five-speed automatic gearbox.
Its name originates from the name of an eight-headed, eight-tailed dragon from Japanese legend. Fittingly, that's the only thing that would garner more second glances sidling down a busy Tokyo street.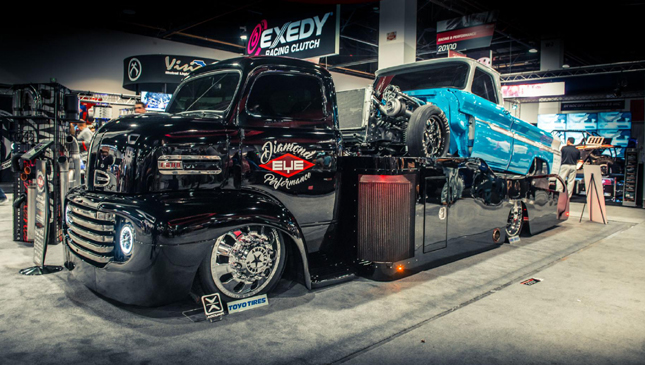 ADVERTISEMENT - CONTINUE READING BELOW ↓
1948 Ford F5 and 1965 GMC C10
Here's another high-horsepower piggyback for you. A 1948 Ford F5 COE Hauler with 1,491Nm on airbags lugging a twin-turbo 1965 GMC C10 called 'Demon Smurf'. Sure looks a hell of a lot cooler than the AA low-loaders in the UK.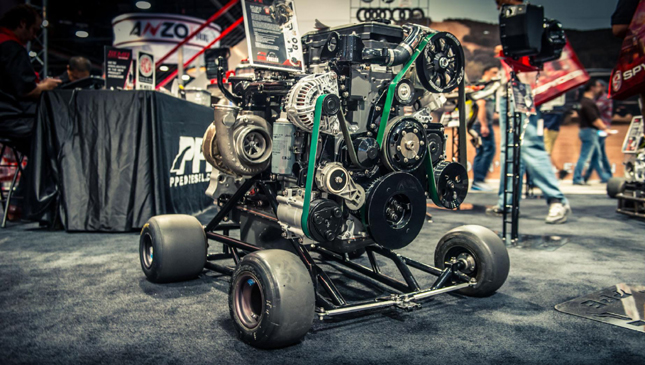 ADVERTISEMENT - CONTINUE READING BELOW ↓
Potentially the best go-kart in the world
*Paging Santa* This twin-turbo 6.7-liter diesel engine (potential) go-kart has gone straight to the top of our Christmas list. If only you can work out some driveshafts and steering, we're on to a sure-fire winner. Bonus points will be awarded to anyone who can make it through to Boxing Day without ending up in the hospital. Or a morgue, for that matter.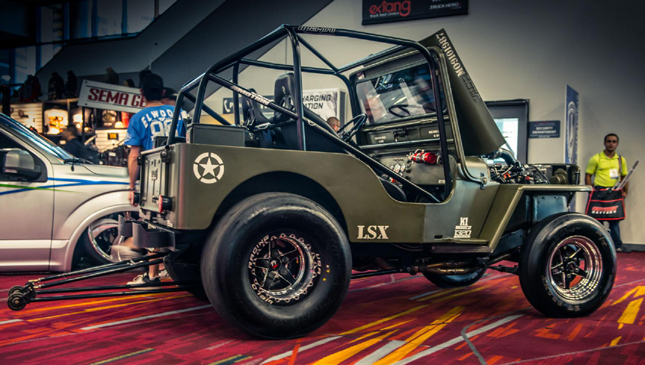 ADVERTISEMENT - CONTINUE READING BELOW ↓
Wheelie good Willys Jeep
Shapes don't come much more iconic than the Willys Jeep. More than 600,000 of the boxy blighters were built during World War II. They did pretty much everything; from ambulances, reconnaissance vehicles, weapons carriers, wire layers, and even acting as battlefield Ubers.
One thing they didn't do, was go drag racing. But that hasn't stopped this army green Willys CJ3-A doing just that.
The spec is insane: There's a Dart LS Next II 427 block with Dart Pro 1 LS3 heads, a K1 rotating assembly, Wiseco pistons, and a Cammotion valvetrain. That all may sound like gobbledygook to you, but all you need to know is that it's got over 1,500hp going to the wheels thanks to nitrous.
And with those Weld RTS wheels and thick Mickey Thompson tires taking up over half of the Jeep's width, we think it's one of the coolest-looking Willys we've ever seen.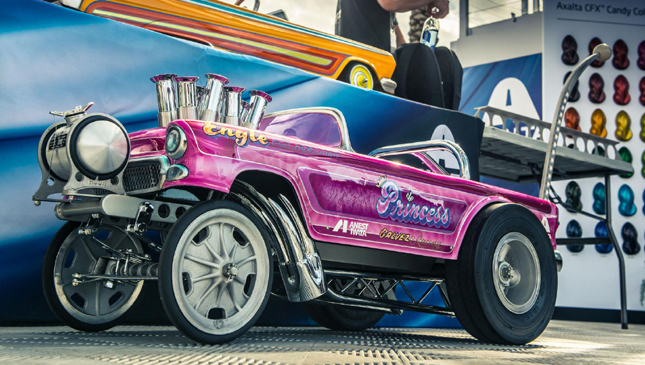 ADVERTISEMENT - CONTINUE READING BELOW ↓
Gasser Stroller
Are you expecting a child? Need a stroller? Well, look no further. This candy pink gasser stroller will be available at all good baby stores soon. Possibly.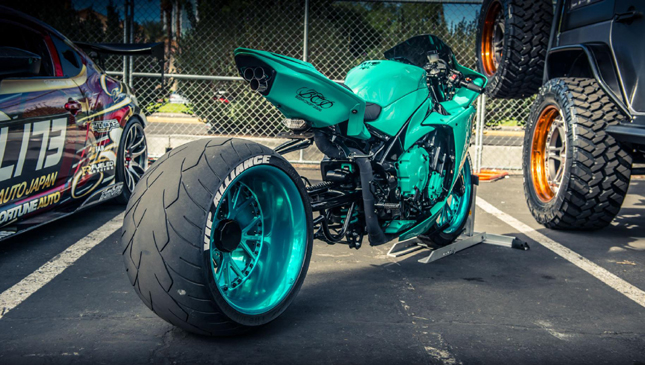 Confused bike
We guess this is what you call a gender confused motorbike. Poor thing doesn't know whether it wants to be a street bike or chopper.
ADVERTISEMENT - CONTINUE READING BELOW ↓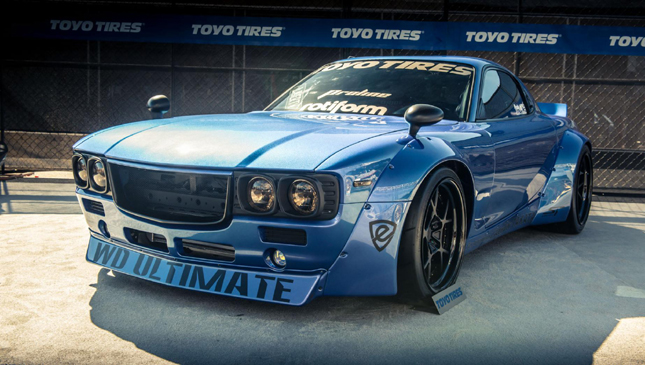 Mazda RX-7
Umm, even out of all the cars we've been through, we're genuinely speechless about this Rocket Bunny RX-7. Excuse us, but we're off for a sit down in a cool, dark room. Potentially forever.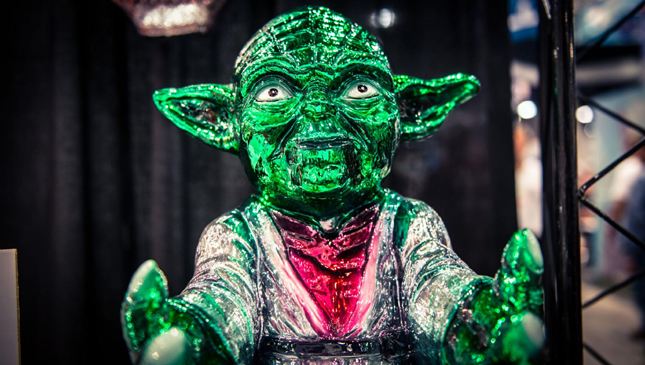 ADVERTISEMENT - CONTINUE READING BELOW ↓
Chrome Yoda
Here's proof that literally no one can escape an impromptu pimping at SEMA. Not even Yoda, who's been dipped in green chrome. Because after all, hmmm luminous beings are we, not this crude chrome matter.
NOTE: This article first appeared on TopGear.com. Minor edits have been made.