Aside from your wedding day and the birth of your child, your next most special day must be the day you drive home your first brand-new ride. If you aren't married or don't have kids yet, then get ready, buddy—those are two moments that will define you. Chances are, though, that you'll reach the brand-new car milestone before either of those. And though we aren't the authority on getting hitched or raising kids, we know a thing or two about cars. Here's what you can expect when you drive home that shiny, new whip. 

Elation. There's nothing quite like driving your brand-new set of wheels out of the showroom. It's a joyous moment when you get behind the wheel of a new car and park it in your garage. How can that not put a smile on anyone's face? 

Accomplishment. This new car means so much more than it really does. That sense of achievement you'll feel when you drive it home is linked to the fact that you are now the owner of a new car because of your hard work. You've done your part and paid your dues, and now it's time to reap your rewards. That feeling of success? Totally legit. 

Excitement. Then you start feeling giddy about your epic adventures on wheels. You dream of barkada road trips, cruising the open roads, or having a spirited drive up twisty hills. This new ride promises exciting times ahead.

Responsibility. A brand-new car will also renew your feelings of responsibility. Maybe it's because you took out a loan to pay for it, and you need to practice diligence when keeping up with the monthly amortizations. There's also the periodic maintenance of the car that you have to stay on top of. In many ways, the car will continue to teach you how to be more responsible.

Make no mistake, buying a brand-new car is a big responsibility, especially if you decide to acquire one using a bank car loan program. But with the PNB Smart Auto Loan, you can experience monthly payments that start at a competitive rate and go down the same way as the value of the car. With it, you also have the option to avail of a longer loan term with the PNB Smart Auto Upgrade, which allows you to get the higher model car you've always been dreaming of. The PNB Smart Auto Loan also comes with PNB's Smart Auto Insurance, which can be combined with the program's light and easy monthly payments, allowing you to worry less about large annual insurance premiums. With these buyer-friendly options, you can manage your cash flow in a smart way.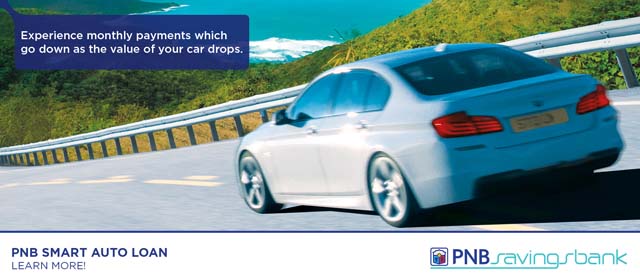 Click here for more details, or head over to your nearest PNB branch for a consultation on what terms and mode of payment best suit your needs. Buying a car has never been so convenient and easy!
More From