Cars and kids: there's something about this combination that just spells "bonding." Automobiles have a certain power for bringing parents and their children closer to one another. And whether it's the car itself or the things you can do with it, the potential for creating special moments is immediately higher with one in the mix. Here are just some ways kids and their folks bond over cars. 

Road trips. What kid doesn't enjoy a nice, steady ride? It might be a trip to the museum, zoo, theme park, toy store, or just a joyride around town to see what's going—but these are special moments that can't be taken for granted. It's just people getting into a car and driving around, but the road trip shared between parents and kids is always something special. 

Washing the car. Young children, generally, love playing with soap, water, and hoses. Though, as a parent, you can't expect the professional-grade clean you would get from a fancy carwash, seeing your kids having fun while washing the car is priceless.

Introducing your kid to safe motoring. It's all about sharing your good habits behind the wheel. Make the most of this fun opportunity to introduce him to the world of responsible motoring. 

Bonding over toy cars. Toy cars are a favorite among kids. Remember when you joined your mom or dad at the toy store and they made you pick one toy car? That sure was a special day. As a parent, you can (and should) recreate that feeling with your own child. 

Cars provide unique opportunities for parents to create happy memories with their kids. Even toy cars do! Consider this: how would you like to give your child a new Mercedes-Benz roadster? Let your pre-schooler's first drive be safe with the best engineering technology from NESTLÉ NANKID® and Mercedes-Benz, as every purchase of limited edition NESTLÉ NANKID® Optipro® Four and NESTLÉ NANKID® Optipro® HW Four gets you a chance to win one of 20 Mercedes-Benz SLS AMG Roadster Electric-Powered children's cars.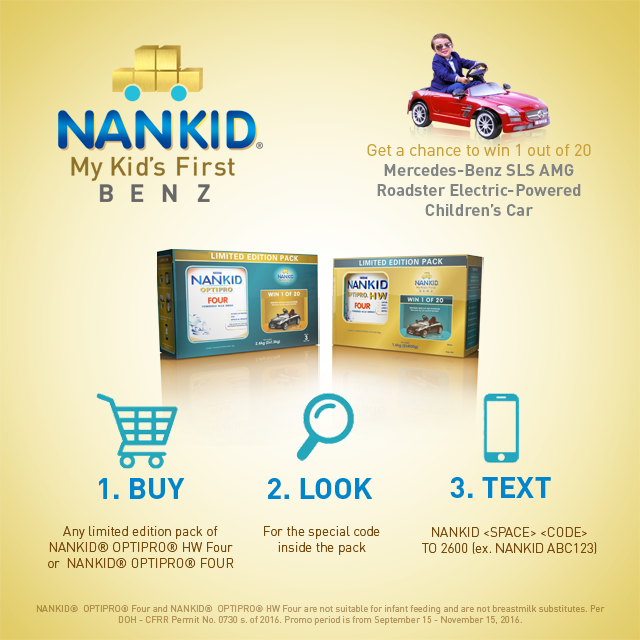 It's only fitting that the two brands partner-up for this campaign. Parallels abound between NESTLÉ NANKID® and Mercedez-Benz, especially with regard to innovation and providing top-notch products. While the German carmaker is synonymous with progress, NESTLÉ NANKID® is likewise a product of breakthrough technology from the NESTLÉ Research Center that makes your kids get optimized protein from their milk drink. 
Fulfill your child's nourishment needs and give him the best drive through NESTLÉ NANKID®. Click here to learn more. 
More From