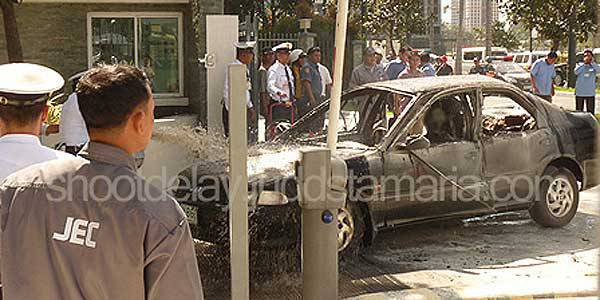 The recent car explosion in the usually tranquil Bonifacio Global City raised anxiety levels among Manileños as the busy Christmas season approaches. We know it's the season to be merry but it also makes a whole lot of sense to be cautious so let us scare you a bit with some of the most disturbing incidents of vehicles catching fire and blowing up in recent history.

Valentine's Day bombing. Terrorists claimed responsibility over the series of bombings which shook the country on February 14, 2005. Three people died and 74 others were wounded when a bomb exploded in a bus near the intersection of Edsa and Ayala Avenue. The explosion set two other buses on fire and paralyzed the south-bound side of Edsa in the area for hours.

Iligan car bomb. A maroon 1978 Mitsubishi Lancer was parked near the Exquisite pawnshop at the corner of Sabayle and Calibi Streets in Iligan City when it exploded at around 10:30 a.m. on July 7, reports said. The explosion left at least nine people wounded.

Bus fire on Edsa. Faulty electrical wiring was reported to be the probable cause of a bus fire on Edsa in January. Reports said Admiral Transport driver Maximino Malte noticed smoke coming out of the bus front while passengers were getting off near the gate of Dasmariñas Village in Makati. Malte managed to instruct the bus conductor to get the remaining passengers off the bus before it was gutted in flames.

Crash and burn. A Mercedes-Benz went up in flames after being struck by a speeding bus in October 2008. It left the driver dead as he was knocked unconscious by the impact, while the passenger was able to get out of the burning car.

All fired-up truck. A fully-laden tanker truck, fresh from the Pandacan Oil Depot terminal, burst into flames as it rolled down the Nagtahan flyover in January 2008. The incident left one person dead and injured another as it burned 13 other vehicles on the street.
Continue reading below ↓
Recommended Videos