Electric and hybrid cars may be far from being economically viable but this hasn't stopped the world's best car companies from coming up with new earth-saving ideas wrapped in a funky package that we can all look forward to. Here are some of the most exciting electric and hybrid concept cars at the Frankfurt Motor Show.
1. BMW Vision EfficientDynamics Concept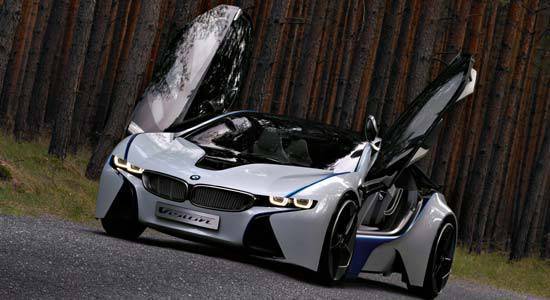 With its wild design making it look like a Hot Wheels toy car come to life, it's hard to take the Vision EfficientDynamics Concept seriously. However, when BMW says that it's not just a styling exercise and that it's the future of performance yet economical motoring, one has to listen good. Conceived as a 2+2 seater with plug-in full-hybrid technology, the Vision concept adopts the brand's EfficientDynamics engineering philosophy by giving it the performance of BMW's signature M vehicles with a fuel efficiency and emission standard that exceeds even those of today's newest small cars. Again, it's a concept car. We have to wait until BMW proves the Vision EfficientDynamics can do zero to 100kph in 4.8 seconds while consuming just 3.76 liters per 100 kilometers with a carbon dioxide emission rating of just 99 grams per kilometer.
Click "next" to see more cars!
2. Audi e-tron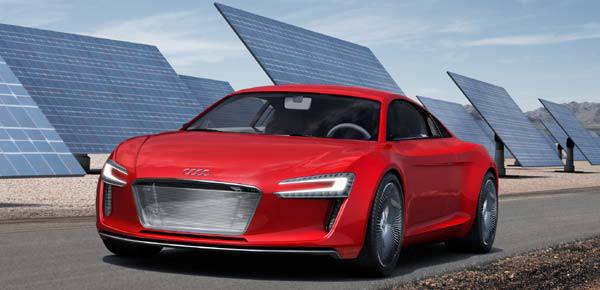 An electric supercar concept based on the wildly-popular R8, the e-tron has a full electric powertrain with an electric motor on each wheel distributing its torque individually, giving the e-tron Audi's signature Quattro layout. What's insane though is that the e-tron puts down just 313 horses while producing a chassis-twisting 3,319 foot-pound (lb-ft) of torque, letting it run from 0 to 100 kilometers per hour (kph) in 4.8 seconds. Still, as a concept car, you have to wonder how much of this is realistically possible and how much is just plain bull.
Click "next" to see more cars!
3. Citroen REVOLTe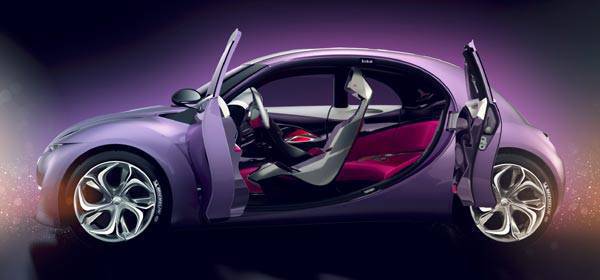 An homage to Citroen's 2CV post-war economy car, the REVOLTe adopts the classic car's look and complements it with a post-millennium hybrid drivetrain. Citroen shared very little about the REVOLTe's powerplant, save that it has a small petrol engine that can run with the electric motor. It can run on just its battery alone as well. However, the French automaker was very generous to describe the REVOLTe's styling cues, from its diminutive size (it's just 12 feet long, 5.6 feet wide and 4.4 feet tall!) to its three-seater cabin with the central driving position. Yes, it's very quirky and very French.
Click "next" to see more cars!
4. Renault Twizy Z.E. Concept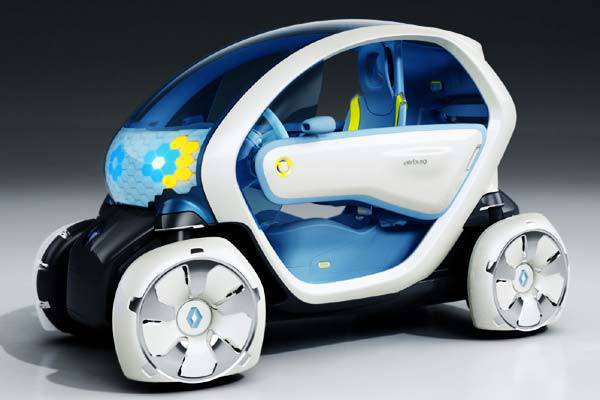 Renault has always made out-of-the-box vehicles. Case-in-point: the Twizy Z.E. Concept with its wraparound bodywork and its tandem driver-passenger seating combination. Designed to be an all-electric urban mode of transport, the Twizy Z.E Concept will run with a 15kW electric motor capable of putting out more than 50lb-ft of torque, that should allow it to zip through traffic like a 125cc motorbike. Renault, of course, makes things more exciting for the motoring world as it also unveiled three other concept cars in Frankfurt--the Zoe Z.E. Concept, Fluence Z.E. Concept, and the Kangoo Z.E. Concept.
Click "next" to see more cars!
5. Volkswagen L1 Hybrid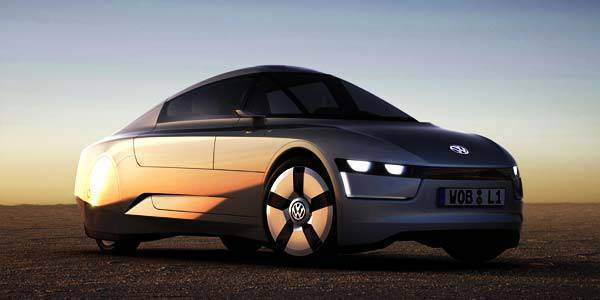 A hundred kilometers with just 1.38 liters of diesel fuel? This claim has already made the Volkswagen L1 popular even before it goes into production in 2013. The secret lies on its carbon-fiber reinforced body  that weighs just 124kg with the vehicle's total weight at just 380kg. Another contributing factor to the L1's success is its highly aerodynamic form as the vehicle has a drag coefficient of just 0.195 with its narrow body making it look like a land-based, wingless glider. Much like a glider, access to the L1's cockpit is through a roof cover hinged at the side while seating is done tandem-style as well. The L1 will be powered by an 800cc turbodiesel unit that delivers up to 29 horsepower while a 14 horsepower electric motor will help push the L1 up to 160 kph with a zero-to-100kph run taking 14.3 seconds.
Continue reading below ↓
Recommended Videos