The promise of driving your own set of wheels and hitting the open road is a fantasy unlike no other. With the wind in your hair and your imagination as your compass, the car represents freedom on four wheels. But before you get absorbed in intoxicating reverie, remember that owning your dream car requires some careful thought. Here are a few things to remember before making your purchase.

* List down what you want in a car. Deciding which car to buy can be tricky. There are so many factors to consider: make, model, price, aftermarket service, resale value (if you see yourself letting go of it in the future), fuel consumption, color, how many cup holders it has—you get the idea. Make "pros and cons" list for each car you encounter to clear things up. You can't get everything in a single car, so identifying what you want will narrow your search. For scoring your first car, this is fun research, and the kind of homework you actually wouldn't mind doing.

* Know your lifestyle. Choose a car that complements your lifestyle. Spend more time in the city than out of it? Maybe a fuel-saving subcompact is for you. Like driving off the beaten path? A 4x4 SUV or pickup truck might be the right choice. Starting a family? It's minivan time! Ask yourself: "What am I gonna use this car for?" A trick is to visualize yourself using the vehicle. Think: "Is this car helping me go about my business?" That way it will serve its function, as well as be something you can totally be proud of.

* Seek advice. Whether this is professional advice or not, it would be in your best interest to get several opinions on a ride before buying it. If you know someone who owns a similar car, you could talk to them and ask them for a closer look—or, if you two go way back, even try driving it. You can also do online research and check out the numerous car forums to get even more in-depth info on your future car.

* Don't act on impulse. This tip will probably result in more than a few reassessments of your car choices, but it's an important one: You don't want to buy just any car. You could just walk into a dealership, point at a ride, and say "I want that one because I can afford it right now," but you might regret doing that in the future. These decisions cannot be made haphazardly.

* An auto loan can help you get your dream car sooner. If you're looking for the quickest route to your dream ride, then an auto loan is it. Sure, it's a big responsibility; but you're ready for it. There will be a few budget adjustments, but these are very manageable (letting go of your over-priced-coffee habit will definitely help you pay for things!). Imagine the convenience of having a ride every time (especially nowadays that the rainy season is fast approaching), or how easy out-of-town family trips are ging to be. All that, plus you are rolling in your dream set of wheels. Now that's priceless. 

When inquiring about a car loan, it's best to know your terms. But even with a limited knowledge of the jargon, you can count on a trusted auto loan program, like BPI Family Auto Loan, to make sure that everything is spelled out for your quick understanding.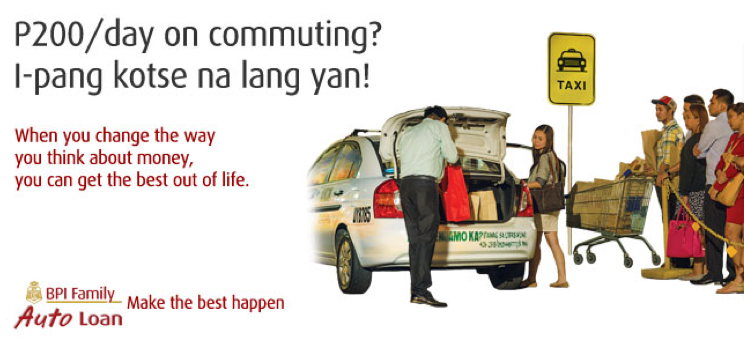 With innovative services like the 60-Second Online Loan Pre Qualification Tool, you can immediately find out what kind of car you can drive home with your current salary. And with BPI's 1st Car Plan Value Package, getting your first car has never been this easy and affordable. As you read this, there may be a very good chance that you are already capable of realizing this dream. And knowing so is just a click away!

Yes, buying a new car requires some careful thought but the search for your dream car is easier than you think when you put things into perspective. When you know what you want, and you are realistic about your budget, then committing to buying a brand new car becomes simple. And the benefits of owning your very own ride abound—there's just a certain magic about having your own set of wheels. It's hard to explain what that feeling is exactly; but there's something in there about freedom, the wind in your hair, and your imagination as your compass…

For more information on the BPI Family Auto Loan, click here.
More From