Many Gen X motorists back in the early '90s remember Pertua as the Filipino innovation that was essential to oil changes. During that time, automotive manufacturers were just starting to come back to the country, and most Filipinos drove older cars with engines that were increasingly inefficient due to age-related wear and tear. Invented in the USA by Fil-Am engineer John Simon, Pertua Oil and Metal Treatment was hailed as a miracle product that curbed power loss, costly repairs, and high fuel consumption.
The brand, with the help of its new managers and partners, is dead set on rekindling that glory. About two years ago, there was a company-wide restructuring: Pertua hired experienced managers and employees from big oil companies, modernized production and packaging, improved distribution processes, and invested in corporate communications and digital advertising.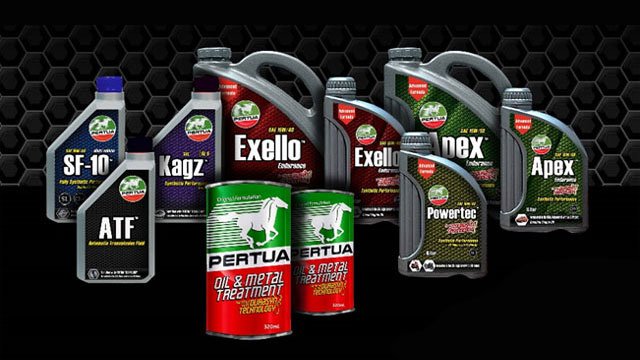 While the product's claimed benefits are backed by tests and a US Patent, Pertua's charge is organically driven by testimonials from its loyal and new users nationwide. Below are some stories from its proud users that may inspire other Filipino drivers to experience Pertua for themselves:
1.) It provides instant results that you can see and feel.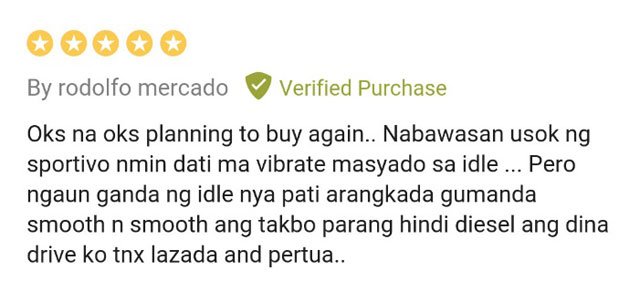 2.) It restores engine performance and improves fuel efficiency.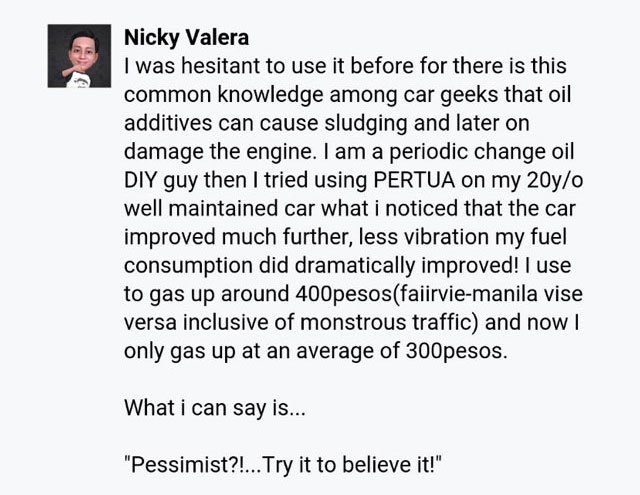 3.) It helps your engine run like new.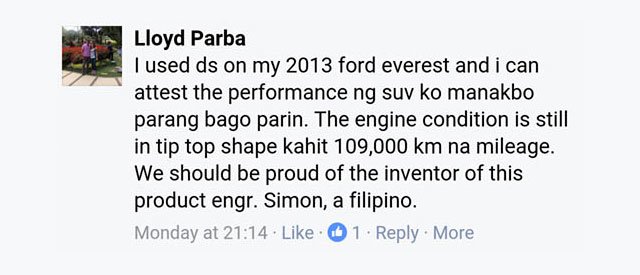 4.) It reduces harmful emissions.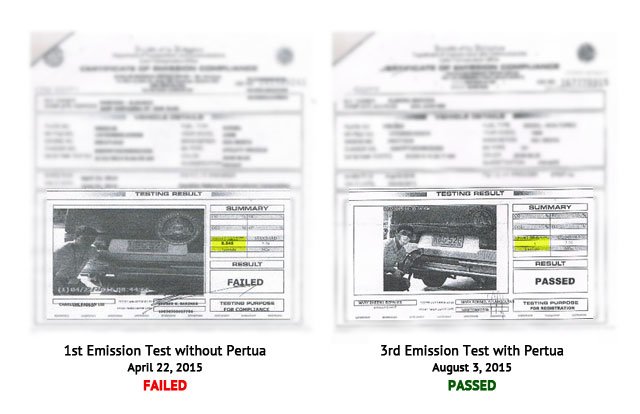 5.) It is proven effective for almost three decades.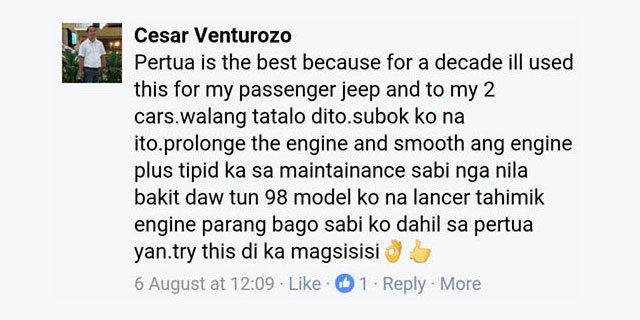 The Pertua product lineup includes Oil and Metal Treatment, which is mixable with engine oil of any brand and type. It is also available in conveniently pre-blended packages: Exello Endurance for diesel engines, Apex Endurance for gasoline engines, and Powertec for motorcycles. Other Pertua products available are Apex PCO, Exello CVO, ATF, Kagz Gear Oil, and Hydex Hydraulic Oil. 
Pertua products are available nationwide at Blade Auto Center branches, AllHome branches, Lazada.com.ph, Shopinas.com, auto supplies and motorcycle shops, and service centers listed on this dealer locator.
For more information, tests, and testimonials, like the Pertua Facebook page, or visit their website.
This article is sponsored by Pertua.