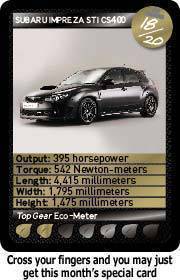 Yes, we know...we should have posted this story at the beginning of this month. We totally forgot it. Our apologies. Perhaps we were just too relieved that this five-month-long Trump Cars promo is finally over. Don't get us wrong. We had fun releasing these cards every month for your pleasure and enjoyment, but the snafus related to their distribution eventually took their toll.
Anyway, the fifth Trump Cars batch features sporty hatchbacks, including the likes of the Fiat Punto Evo Abarth, the SEAT Ibiza Cupra TDI, the Volkswagen Polo GTI, the Citroen DS3 Racing, the Lancia Delta Integrale, and the Renault Sport Clio, among others. And again, if you're lucky, you'll get the special card featuring the Subaru Impreza STI CS400.
Continue reading below ↓
Recommended Videos
Guys, thank you so much for collecting all five batches of Trump Cars. We hope you were able to complete them.
For the last time, here are instructions on how to play the game:
We recommend five players since the complete deck includes 50 cards. Deal the cards face down to all players. Every player can only look at the top card. The dealer starts by choosing one statistic from his top card (e.g. 'horsepower' or 'TG rating') and declaring it. The others do the same, citing the same statistic. The player with the best such statistic wins the cards and chooses the next statistic.
In case of a tie, the cards are placed in the middle and the same player picks another statistic. The winner of this round takes all cards, including the ones in the middle. The winner of each round chooses the next statistic.
The player who ends up with all the cards wins the game.
[gallery]612[gallery]