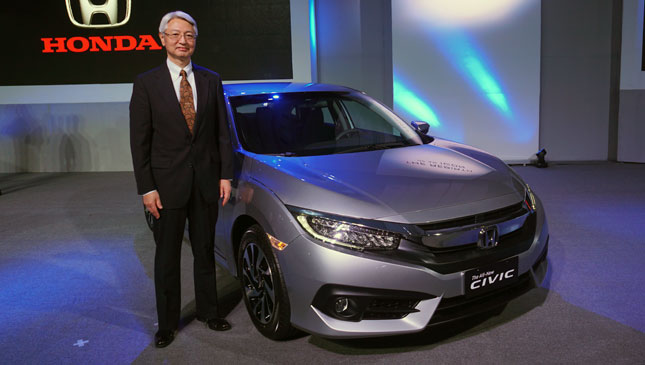 During the launch of the all-new Civic, Honda Cars Philippines' marketing department gave us a few minutes with chief engineer Hiroshi Ito. We saw that Ito-san had a long day, so we tried to make the interview short and sweet. He graciously answered all our questions, and chuckled when we'd ask something sensitive.
Here is our interesting exchange:
1. In what Honda models will we see this new 1.5-liter VTEC turbo engine in the future?
In Japan, we already introduced the Stepwgn and the Jade with the 1.5-liter turbo. For the world market, the Civic is the first model. However, I can't say the future models, sorry.
2. Hmm...does this 1.5-liter motor fit in the Jazz?
The Jazz engine room is a little smaller than the Civic's, so space is not enough. Actually, even this engine room (referring to the Civic) is just the right size.
3. The new Civic looks so big. Is the size close to midsize?
The exterior size is not the same as a midsize car, but interior-wise, yes.
4. What are you most proud of about the 10th-generation Civic?
My expertise is complete car testing. The dynamic performance is much improved over the current model. The acceleration performance, the handling, the stability and the ride comfort were also improved a lot.
5. What do you feel is the Civic's closest Japanese competitor?
We didn't think of a competitor, but I think in terms of sales volume, the Toyota Corolla (Altis) would be a strong competitor.
6. When developing the new Civic, did you benchmark it against any car?
ADVERTISEMENT - CONTINUE READING BELOW ↓
We benchmarked the European premium car, the Audi A3. Of course, the A3 is much more expensive. Also the Volkswagen Golf, which uses the same platform.
Photo by Dinzo Tabamo
ADVERTISEMENT - CONTINUE READING BELOW ↓
Recommended Videos