Hello, fellow gearhead. What do you look for in a car? Do you want the latest speedster that would look right at home on the Nurburgring? Or maybe you want a behemoth with tires big enough to conquer any off-road terrain? Or are you the customizing kind who loves to tweak and tinker with their ride for fun?
If you fall into one of those categories, then you're not like most other motorists. A lot of people who buy cars aren't looking to satisfy the gasoline that runs in their veins. What they're looking for is something that will get them from point A to point B in one piece and in relative comfort. Considering how bad our traffic situation is, sometimes it's all you can ask for—whether you're a gearhead or not.
Continue reading below ↓
Recommended Videos
Enter the Hyundai Elantra 1.6 GL AT. It's not your average gearhead car, in that it's not designed for the track or any other specialized function. Rather, this compact sedan is what's known as a commuter car. This means it's the kind of vehicle you'd choose to go about your business in the city on a daily basis. In that regard, it stands out in a few ways. Check out the list below to find out why the Elantra is capable everyday car: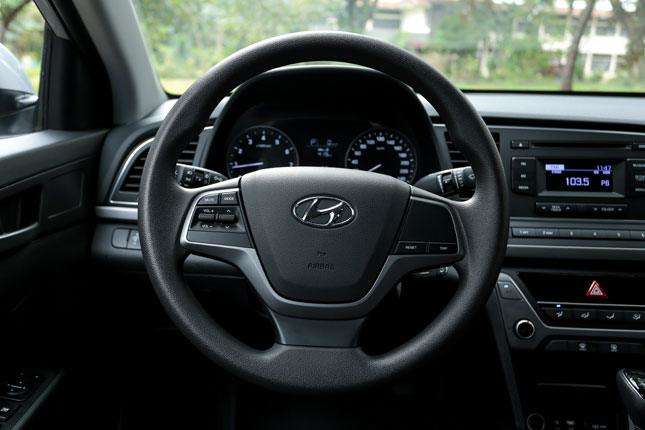 1) The steering feels just right
There's nothing special about the Elantra's steering. It's responsive at first, but past the half-turn point you can feel the electronic assistance kicking in. For everyday driving, though, it's a capable system that won't cause you any trouble when you're maneuvering. With the electric aids, you won't get tired when you're steering it, either.
2) Points for styling
It doesn't look flashy at first, but the Elantra has subtle hints of Euro-inspired styling. There's the front grille which sports a modern angular look. Inside, bits like the steering wheel, cupholders, and gearstick all have a uniquely sleek design. But why would styling matter for a commuter car? Well, a few extra pogi points on your way to work can't hurt.
And speaking of the gearstick…
3) Comfiest. Gearstick. Ever.
Okay, so this car is an automatic, which means you won't be coddling the shifter every time you want to change gears (though it does have a manual mode). In bumper-to-bumper traffic though, you'll end up resting your hand on it once in a while. The Elantra's shifter is contoured just right for optimum comfort from whatever hand position. The manual variant has a similar design, so you'll be comfortable in whichever variant you choose.
4) It's powerful enough
The 1.6-liter mill on the mid-range Elantra is capable of 126hp and 154Nm. Its top speed sits at 195kph. That's as much speed and power as you'll ever need on an everyday car. It's respectable, too, considering that the top-of-the-line 2.0-liter is only slightly faster overall. Acceleration-wise, the 1.6 will rev up and go when you need it to—even if the six-speed transmission wasn't tuned with sportiness in mind. In terms of fuel economy, I managed to get 6.3km/L in heavy city traffic.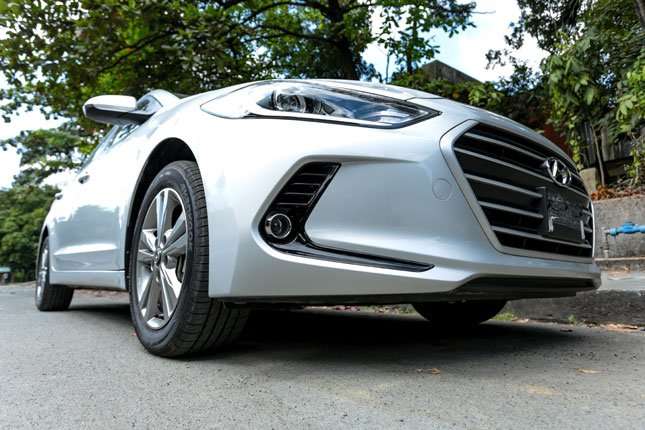 5) Far from a bumpy ride
Supporting the Elantra is a front McPherson strut type and rear tubular beam suspension. These give the car a tiny bit of body roll while going around corners, but not enough to disturb you or your passengers. Otherwise, the ride is relatively plush, landing lightly when you're going over speed humps and other big drops. In an everyday car, comfort is king, so having a soft ride isn't a bad thing.
6) The seating is high and comfy
Given this is a compact sedan and that I'm far from the tallest guy around, I expected to have a pretty low seating position. I thought I would have to adjust the height quite a bit to compensate. Instead, I was pleased to find that the driver's seat has a high hip point, and that I still had a commanding view of the road. The fabric seats were quite comfy and supportive too, even after an hour in traffic.