Summer's almost here, and with it comes the opportunity to go on countless road trips! However, not all trips are made equal. While some promise a jolly good time, others translate to long hours squished in a cramped car alongside a dozen huge bags, and that's no fun at all.

While we probably can't do anything about your bawling baby nephew or your significant other's motion sickness, we can help you out with the things you can actually control, like having enough space for all your stuff and ways to keep everyone entertained. Read on to see how you can make your trip hassle-free!

1. Use hanging shoe organizers to keep your backseat organized.
Stock them with bottled water, snacks, and workbooks to keep the young ones occupied.

2. Pack an emergency kit so you'll be ready for anything.
Fill it with slippers, extra underwear, basic toiletries, some food, a first aid kit--basically everything you'll ever need should your car break down in the middle of NLEX.

3. Use plastic organizers to keep your trunk organized.
Driving an SUV? Store some roomy plastic drawers--one for each road trip participant--and fill them with your stuff for easy access.

4. Stash a small trashcan in your vehicle.
Make sure it has a lid to avoid unwanted smells from wafting throughout your car.

5. Keep your change.
Get an empty cylindrical container (an old film canister would do) and use it to store all your stuff. No more digging around for toll payments and parking fees.

6. Find out which gas stations along your route have the cheapest prices, and fill up there. Hint: Gas is surprisingly cheap at the gas stations leading to Rizal. Speaking of gas stations...

7. Fill your tank at a gas station with a rewards program.
Petron, for example, has partnered up with GetGo so you can collect more points faster. Gas up at Petron and present your Petron Value Card, which you may convert into GetGo Points. Two Petron Peso Points is equivalent to three GetGo points, which you can use to redeem free flights with Cebu Pacific!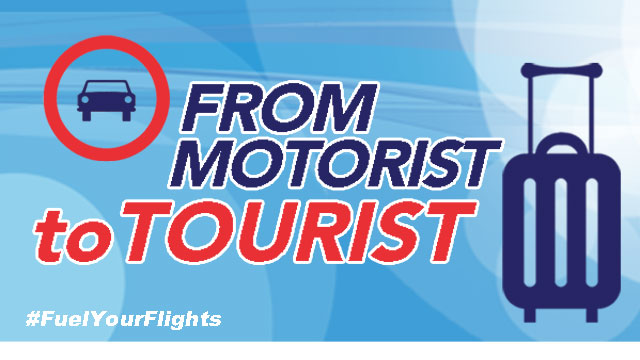 To avail of the GetGo card, go to www.getgo.com.ph, click JOIN, fill out the application form, and for only a P150 membership fee, have your personalized GetGo card delivered to your doorstep.

Gas up now and #FuelYourFlights with Petron and GetGo! Visit GetGo's official website and Facebook page to know more.
More From