Show car, a daily car or a race car? Having just one classic vehicle in my garage, I'm faced with the dilemma of choosing a career path for my beloved 1981 Toyota Starlet. This little yellow car has joined a mini car show. It has also been my daily mode of transport for the past 23 years. So to complete the story, it has only one item left to tick off on the list: to run on a racetrack.

And that's how I end up at the Batangas Racing Circuit (BRC) to participate in the Tuason Racing School (TRS) Raceday motorsports festival on September 28 to 29, 2013. The festival includes the TRS-Bridgestone Retro Race, and on the first day, my Starlet and I find ourselves going wheel-to-wheel with other classic cars on the track.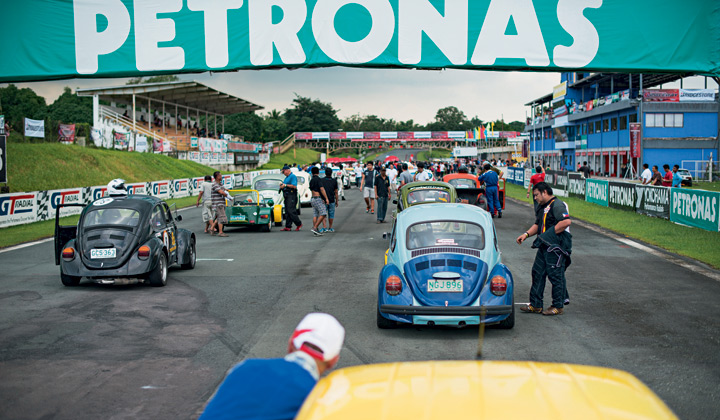 Originally, there was supposed to be a cast of over 30 vintage rides fighting it out, but only 15 cars show up for the Retro Race. En route to Batangas, some participants relate that the missing old-schoolers have complained about their regular morning illnesses, like rheumatism, gout and sinusitis. It's probably a sign of Alzheimer's, too, that one or two folks have simply gotten confused as to when race day is. Two more people are no-shows because their car engines won't start.
ADVERTISEMENT - CONTINUE READING BELOW ↓

So, driving to the venue, reality starts to sink in. Budget is a major concern in car racing—you need money for fuel, race and pit fees, transport expenses, a team of mechanics, and so on. There's also a need for extra supplies of engine oil, brake fluid and spare tires. I've lost count of how many ATMs I've visited in one day just so "Tweety" and I can race.
Tweety, it must be said, has no modifications. It runs on a 1,500cc 5K engine with a twin-down carburetor. No roll bars, no suspension tweaks. The only things that give it a bit of track cred are the noisy exhaust system and a "69" sticker.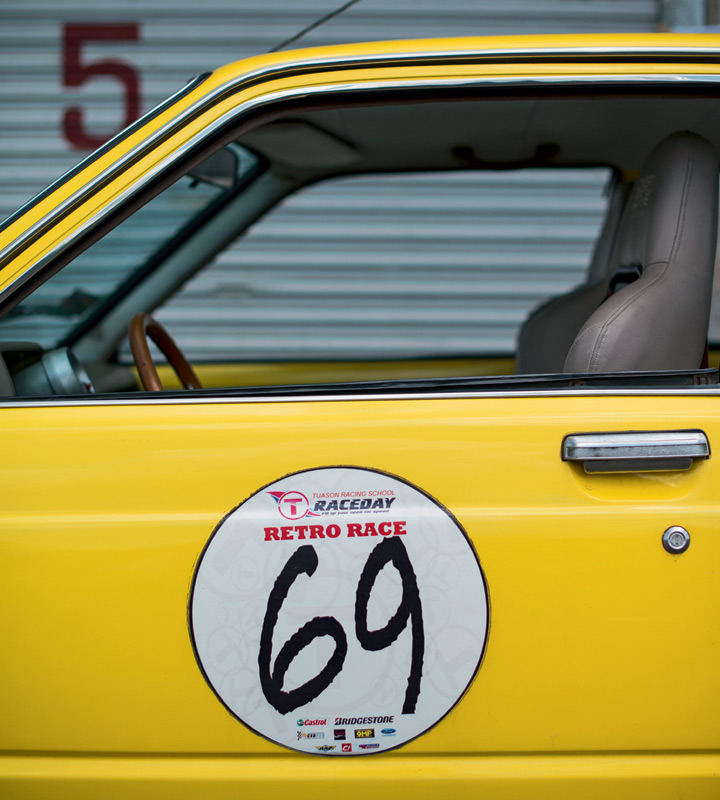 After more than an hour's drive from Parañaque, we finally arrive at BRC. Lined up inside the facility are several colorful yet intimidating classic machines revving their engines to the high notes. With the event open to all models made in or before 1985, Volkswagens and Minis dominate the scene. A Ford Escort RS2000—a car I drooled over in my high-school days—owned by the Tuasons also stands quietly inside one of the pit garages, alongside an original open-wheel Lotus Seven driven by Australian Ros Jackes.

Considering all the modifications on the other cars, I feel Tweety has got to have the lowest engine displacement among all the entries, and the only one that hasn't been stripped of its extra seats, insulation, spare tire and other weight-adding bits. It also appears that it's the only car that has been transported to the track without the aid of a trailer. I have no mechanic to assist me and no pit garage to store my stuff.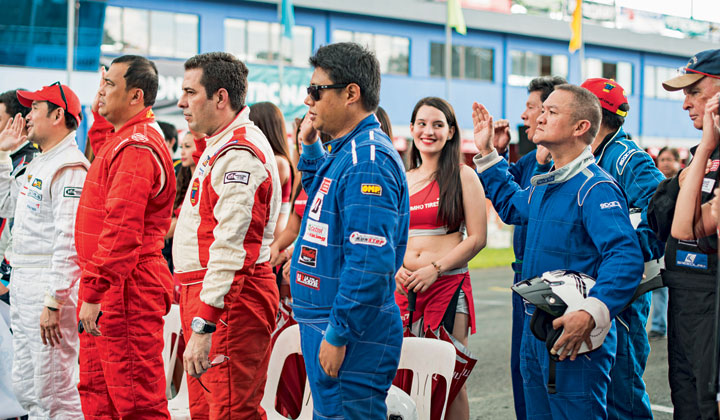 As the proceedings go underway, my legs begin to shake. I feel like peeing although I just did so a few minutes ago. In an attempt to get rid of my chills, I play a Bon Jovi CD louder than the frightening roar of the souped-up engines. I also don my blue Sparco racing  suit, shoes and gloves to conceal my jittery disposition and appear like a pro.
ADVERTISEMENT - CONTINUE READING BELOW ↓

Contrary to my initial impression, the Retro Race competitors are very amiable. Despite being busy in their preparations, they engage me in conversation to welcome me to the pack. Jape Javier, driver of a 1967 VW Beetle with a 2.3-liter engine, tries to calm me down. Echoing JP Tuason's advice to the underdogs, he says, "Let's just have fun." Well, it would be easier for me to accept that advice if my Starlet had a 2.5-liter powerplant.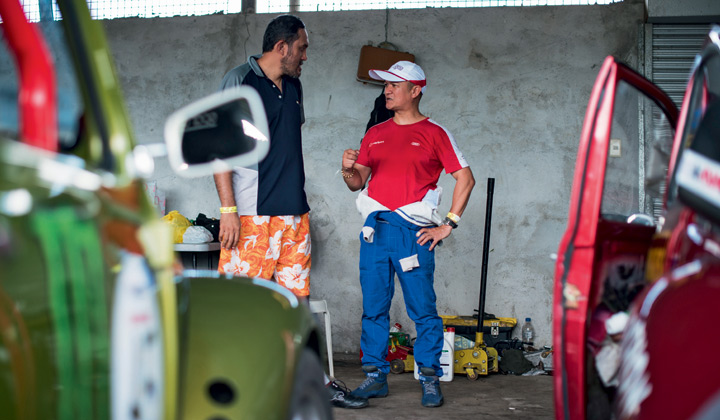 We begin the qualifying session. The pole-position time—around 2:09.00—is clocked in by Bryan Bautista with his whale-tailed VW 1303 Super Beetle. Being the weakest link, I have to settle for a 2:47.00 lap time around the 3.8km track. But wait a minute—apparently, Tweety's not alone at the tail end! George Federijo's green VW 1303 Beetle with a stock 1,600cc mill is only three or four seconds faster than my Starlet. I have the option of partially stripping Tweety of the non-essentials to lighten its weight and keep up with George's Beetle. I also feel my prayers being answered because suddenly, there's rain. Car number 69 loves to race in wet conditions.
Following JP's racing tips, I power the Starlet through the twisty track, keeping a fine line, avoiding locking the brakes, and always blipping the throttle when downshifting. And so I manage to stay side-by-side with George for almost the entire seven-lap race. Two or three times I even pass the green Beetle, but its lighter weight allows it to surge ahead again on the long stretches.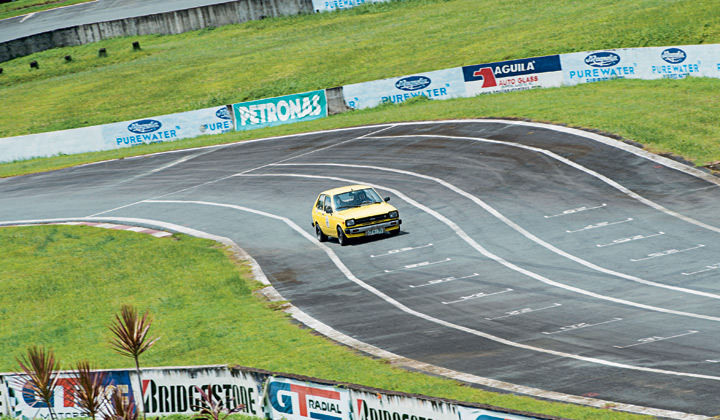 This is the first time I've maximized the Starlet's power, flooring the gas like there's no tomorrow. With the crowd cheering wildly for us two bottom-dwellers, it's a do-or-die situation for me. On the last lap, I know I have the chance to pass the relentless VW if I clip the curve before shifting up to third and execute a full power-out on exit. But then I hesitate. This allows the Super Beetle to take the checkered flag only a half-car's length in front of Tweety. Still, the spectators scream their approval.
ADVERTISEMENT - CONTINUE READING BELOW ↓

While warming down Tweety on the way back to the pit lane, I notice that three other competitors in the stock category did not finish the race—probably due to blown engines or transmission problems. Because of this, the emcee announces that I've thus bagged second place in the 1,600cc stock category.
Not bad, is it?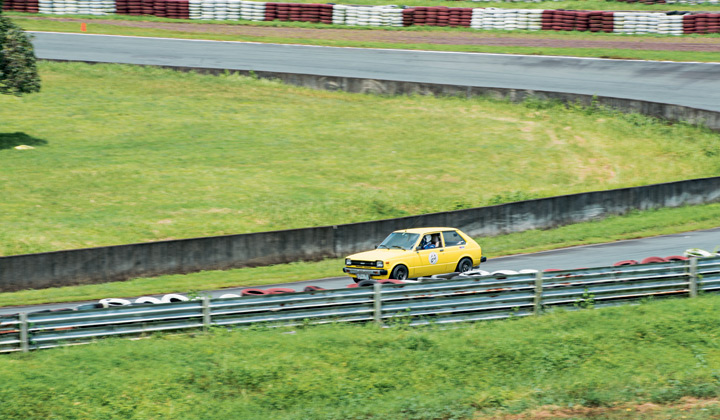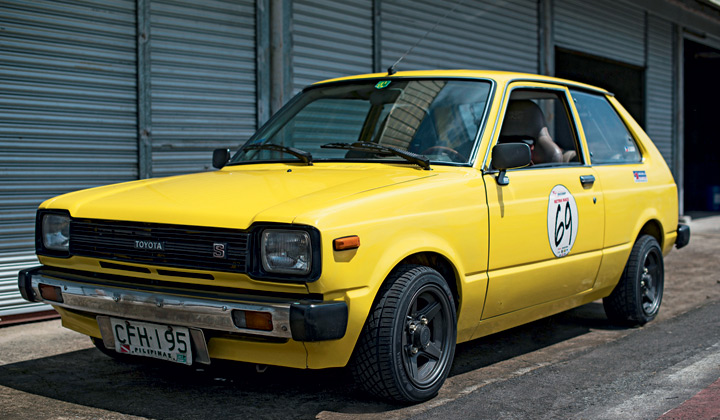 Note: This article first appeared in Top Gear PH's October 2013 issue. Minor edits have been made.