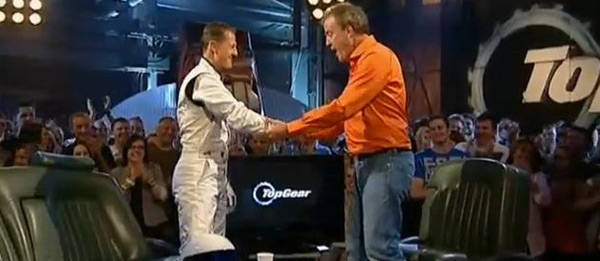 When Michael Schumacher first retired from Formula 1 after the 2006 season, he didn't stray far from the sport, having stayed on as an advisor with Scuderia Ferrari, the team with which he spent 11 of his 19 seasons in the sport.
From time to time, he would help Ferrari develop its Formula 1 car or be at the races sharing his experiences with the team. As a matter of fact, he was at the 2009 Hungarian Grand Prix when Felipe Massa was seriously injured by a wayward suspension spring from Rubens Barrichello's car, which, in a way, jumpstarted Schuey's return to Formula 1.
And for at least one day in 2009, before announcing his comeback to Formula 1 with Mercedes AMG Petronas, Schumacher took on the role of Top Gear's tame racing driver known as the Stig. Apparently, Top Gear wanted to run the Ferrari FXX supercar on its test track, and the only way that the Italian carmaker would allow that to happen was if Schumacher's uniquely black unit was driven by the seven-time world champion himself.
For that occasion, Schumacher gladly donned the Stig's attire and, as expected, put the Ferrari FXX on top of the show's Power Laps board--albeit temporarily--with a time of one minute and 10.7 seconds. To cap off his appearance, he sat with Jeremy Clarkson in the first episode of the 13th season and, in dramatic fashion, removed the Simpson Diamondback helmet to reveal himself as the Stig.
Continue reading below ↓
Recommended Videos
If you're viewing this on a mobile device and can't see the video, please click here.