Grand tourers, otherwise known as 'Gran Turismo' or GT cars, are the epitome of automotive bliss. They were conceived to provide enthusiasts with a stylish, comfortable, and performance-oriented drive over long distances. Prerequisites include a drivetrain that can sustain high speeds, and adequate brakes to stop the car in an equally swift manner.
The traditional GT formula comprises a front-mounted engine and rear-wheel drive to allow a large cabin (for two) with generous legroom. Occupants can cross continents while cocooned in luxury, with enough space for some luggage. Unlikely to be chauffeur-driven, GTs inherently reward the driver with an exceptional motoring experience.
Autostrada Motore graciously invited us to get acquainted with the recently launched Ferrari Portofino and GTC4 Lusso T grand tourers at Clark International Speedway in Pampanga.
The Portofino is the entry-level GT offering. Its front-mid-mounted 3.9-liter twin-turbo V8 sends 600hp to the rear wheels using a seven-speed dual-clutch transmission. The luxurious leather interior can be better appreciated with the roof folded down. The exterior styling of the car is a dramatic improvement from that of the old California. Inside, the seats are adjustable using the large dashboard display, so it's impossible not to find a proper, comfortable position. There's an optional passenger display, too. Your companion can handle navigation duties, or monitor performance data like speed and g-forces. The rear seats can accommodate adult passengers, but I can't imagine traveling in the back for extended periods. That space may be better used for additional storage.
ADVERTISEMENT - CONTINUE READING BELOW ↓
The drive on the expressway simulated a cross-country journey. I was particularly surprised at how little body roll the Portofino exhibited while taking sweeping turns. The straight-line speed was vertigo-inducing. Rupert Crook, my driving instructor for the Portofino, gently told me in his grandfatherly British accent that the g-forces dot was at the edge of the range. And that was before I flicked the Manettino switch to Sport mode! If the Portofino is entry-level, I can't wait to drive the GTC4 Lusso T!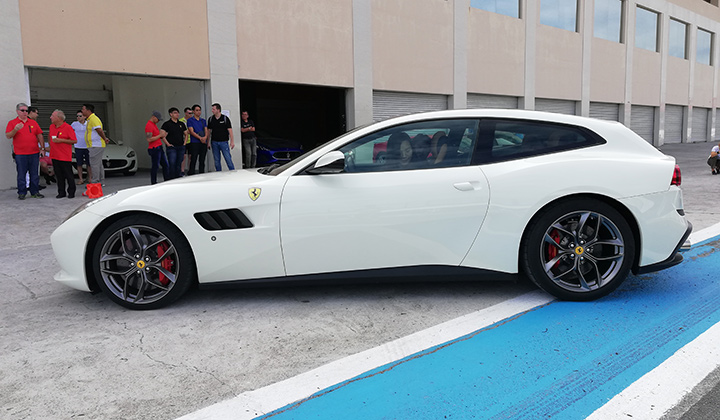 Fortunately, I didn't have to wait long. The Lusso T has the same award-winning bi-turbo V8 and dual-clutch gearbox as the Portofino. The steering wheel has F1-style shift indicator lights. The Lusso T we drove also had the optional passenger display, this time surrounded by more opulent leather trim. And then there's the addition of the panoramic glass roof. For rear passengers, the Lusso T offers more leg- and headroom, as well as a magnificent view of the sky. I may have peculiar tastes, but I love the functional shooting-brake design, especially in this guise.
ADVERTISEMENT - CONTINUE READING BELOW ↓
Recommended Videos
The only car missing to complete the Ferrari grand touring experience was the 812 Superfast. Maybe next time!