America's latest muscle and supercars don't bother with subtlety.They know you want as much power, speed and smoke as your dollar will buy and to not spend too long dressing it up, thanks very much. The net result is these three almost cartoonish cars you see here. Why these three? They are simply the trio of US performance cars which most impressed us over the past 12 months.
Each of them, as discussed when we first drove them, expresses the term 'performance' differently. But each one melts your mind with the way it converts fuel into fun. There's a bit of Hollywood presentation, stars and stripes patriotism and Fourth of July celebration in each one. But there's also some Google, Apple and SpaceX-type tech and sophistication in there, too. So they are not to be underestimated.
Dodge Challenger SRT Demon
This road thug is like the cockroach of the car industry – time, economics and trends just can't kill it. Based on a platform that ex-parent Daimler stopped using for the E-Class right after the turn of the century, and topping a range that starts with a V6-powered, narrow-tired, budget model, the fervour around the Demon initially makes no sense whatsoever. Then you see it, hear it and drive it and it makes all the sense in the world. Fill it with 100-octane petrol, punch a few buttons on the dash and you are transported to a world of warm, humid Saturday night muscle-car heaven.
ADVERTISEMENT - CONTINUE READING BELOW ↓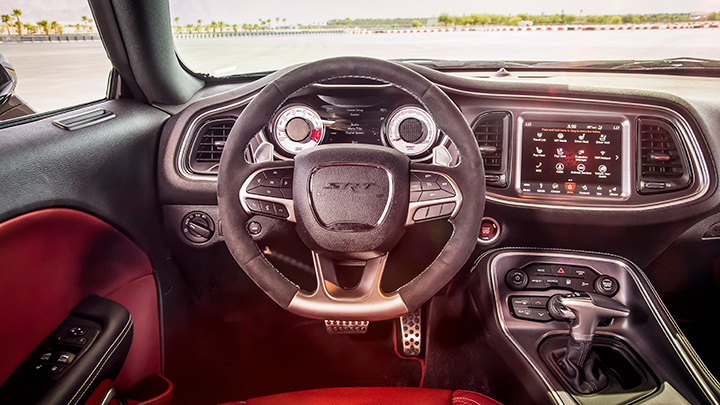 A place where cornering prowess is secondary and all that matters is getting down the 1,320 feet as quickly, loudly and impressively as possible. And, boy, does it deliver. But only if you really know what you're doing. And you're on the right surface. Anyone can spin up the fat drag radial tyres and make clouds of smoke. But to get it to launch properly, you need real skills. For those who think that drag racing is simply holding the car on the brake, then stamping on the loud pedal when the lights go green, the Demon is here to set you straight.
Set the car in Drag and it prepares for battle. You get access to the 840hp mode, the suspension softens the front rebound damping, to help weight transfer – contrary to what you might have heard, the rears stay the same. In this configuration, on a prepped surface, with the skinny front wheels, the Demon's 315-section Nittos will dead hook into the surface and shoot the car forward, front wheels hovering just above the track, faster than any other petrol-powered production car on the planet. Never mind one that weighs well over 1,800kg. But you have to have the reactions of a ninja. The fact that the Demon has a warranty that allows—encourages you, even—to do this is worth an award all on its own.
Chevrolet Corvette ZR1
The latest ZR1 packs a new LT5 twin-injector motor under—or rather through—its carbon-fiber bonnet, which is so powerful, tractable and generally efficient, it embarrasses Europe's finest. As the last of the C7 Vettes before the company switches tack to the mid-engined C8 model sometime next year, this ZR1 is the ultimate current-shape Corvette in every sense of the word. With 755hp driving 1,678kg, it's almost got more power than the chassis can handle. Or at least that's what it feels like to drive at first. Even with the super-clever Performance Traction Management in its least intrusive track mode, you still get the sense that it's quite busy keeping the car in line. But once you get used to it, which takes less than a lap, you can push this car to speeds you might not believe at first.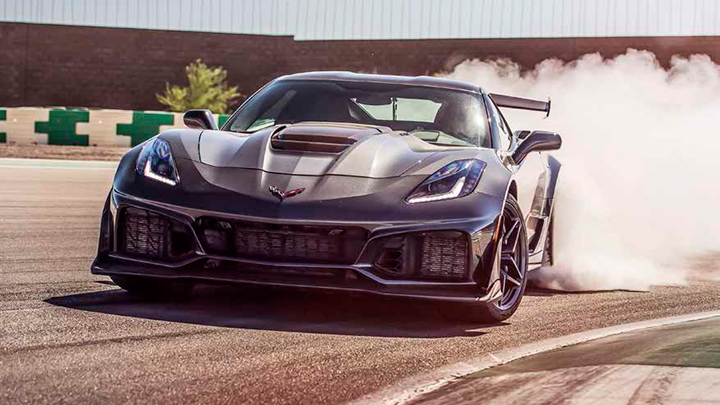 ADVERTISEMENT - CONTINUE READING BELOW ↓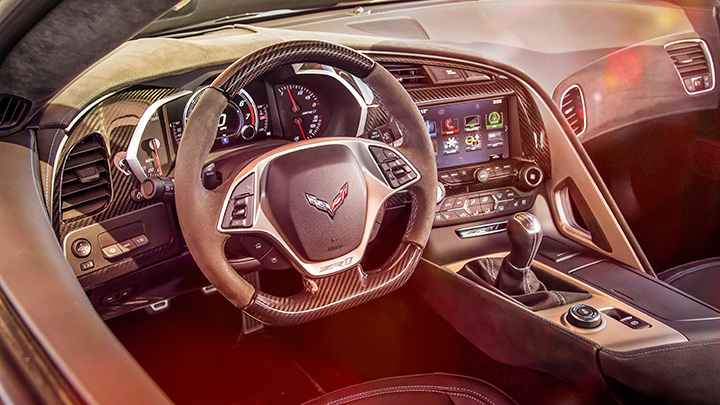 Witness the Chevy development team's lap of Virginia International Raceway while shaking down a new part—they smashed the Ford GT's lap record by more than a second. And they didn't even know it until later. It is faster, stops shorter, has a higher top speed, weighs less. And so on. But what those numbers don't show is how the driver feels behind the wheel.
Chevrolet Camaro
You sit low, almost stupidly low, in the car and peer, racecar style, over the instrument cluster. The competition seats hug you just so, and it's got a manual 6-speed rev-matched gearbox. So it all feels right. And it just gets better and better from there. It doesn't have any of the Vette's giant carbon brakes and active damping – just a set of Multimatic DSSV dampers which can be very simply adjusted for road or track. In the latter mode, once the tires are up to temperature, the big car gets up on its toes and dances around the track, altering driver inputs by being responsive and forgiving at the same time. This inspires confidence which increases speed and makes you happy. Then you get out, look at your lap times —twice, just to make sure—and realise you've gone faster than you thought possible. The Z06 engine, which had so many heat issues in the Vette, is absolutely fine, too, as there's more space for cooling here. So you decide when you stop, not the car. Which is as it should be.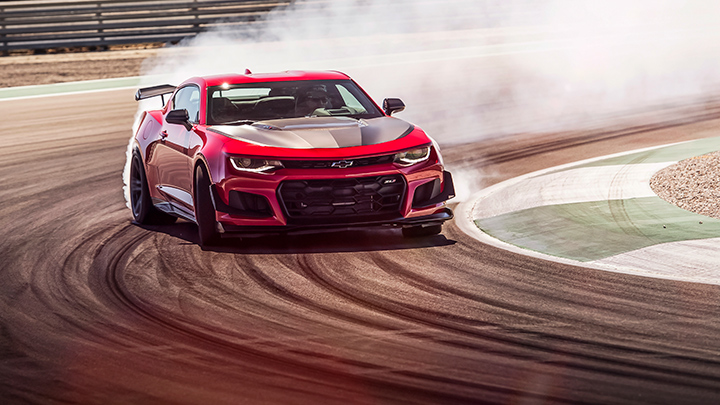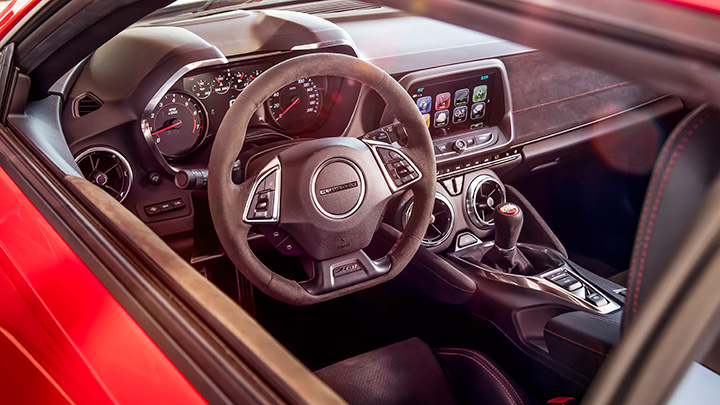 ADVERTISEMENT - CONTINUE READING BELOW ↓
It is really only between two cars, the Corvette and the Camaro. The Demon is long sold out, so has been consigned to hall of fame history. You can get a Hellcat Redeye, which has the big-breathing motor, but not the drag shocks, transbrake and other special drag goodies. So it's not quite the same. Which is true of the two Chevys. They might come from one brand but they couldn't feel more different from each other. The Vette is lighter, faster but ultimately more synthetic. The 1LE Camaro—a muscle car as extremely developed for the circuit as the Demon is for the strip—just feels better, more honest and predictable. You might go faster in the Corvette, but you'll have more fun in the Camaro. So, with that knockout punch, it's the Camaro that wins.
Note: This article first appeared in Top Gear UK's September 2018 issue.