We're next in the queue. Darren Turner, three-time Le Mans winner—aka my chauffeur—pushes the engine-start button on the bottom of the Aston Martin Valkyrie's squircle steering wheel. Nothing happens. Well, a hum and then a squeal from the electric motor, which is how we've piloted this thing from the supercar paddock down to the start line in virtual silence. Turner does a 3-2-1 countdown with his fingers and the engine bursts into a busy idle—nothing deafening, just a sense of lots of cylinders in a high state of tune.
We creep up to the line. In front of us, a sea of camera phones and haze from a V12 Speedster's 'spirited' getaway. The marshal's arm drops and we're off in a blaze of wheelspin and smoothly applied opposite lock. The tires hook up and... good God, this thing is quick. The sort of instant, kidney-pummelling torque you get from top-end Teslas, Taycans, and Rimacs, but with the added sensory benefit of several thousand serious explosions going on behind your head.
ADVERTISEMENT - CONTINUE READING BELOW ↓
First corner, cold tires, Turner feeds it in gently like the experienced campaigner he is—no point in binning it on the first bend—then properly uncorks it past Goodwood house and under the bridge. My eyeballs are flattened into tiny Milkybar Buttons, and the air is squeezed from my lungs like a whoopee cushion.
Here's the curious thing: The noise resonating around our carbon passenger capsule isn't anything like the heart-piercing banshee wail that's coming out the back end and sending the crowds into a frenzy. It's bassier than that—fairly businesslike, in fact—and it's the vibrations coming through the bulkhead into your backbone that dominate the acceleration experience, not the intake or exhaust note.
A little jink past the flint wall reveals...agility. It stays resolutely flat through any direction change, but then, what did we expect? It's flatter than a pancake and wider than a house. There's not enough speed available on the Duke of Richmond's path to make the downforce show all its cards, but the tires are warming now, Turner's having more fun, gunning it earlier, braking later. My brain is like a 16-bit Mega Drive trying to process PS5 data.
ADVERTISEMENT - CONTINUE READING BELOW ↓
Recommended Videos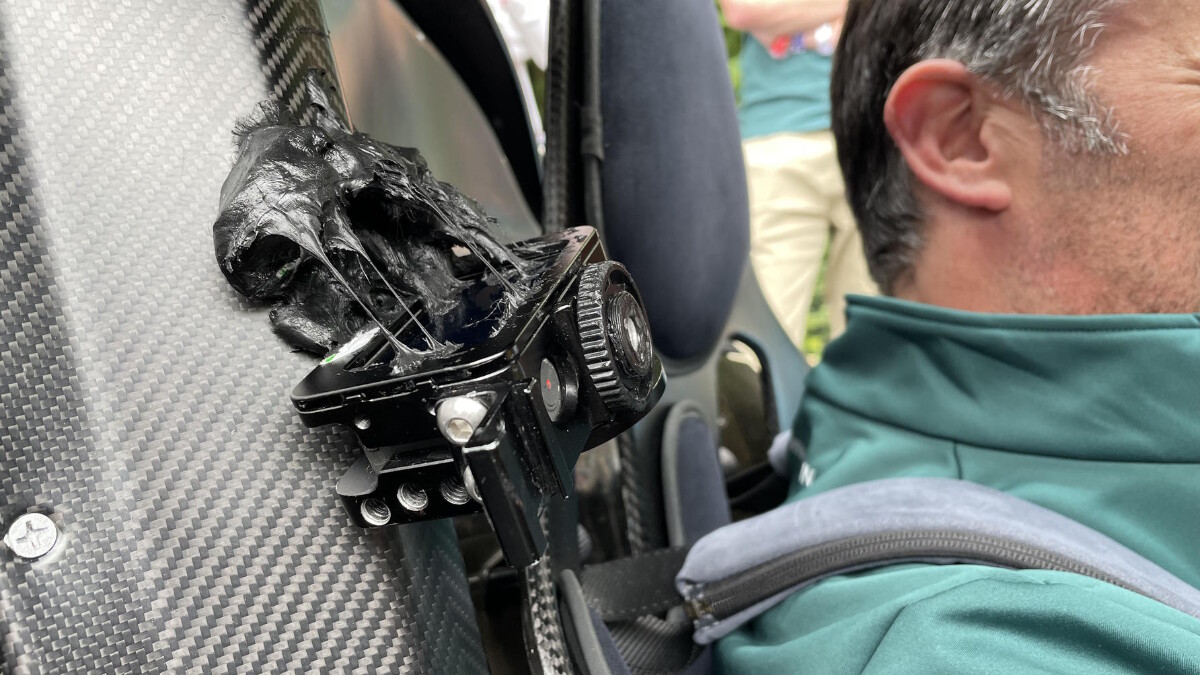 We pull up at the top of the hill for the customary annoyingly-long-wait in the holding paddock, and just like that it's over. Done. I'm swearing quite a lot and our forward-facing GoPro, stuck to the bare carbon between the seats, appears to have fainted—tipping forward, taking the melted foil tape with it. I know how it feels.
ADVERTISEMENT - CONTINUE READING BELOW ↓
But let's rewind, because the Valkyrie experience starts way before the start line. You spot it from a mile off—it's the one surrounded by crowds with either their fingers in their ears or jaws hanging around their belly buttons. I approach declaring I have a pre-agreed passenger ride, and am immediately drowned out by the engineers warming the engine through. By which I mean revving it in a mildly professional manner. I attempt to film this on my phone by slotting into an empty space behind the car. It feels like needles are being inserted into my eardrums. I realize why there was an empty space.
But my God, the speed and the ferocity with which this Cosworth 6.5-litre V12 revs is unheard of—it's like they've found the antidote for friction. Famously, the Lexus LFA's V10 required a digital tach needle, because a physical one couldn't keep up with the rise and fall of the revs. This is on a different planet.
ADVERTISEMENT - CONTINUE READING BELOW ↓
Someone blows a whistle. Time to get in, which means removing several wires and laptops and other life-support machinery to let me past. You open the doors via a button hidden under the hip crease of the car—I need to be shown where it is twice—which pops the latch and you swing open the super-light gullwing door. Cut deep into the roof, it's more of a hatch, really, for you to drop into: feet on seat, lower yourself down, post your shoes into a tapering tunnel some distance above your hips.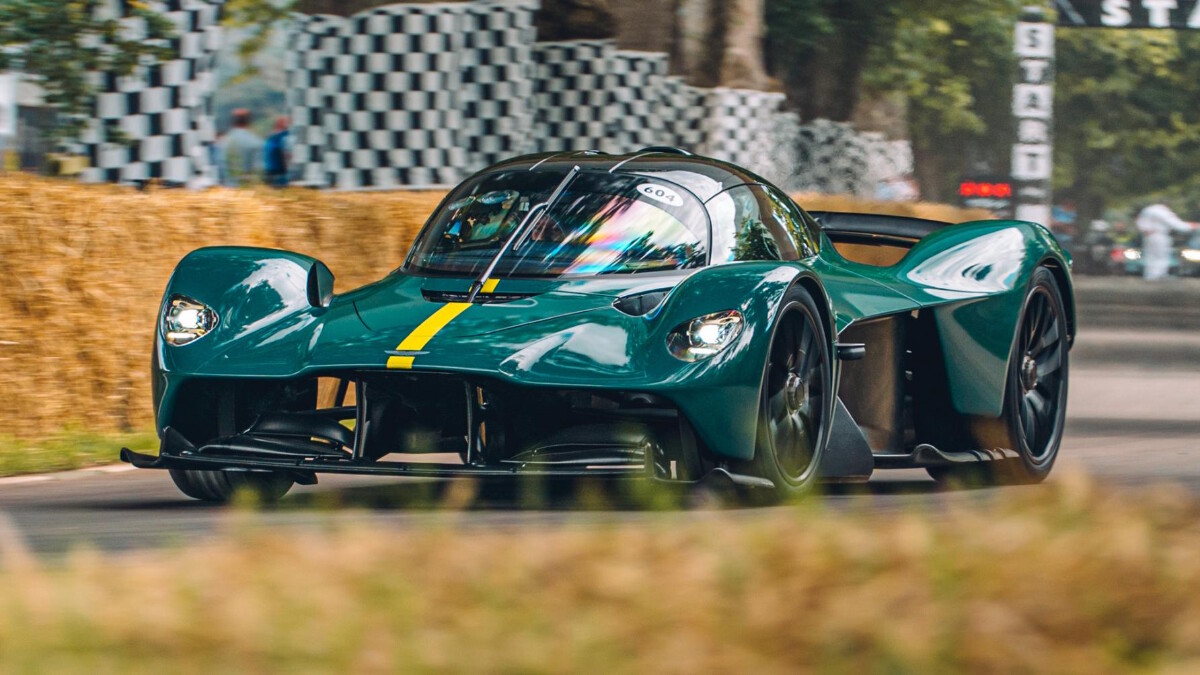 ADVERTISEMENT - CONTINUE READING BELOW ↓
The seats are padding stuck directly to the carbon tub, but comfortable enough; the seatbelts are four-point harnesses that crush your dangly bits. Then Turner climbs in, and it all gets very snug. Both driver and passenger are angled inwards toward the centerline of the car, key to the teardrop-shaped cockpit, and to be honest, it's not a problem. We bang elbows a few times, but once he's driving mine sits underneath; his is up in the air. It's not uncomfortable or painfully cramped, just intimate—perfect for a romantic getaway, so long as you pack skimpy underwear and not a lot else. Turner and I are both 5'8"-ish, on a good day, so we fit. LeBron, sorry, but you'll have to wait for the Volante.
You feel Adrian Newey's DNA all over this thing, that the passenger compartment was 17th on his list of priorities, and a millimeter of slack in here would constitute a failure. The aero and the active suspension were his obsessions—the latter something that's still being fettled by Red Bull Technology. All I can say with confidence at this point is it feels expensively damped, it's batsh*t-fast, and sounds curiously different inside and out. Surprise, surprise: It'll need a proper racetrack to show its best, but Goodwood isn't entirely without its merits. Here's Adrian Newey, whom we caught up with after his first public drive in the Valkyrie up the hill.
ADVERTISEMENT - CONTINUE READING BELOW ↓
"Goodwood's hill is actually a very good test in many ways because unless you're pushing for time, which I most certainly wasn't, then there's quite a lot of maneuvering simply to get onto the track in the first place," he explains. "The track was quite bumpy; you have to do a lot of low-speed running when you're coming back down the hill, a lot of queuing to get up the hill. It accidentally combines all the features that you might have in normal day use: driving slowly in traffic, then driving briskly, let's say on an open bit of road."
'Brisk,' not necessarily the word I'd use to describe our first experience of the Valkyrie. I can think of a few others, but this is a family website. With that in mind, over to you, Internet—on this evidence where's the finished Valkyrie likely to rank in the pantheon of supercar greats?
ADVERTISEMENT - CONTINUE READING BELOW ↓
NOTE: This article first appeared on TopGear.com. Minor edits have been made.