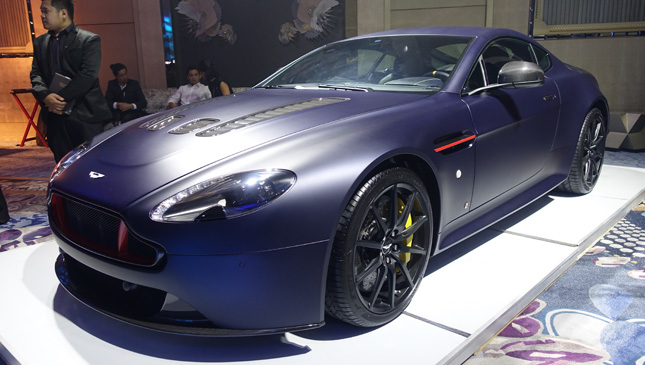 During the launch of the breathtaking Aston Martin DB11 V8, I was chatting with one of Aston Martin Manila's managers when my eyes fell on a beautiful blue Vantage on one side of the ballroom. "That looks like the Red Bull Edition," I said. The manager said: "Because it is."
I immediately went in for a closer look. True enough it was a Vantage Red Bull Edition with all the details: yellow brake calipers, red accents, carbon bits, subtle Red Bull logos, more RB logos stitched on the seats, and a plaque on the door sills. And there was the small but noticeable 'Q by Aston Martin' badge near the bottom of the body.
Continue reading below ↓
Recommended Videos
These Red Bull Editions can he had in either V8 or V12 S trim, but this unit here is the latter. That means a 6.0-liter V12, seven-speed manual gearbox, 565hp, and 620Nm. It comes in Satin Mariana Blue, which looks matte when you see it in person. From zero it can get to 100kph in 3.9secs, and will go all the way to 330kph if you have the balls—or more important, if you find a road long enough here in the Philippines.
No price was given, but as of last March 20, 2018, no one had purchased it yet. So if you have a fortune lying around, you might still have a chance.
The DB11 is the definition of stunning, but this RB Vantage is the Aston I want.