Ford RS models don't come along too often. But when they do, they're usually worth the wait, offering a blend of power, speed, rally-bred lairy styling, and affordability that has the sports-car aristocracy looking nervously over their shoulder.
With Ford announcing that there will be no RS version of the current Focus, we figure it's time to take a look through the annals of fast Fords gone by, and see just how it created the myth that has become RS. Time to meet the (best of the) parents...
1) 1970 Escort RS1600
The Escort RS1600 of 1970 was not, Ford tells us, the first RS. That honor goes to Germany's 15M RS, which went on sale in 1968 and is remembered by nobody with a beard less than three inches long.
It was the first proper RS, though—a special thing and quite rare to boot, with fewer than 1,000 made over four years. And there aren't many left, so prices nowadays are astronomical.
Among the first road cars with four valves per cylinder, the RS1600 came with the legendary 120hp 1.6-liter 'BDA' engine was developed by Cosworth and used for years in rallying, touring-car racing, and single-seaters. It has a strengthened bodyshell and trick suspension among other special race-ready bits, and was not cheap as a result.
2) 1970 Escort Mexico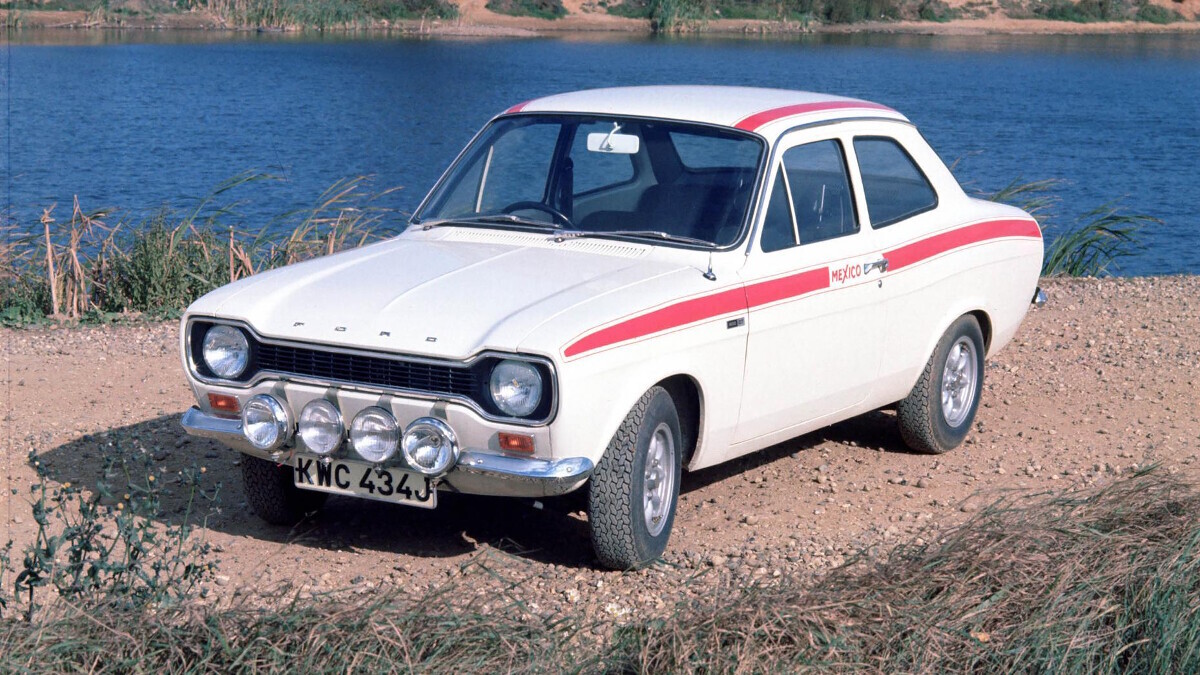 Might not have RS in its name, but the Mexico is more than worthy of a spot on this list. Built at the same time and in the same specialist facility as the RS1600, it was simpler and slower (you still got the reinforced body, suspension, and brakes of the RS1600, but had to make do with an old 86hp 1.6-liter 'Kent' engine), but obviously also cheaper. The RS1600 was for the hardcore rallyists; the Mexico (which looked mostly the same) was mass-market. And it proved hugely popular, with Ford building almost 10,000 in four years. The name comes from the Escort's historic victory in the 1970 London to Mexico World Cup Rally.
3) 1973 Capri RS3100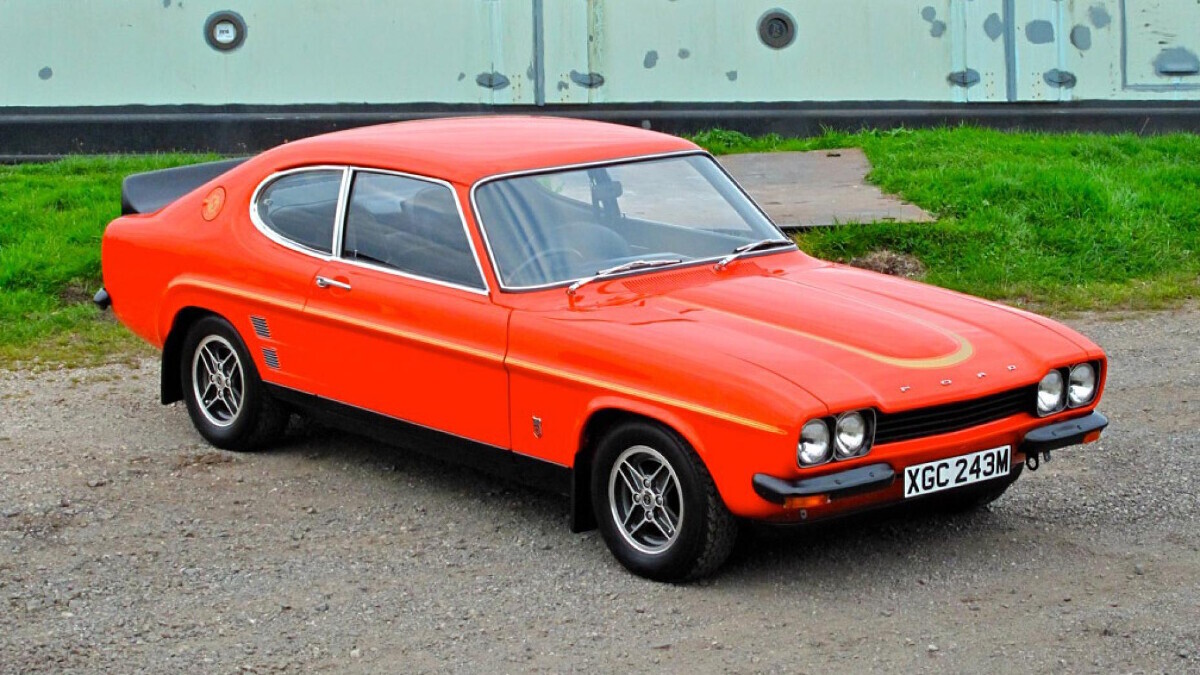 The first European Ford with fuel injection, the RS2600 was built to homologate the Capri for the European Touring Car Championship, which it helped Dieter Glemser and Jochen Mass win in 1971 and 1972.
Ford built around 250 road-going RS3100s so it would be eligible for the ETCC. The 'Essex' 3.0-liter V6 was sent to Cosworth for fettling, fitted with a Weber carburetor and plumbed in to the two-door coupe, which also got stiffer springs, Bilstein gas dampers, flared wheel arches, and a ducktail spoiler. Nil to 100kph in 8sec wasn't half bad in 1973, you know.
4) 1975 Escort RS1800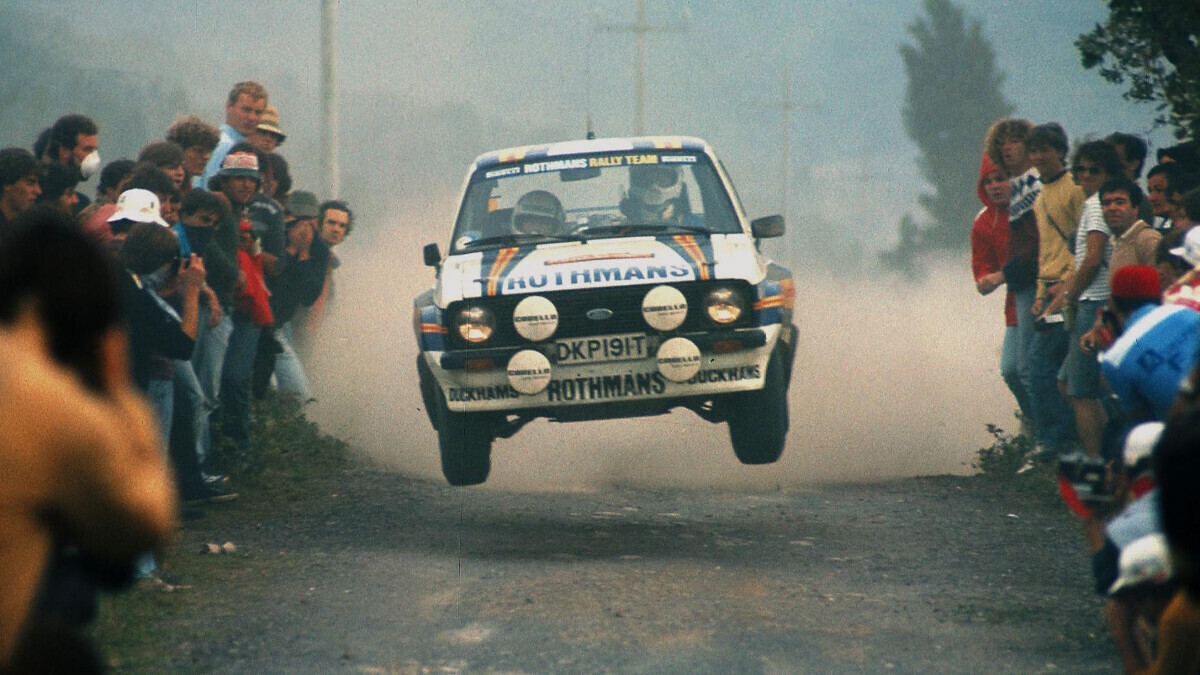 The Mk2 Escort arrived in 1975. The RS1800 was like the RS1600—an expensive, highly specialized, Cosworth-engined, mostly hand-built competition car that nowadays is held in tremendously high regard. It's one of the most successful rally cars of all time, and with only 109 produced between 1975 and 1977, it's incredibly rare.
So, for the everyman, Ford introduced the RS2000 at around the same time. Like the Mk1 Mexico, it shared some specialist components with the more expensive car, but it did without the Cosworth engine. While the RS1600 and the Mexico looked very similar, the RS2000 got a different front end from its specialist sibling. Over 10,000 were sold in the UK. There was a Mk2 Escort Mexico for a bit, but it never really caught on.
5) 1984 RS200
Think mid-engined Ford, think GT40, right? Not always. Back in the '80s, the carmaker created this miniature all-wheel-drive supercar to take on the likes of Peugeot, Lancia, and Audi in the forests and deserts of Group B rallying.
The fiendishly complex RS200 was never a success in its intended discipline: It was even involved in one of the fatal accidents that led Group B to be wound up. But its later calling as a 650hp hill-climb car—as well as the fact that Ford offered 200 road-legal versions for punters to buy—means the RS200 doesn't deserve to be the unloved Ford RS.
6) 1985 Sierra RS Cosworth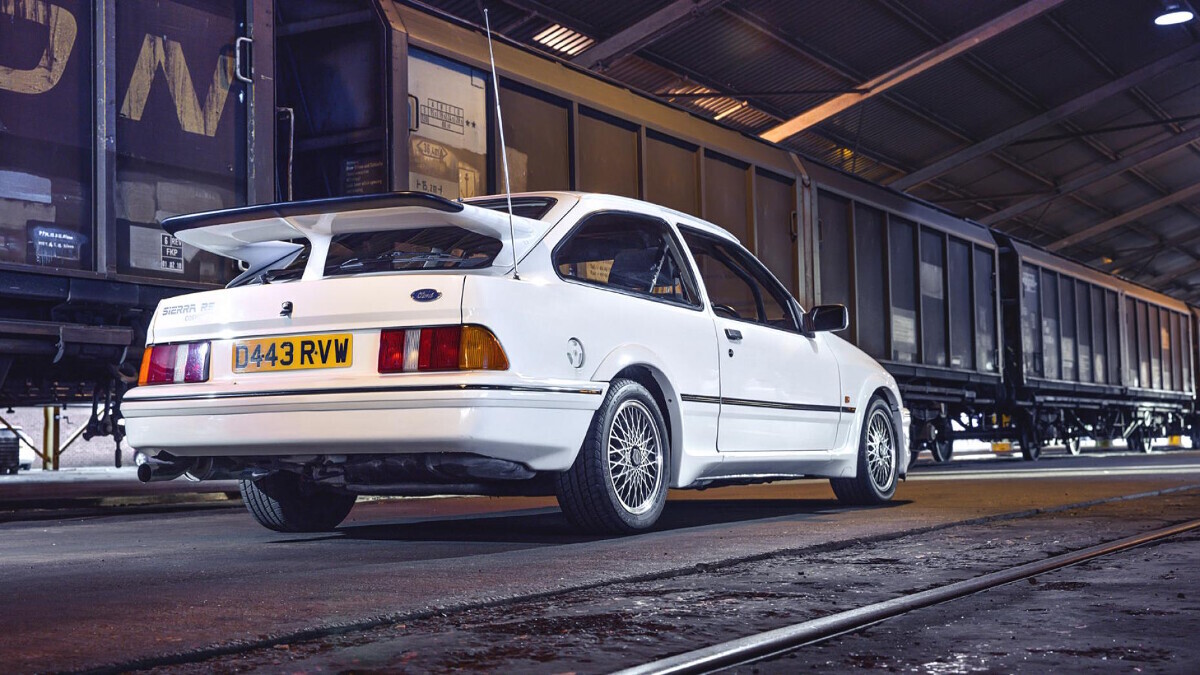 Life is better when you over-deliver. Ford asked Cosworth to build engines good for 180hp for its hot Sierra, of which it needed to build 5,000 in order to homologate it for Group A Touring Car racing. Cosworth responded with a turbocharged four-pot that developed 204hp—a heroic amount for a mid-'80s repmobile. And of course, it offered the '80s dream ticket of wheel-arch extensions and that whale-tail spoiler.
A couple of years later, the RS500 arrived with another 20hp on tap. The uprated engine could reliably produce an astonishing 500hp in race trim, which made the RS500 (of which only 500 were built) all but unbeatable in whatever race it entered.
7) 1992 Escort RS Cosworth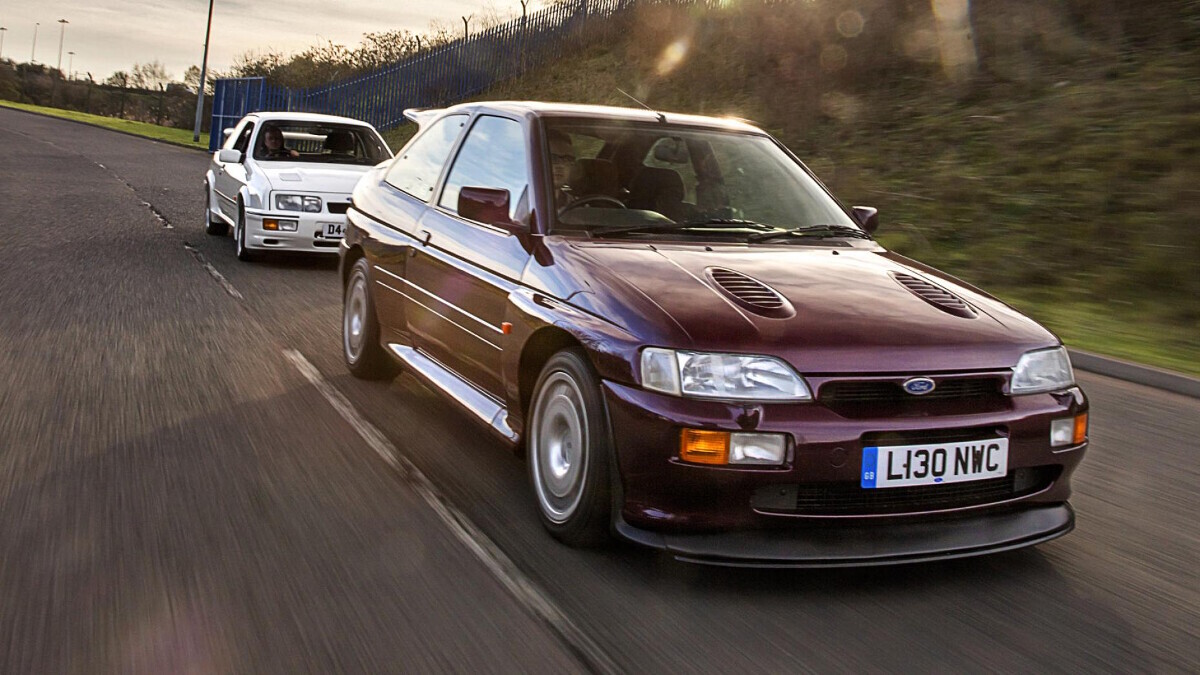 The ducktailed RS Cosworth used the longitudinal engine and four-wheel-drive running gear from the Sierra 4x4 Cosworth (not the two-door, rear-drive whale-tail from the last entry, but the four-door, all-wheel-drive Sierra Sapphire). A true homologation special, capable of well over 400hp in rally trim. Not the only Escort of this generation to wear an RS badge, either, but the less said about the others, the better.
8) 2002 Focus RS Mk1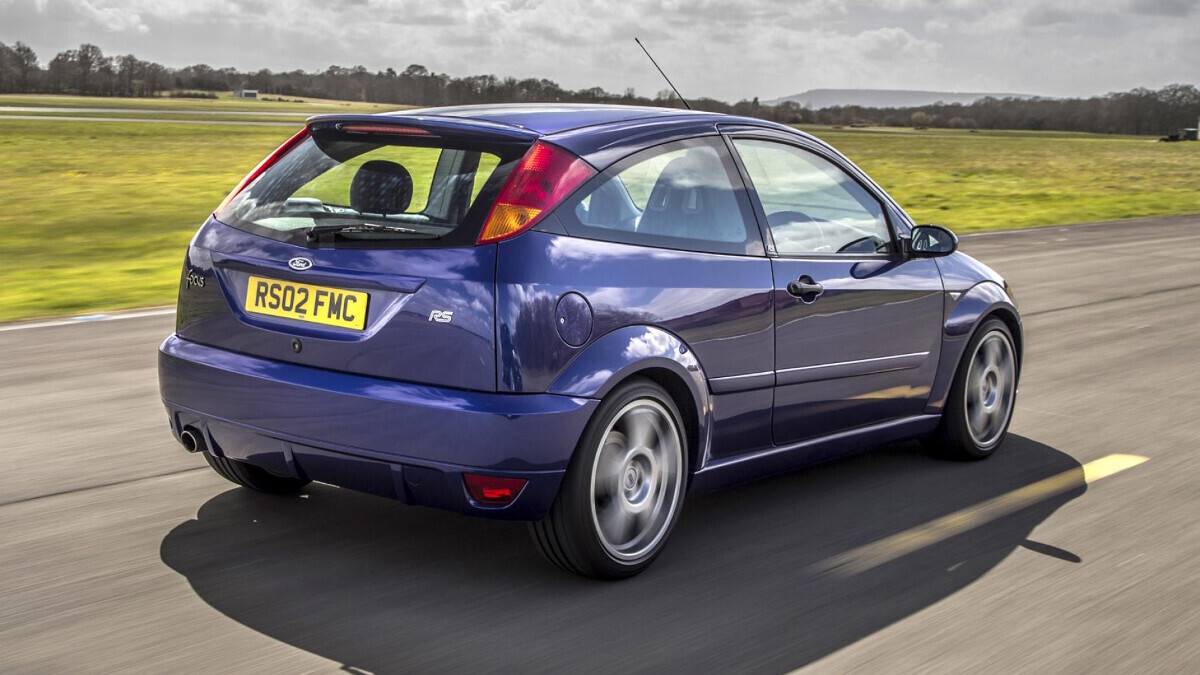 Has any hot hatch before or since ever looked quite so 'right' as the original Ford Focus RS? Ford's pinnacle of the fine-handling Focus range was powered by a 212hp turbo engine. To tame that power through the 18-inch OZ Racing wheels (just the front ones, that is), Ford fitted a torsen differential—a torque-sensing diff that promised to parcel out the power to whichever wheel had most grip.
It worked—so long as you were comfortable with having the torque-steering blue-and-black-trimmed wheel attempt to escape from your grasp every time the road presented a bump, camber, or surface change. A lairy legend.
9) 2009 Focus RS Mk2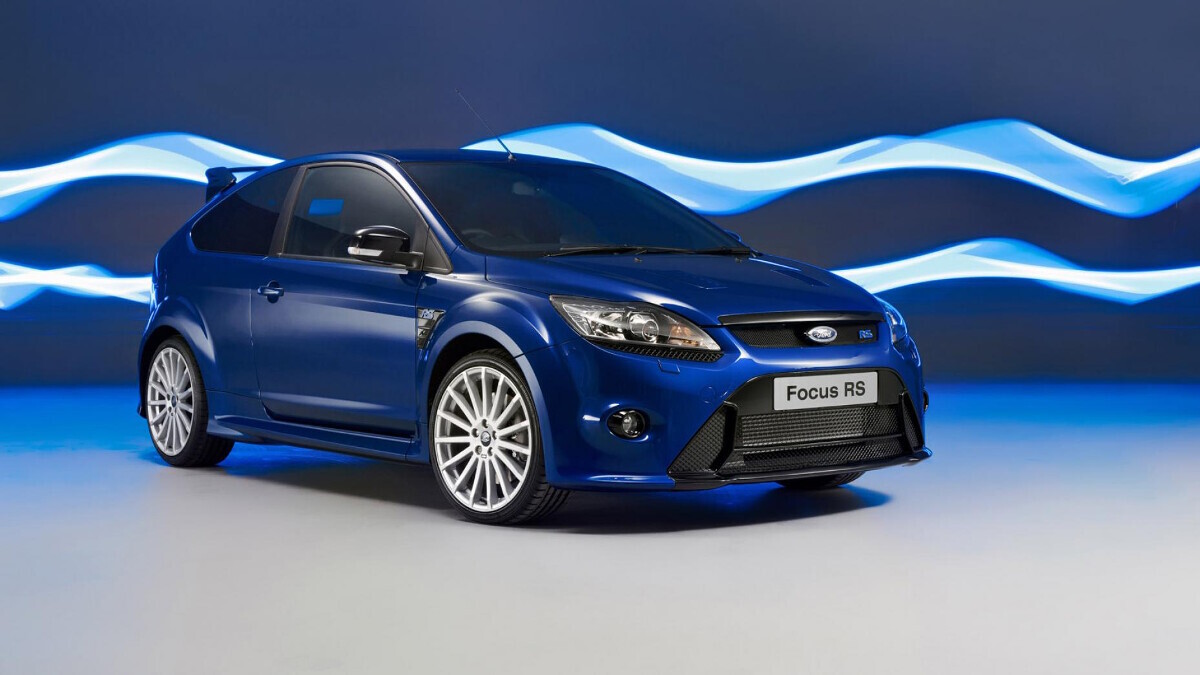 Ford's second crack at RS-ing about with a Focus was much more resolved, handling-wise, even though power had been upped to 300hp. But it screamed from the rooftops about that fact with a shoutier bodykit than anything you're likely to have seen outside a kebab shop car park at two in the morning.
A year later Ford, started work on 500 matte-black-only RS500 versions. The run-out specials cranked power from the Volvo-sourced 2.5-liter engine up to 345hp—and it was still only front-wheel-driven. To get a sense of how mad that is, remember the third-gen RS has 345hp shared between four rings of rubber. It remains one of the most powerful front-wheel-drive cars ever produced.
10) 2016 Focus RS Mk3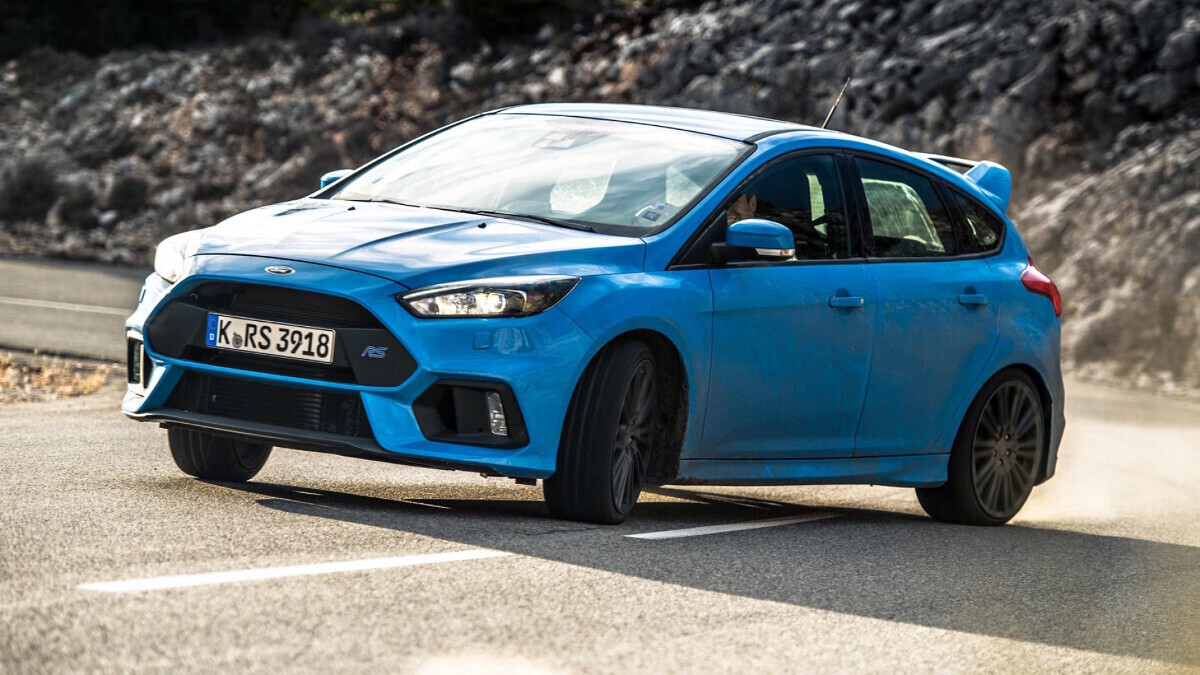 Bad news, everyone. Ford's told us that "as a result of pan-European emissions standards, increased CO2 taxation, and the high cost of developing an RS with some form of electrification for a relatively low volume of vehicles, we are not planning another RS version of the Focus."
Yep, our 2016 Car of the Year could well be the last of its kind, as ever-tightening emissions make building performance cars like the RS harder and harder for companies to justify.
Launched in 2015, the most recent RS got the same 2.3-liter four-cylinder turbo engine as the Mustang. Its 345hp was supplied to all four wheels, a first for a Focus RS, and there was some serious cleverness going on underneath in the form of adaptive dampers, launch control, and the hilarious 'Drift Mode.'
NOTE: This article first appeared on TopGear.com. Minor edits have been made.