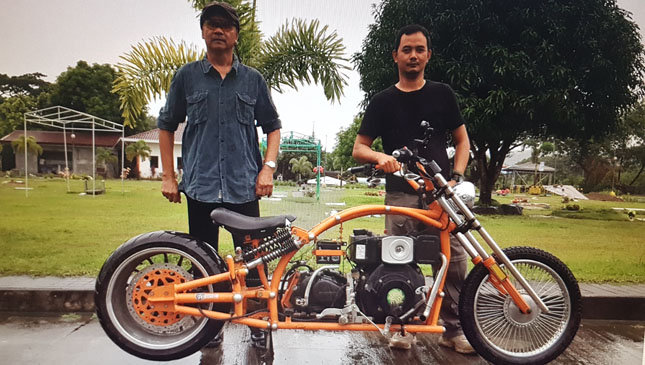 Borne out of his deep passion in building motorbikes, Rodel Venzon (the man on the left in top photo) never took his eyes off his unique cruiser that he painstakingly built for six months, along with his sons and brother Robert (top right), who is a licensed civil engineer. Unlike his sibling, Rodel only reached high school.
But this did not prevent him for pursuing his love for motorcycles, so he ended up as a full-time mechanic for motorbikes, servicing his neighbors in Arayat, Pampanga. From motorcycle repair, the Venzons went into building exotic low-riding choppers and three-wheelers.
Not too long ago, Rodel completed his favorite creation—a cruiser not powered by petrol but by diesel. Having a silhouette shape that is somewhat similar to what you see in the hit show American Chopper, Rodel's homemade cruiser quickly established a strong fan base in Arayat that quickly spread to the neighboring provinces.
Another thing that made Rodel's motorbike extra special was that he was beginning to lose his vision due to glaucoma when he started the project.
"When we assembled this bike, his name became famous in our town. A lot of people from other provinces went to his shop just to see the bike and take pictures of it. My main objective was to help him create this bike so that he won't be depressed and that he may regain his confidence," says Robert.
Rodel named his cruiser 'El Potro,' a Kapampangan phrase for "colt" or male horse. Aside from the rebellious aura, what made El Potro more appealing is that it's powered by a 7hp Yamma engine commonly used by small farm tractors and fishing boats.
Installing a huge car wheel at the rear was another challenge for the Venzon brothers. Combining patience with passion, Rodel and Robert managed to mount the big tire that gave El Potro a meaner stance. From the main frame to the handle bar, everything was customized. Rodel's cruiser is also equipped with dual foot pegs.
Despite the customization, El Potro wasn't just for display on bike shows; the Venzons rode it for everyday use. According to Robert, the fastest he went with El Potro was about 80kph, although he has yet to try it on an expressway. Diesel consumption, he said, was between 60 to 70km/L.
Now Rodel is facing a dilemma. He only has about 3% of his eyesight left. The rising costs of his medical needs prompted the Venzons to seek help in advertising El Potro for possible buyers.
"He is hoping to sell it for a good amount; a figure which is well enough to cover his glaucoma treatment abroad and to have some capital to start with for producing (more bikes)," Robert added.
Interested parties may e-mail Robert at rm_venzon@yahoo.com or call 0918-8030757.
Are there any takers?