Ten days after enhanced community quarantine was declared over the entire Luzon, businessman Jose Dasas received a call from a friend, a fellow Rotarian who owned a chain of small groceries.
"Pare, may stock ka pa ba ng mga bike?"
Since September 1994, Dasas and his wife Corazon had been running a bike store business. From his time as a marine engineer, Jose had plowed his savings into the venture, initially based in San Joaquin, Pasig. More than two decades on, the couple now operate JC Bikes and Motorcycle Center, a pair of stores on the outskirts of Makati: one along Kalayaan Avenue, the other in Comembo.
"Pare, meron," Dasas replied, no idea why his friend was looking for a bike at this time. "Saan mo gagamitin?"
"Pare, kailangan ko. Kasi mga essential kami. Hindi pwedeng isara ang mga tindahan. Mape-penalty ako sa munisipyo kung isasara ko ang grocery ko."
ADVERTISEMENT - CONTINUE READING BELOW ↓
Worried, his friend added that with no mass transportation available, his employees were telling him they couldn't get to work. "Kailangan ko," he begged Dasas."Tulungan mo ako."
And that's when it dawned on Dasas that his friend was probably not alone in looking for bikes in the middle of a pandemic. He pulled out his entire stock from the warehouse.
In less than a week, it was all gone.
Jose and Corazon got to work calling their suppliers, all importers who brought in bicycles and parts from China, trying to secure as many stocks as they could. One supplier insisted that they wouldn't be able to sell bikes on credit.
Dasas didn't hesitate. "Ika-cash ko yan. I-deliver mo na, ika-cash ko." He was able to secure a shipment of 96 bikes.
On April 5, Dasas opened a small window of his Comembo shop to accommodate buyers. The store itself was closed—they could just peek in and select what they needed. Pre-pandemic, the stock of 96 bikes would have taken perhaps 20 weeks to sell through. Customers snapped it all up within a week.
ADVERTISEMENT - CONTINUE READING BELOW ↓
Recommended Videos
"Alam ko, masakit man sabihin sa iba, pero sa akin, mabait si Lord," Dasas said in an interview with SPIN Life. "This is a good opportunity. Parang nagkaroon ng magandang opportunity sa negosyo namin ng bikes."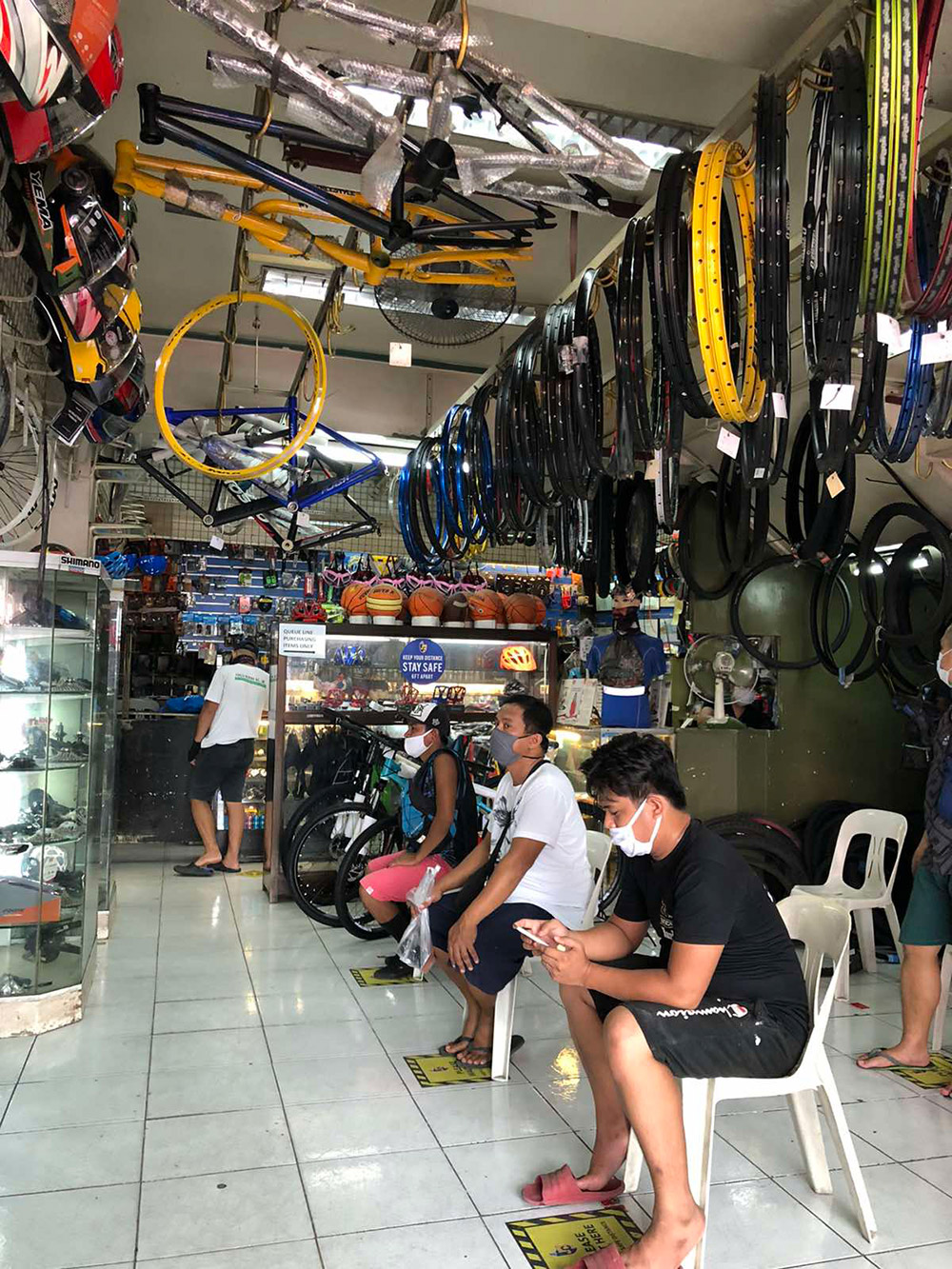 Essential transportation
There's no question: The bike business is booming.
ADVERTISEMENT - CONTINUE READING BELOW ↓
"Bigla [silang] naging in-demand, naging essential," Trade Secretary Mon Lopez told CNN Philippines' "The Source" in a May 29 interview. 
Under enhanced community quarantine, the usual modes of mass transportation—the jeepney, the bus, the FX—were not allowed to ply their routes. Frontliners, many of whom owned no cars, had no choice but to get to work on their own steam. Some of them had to endure walking for hours under the vicious summer sun just to get to work. 
From the very first day of lockdown, private groups like Life Cycle PH began to raise funds to donate bicycles to frontliners. "Naisip ko at ng isang grupo overnight na kailangan natin dalhin 'yung mga frontliners natin pauwi na safe na hindi naglalakad," said Keisha Mayuga, Life Cycle PH's founder, in an interview with 24 Oras.
On March 25—around the time the grocery store owner was calling Dasas—the Pasig City government signed an executive order declaring bikes as an essential mode of transportation. Bicycle shops, the order said, would be counted as essential businesses.
ADVERTISEMENT - CONTINUE READING BELOW ↓
In a way they had never been before COVID-19, bikes became a necessary and vital part of the country's economic landscape.
"Dahil sa loob ng two months lang, at mag-te-three months na, dumami talaga 'yung bisikleta sa kalye," said Mayuga, speaking to Howie Severino as NCR moved into general community quarantine.
The government has sat up and taken notice.
Bike lanes are being set up along EDSA. A lawmaker is suggesting incentives and tax relief for bike commuters. The Inter-Agency Task Force, never one to waste a good acronym, even has two for bicycles: non-motorized transport or NMTs, and personal mobility devices or PMDs. Whichever one you choose to use, the IATF calls them "an ideal travel mode for social distancing."
And Mon Lopez's Department of Trade and Industry is looking closely at unscrupulous players who are leveraging the current bike boom to make a quick buck off customers.
ADVERTISEMENT - CONTINUE READING BELOW ↓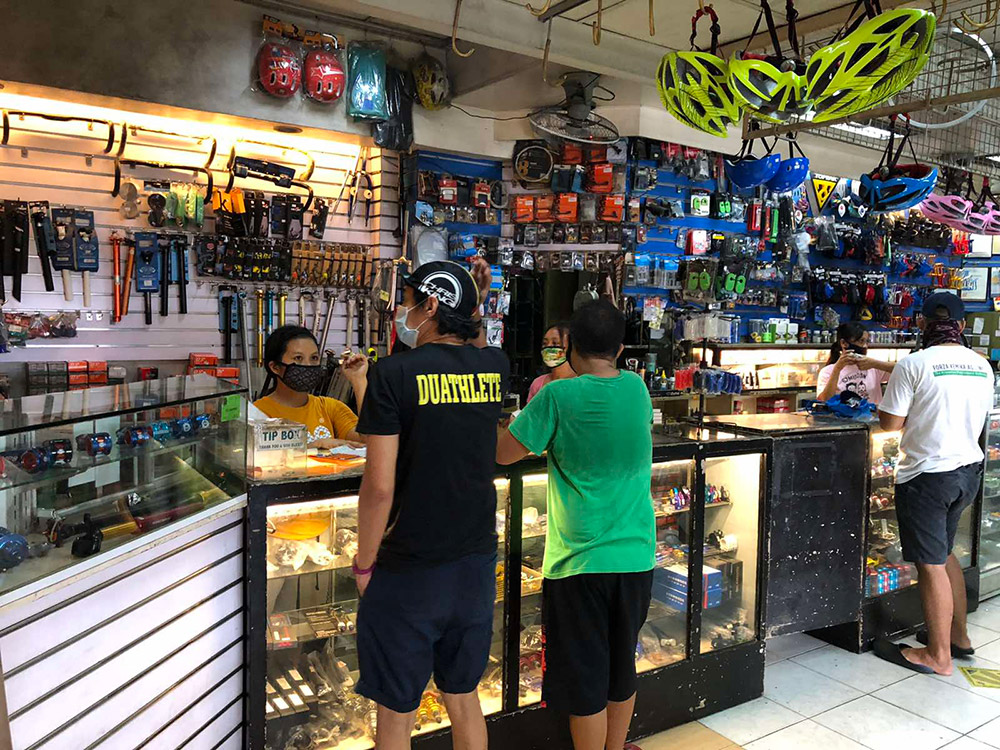 Cycles of profit
Dasas knows all about the increased competition ever since people have caught on that the bikes business was suddenly a very good place to be.
"Kahit mga di marunong mag-bike, may bike business na," he said wryly.
Many of the new entrants in the ongoing bike shop turf wars are online resellers, who, unlike Dasas, don't need to contend with the costs of maintaining shops. While he's willing to sell in bulk to businesses who need to provide two-wheeled transport for their employees, he limits sales to just two units when he finds out he's dealing with someone who wants to sell his bikes online.
ADVERTISEMENT - CONTINUE READING BELOW ↓
So what do these online sellers do? They go straight to the source.
With dealers proliferating, the bike supply across the country has been strained, Dasas told SPIN Life. Importers who could reliably give him 50 or 100 units before would suddenly only ship him 10. Worse, he's even found himself on the losing end of a deal as prices skyrocketed with the increased demand.
"Tukso," he jokingly calls the price war currently going on as sellers jockey for the limited supply of bikes in the country.
While he confesses that relations with some long-time suppliers have been strained as of late, he can't say he blames them, either. "May nag-alok sa'yo, double the price. Di mo tatanggapin?"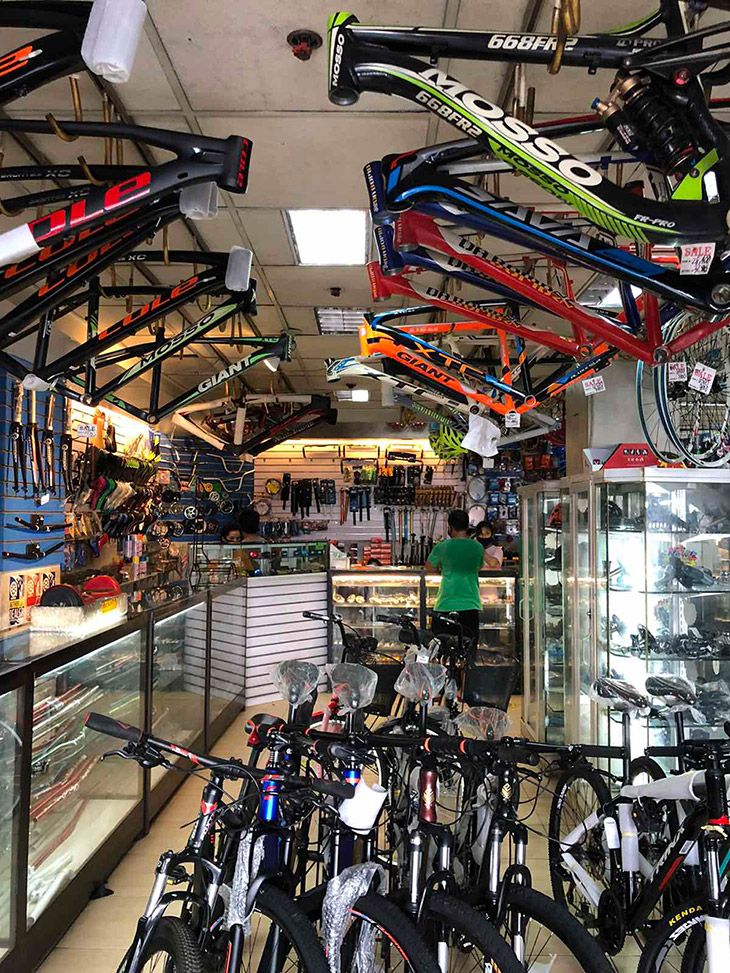 ADVERTISEMENT - CONTINUE READING BELOW ↓
The situation has boiled over to the point that customers, in need of two-wheeled transport of their own, are feeling the pinch of increased bike prices. The government has even considered stepping in.  
In early June, DTI Undersecretary Ruth Castelo implored bike sellers to limit price increases to "reasonable" levels. She also said that the agency is also debating whether to classify bicycles as a basic commodity, which will effectively impose price controls.
A price freeze, in fact, was a suggestion put forward by Senator Francis Tolentino, who, during his time as chairman of the Metro Manila Development Authority, opened several bike lanes across the capital city.
Wary of surprise DTI inspections, Dasas has posted clearly visible price tags on all of his units.
Dasas admitted that this explosion of sales, while ultimately beneficial for the bottom line, has caused new business challenges to crop up. "Ako na ngayon ang nagmamakaawa sa [mga supplier]," he said. "Your money is nothing without supply." Together with his daughter Jessa, he's considering taking a more direct hand in the supply situation, to ensure his shops remain fully stocked.
ADVERTISEMENT - CONTINUE READING BELOW ↓
Brave new bike world
Despite the challenge of supply and the gradual resumption of public transportation, Dasas says that business at JC Bikes and Motorcycle Center is still good.
He claims that on a good day, customers can snap up to 25 bikes by lunchtime. 
"Before COVID, [nabebenta ko] lang mga lima, tatlo, ganun," he said.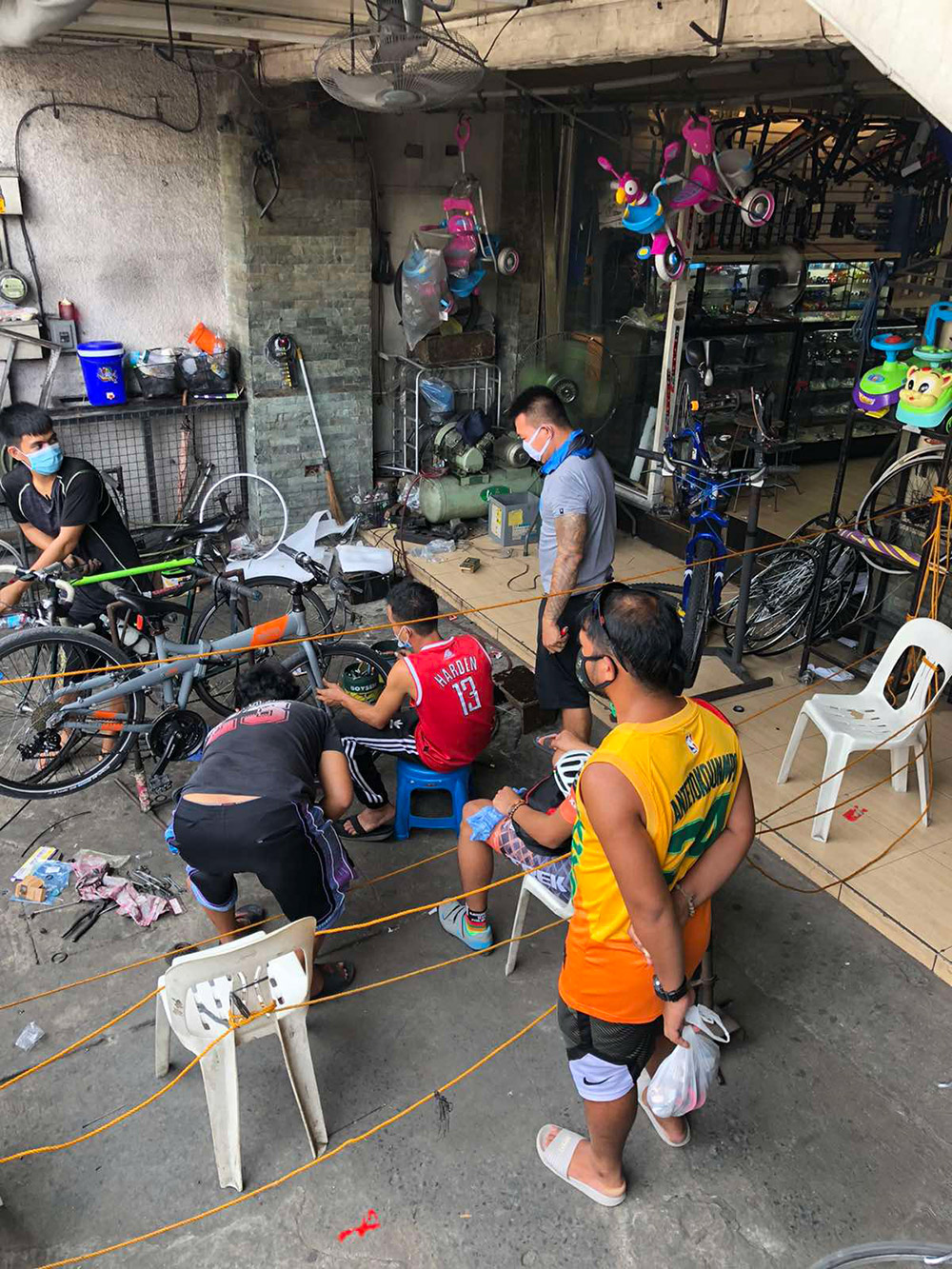 ADVERTISEMENT - CONTINUE READING BELOW ↓
Another separate queue forms for repair and servicing jobs, which have also increased during the pandemic as flocks of new riders discover the inconvenience of a nail lodged inside an inner tube.
While they're still very hands-on with the business, the couple's four children have pleaded with their parents, who are both nearing retirement age, not to go down to the shop. (Jose and Corazon live a few floors above their Comembo branch.) For the most part, Jose follows their instructions, content with monitoring the floor with his CCTV cameras, and issuing instructions via the wall-mounted public address system.
Visitors to the shop would often hear Dasas' voice suddenly explode out of the speakers, warning them to maintain social distancing.
But there are times that Jose—to the chagrin of his daughter Jessa—insists on going down to the shop floor to assist a would-be buyer. "Customer relations iyan!" he defends himself to his daughter.
ADVERTISEMENT - CONTINUE READING BELOW ↓
For first-time riders, Dasas—a member of the Makati Riders Club—always recommends getting the basics: a helmet and a blinker light. The correct bike size is also an important consideration. It shouldn't be so low that your legs are bent unnaturally while you're pedaling, but it shouldn't be too high that it's difficult for you to stand on the road while seated.
He sometimes recommends getting the so-called Japanese bikes: a simple, sturdy unit with a step-through frame so it's easy to mount and dismount.
Most of all, though, Dasas has this one piece of very important advice. "Sumunod ka lang sa batas trapiko," he said. "Please naman, sundin niyo lang iyan."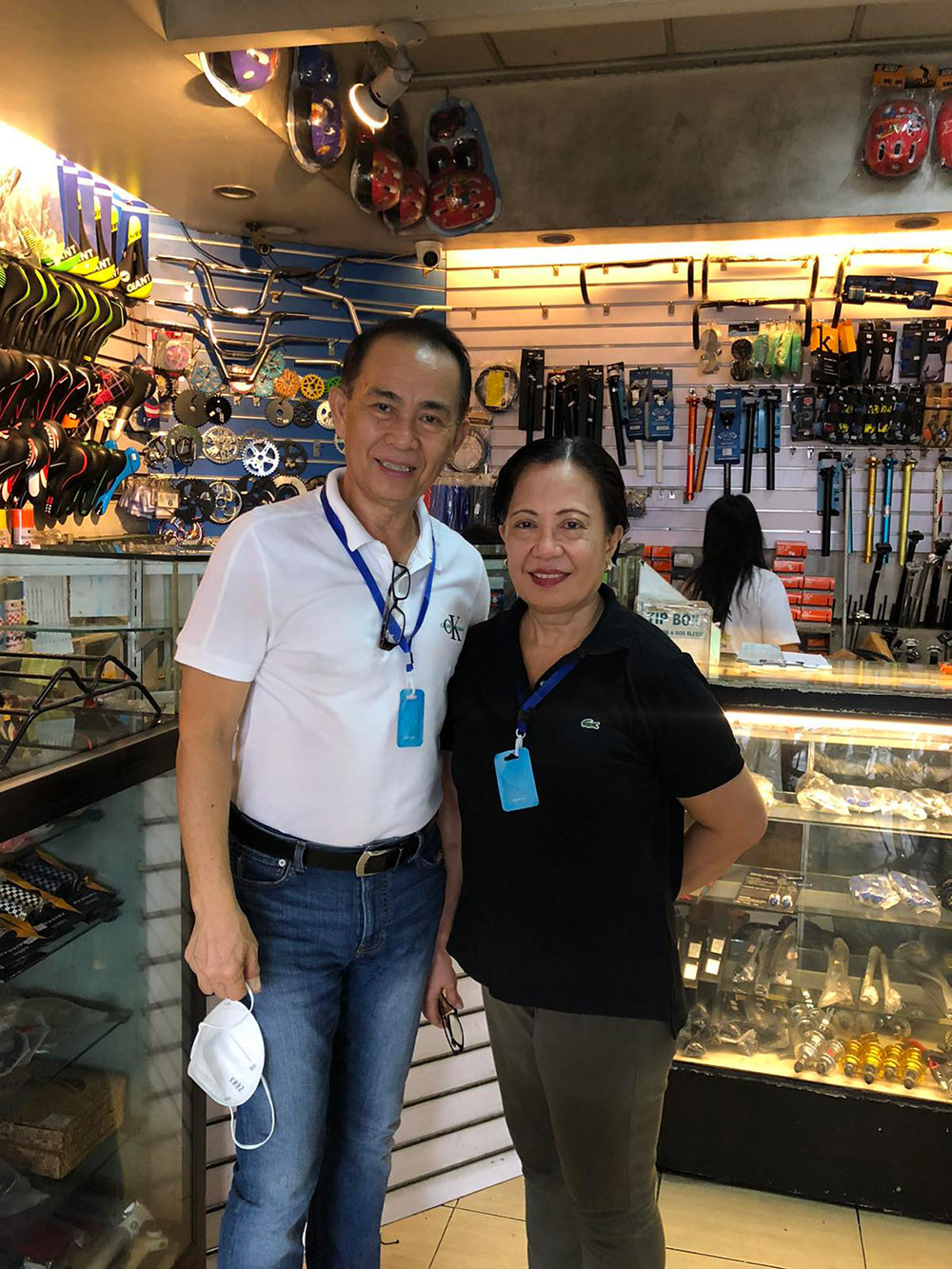 ADVERTISEMENT - CONTINUE READING BELOW ↓
After taking care of a few customers or checking out the shore, Dasas dutifully makes his way back to his upper-floor apartment. Health first, safety first, as he says. The threat of COVID-19 will be hanging over the Philippines for a very long time, and in our new life fighting against the shadow of the pandemic, Dasas believes the bicycle will play an important role. 
"Yung Pilipino kasi, di prefer na bisikleta ang mode of transportation," he said, speaking of life before the disease arrived. "Apat na gulong [ang gusto nila].  Ito na lang na-realize nila ngayon na kailangan din pala ang bisikleta."
And as best as they can, Jose and his family will be around to help them find the bicycles they need.
NOTE: This story originally appeared on Spin.ph. Minor edits have been made.