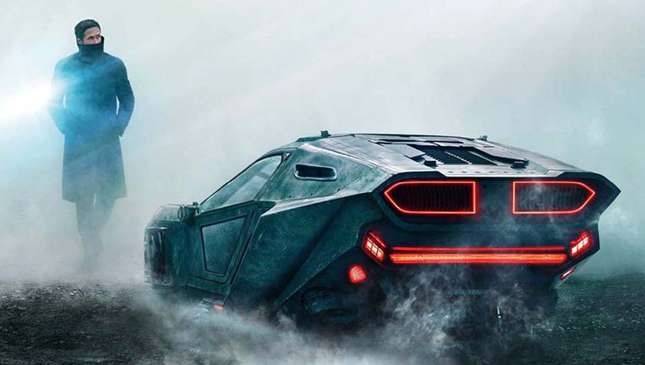 The future is a miserable, barren and depleted place. If you ask us what the underlying theme of Blade Runner 2049 is, besides all the bioengineered androids and whatnot, it's that 32 years from now the world has gone to utter sh*t.
But hey, look on the bright side! Flying cars have finally come into fruition! Albeit boxy, futuristic, metal coffin-looking ones, that--to be quite honest--are really depressing. And we mean all that as a compliment by the way, as it fits perfectly into director Denis Villeneuve's vision for the film.
"We saw in Blade Runner that nature was collapsing, so in 30 years' time, the Earth will be even more brutal," Villenueve said. "We are finding the same kind of oppressive atmosphere that we saw in the first film, but even thicker. The environment will be more toxic; the oceans will be out of control; the weather will be harsher, colder. We are dealing with even more severe climate conditions and that translates to everything from architecture to clothing to vehicles."
Continue reading below ↓
Recommended Videos
The director is describing K's (played by Ryan Gosling) vehicle in the film, a Spinner. The one featured in the film is meant to be homage to the original one in the 1982 sci-fi classic. "We tried to craft an interior that feels like the vehicle is 10 to 15 years old," says the film's supervising art director Paul Ignis. "There's a lot of life inside it; there's a lot of age. Everything is worn down and you can see the stains, the marks, the scuffs. It's a set in itself."
One new feature of the vehicle is a drone-like assistant called the "pilot fish." Just ignore the silly name. This can be ordered to watch the car, as well as photograph and scan the surrounding area to feed information back to the driver.
While the physical vehicle built for shoot is capable groundspeeds of 80kph, the crew was advised to refrain from doing so. Now you saw these Spinners fly in the trailers, and fly they do…sort of. K's vehicle could actually be mounted on a crane to fly-by-wire during filming. So yeah, it's not all CGI, which is a good thing.
Blade Runner 2049 opens in Philippine cinemas next Friday, October 6. Will you be catching the film when it comes out?