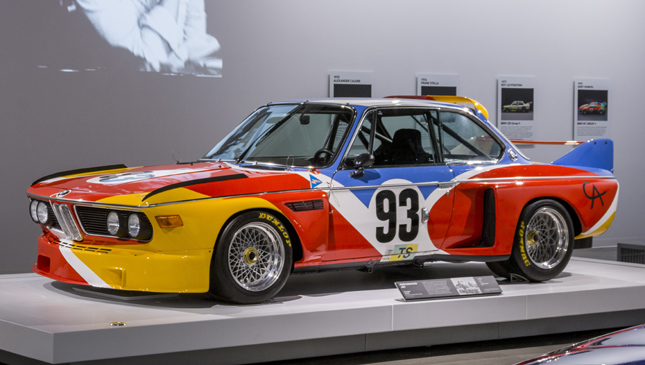 We think we can all agree that BMW makes very good-looking cars. Really, any car lover would be hard pressed to find anything to gripe about when it comes to Bimmers--they're sharp, sleek and edgy, and they have maintained a timeless beauty over the years. But can we call these automobiles works of art? Maybe that's still up for debate. But consider these three models on display in Los Angeles.
The newly renovated Petersen Automotive Museum in LA is now proudly housing three BMW Art Cars that display a diverse set of artistic styles from the last 40 years. The three cars are a 3.0 CSL, a 850 CSi and a 535i painted by artists Alexander Calder, David Hockney and Matazo Kayama, respectively. Also on display is a BMW Z4 used by artist Robin Rhode in 2009 for a marketing gimmick called "An Expression of Joy."
BMW head of cultural engagement Thomas Girst says these pieces represent the German carmaker's artistic side.
"These 'rolling sculptures' represent the core of BMW Group's global cultural initiatives, and we are pleased to showcase some of these impressive works in our new gallery space at the Petersen Automotive Museum," he said.
The Calder-painted 3.0 CSL was the first of the iconic vehicles to be completed back in 1975. This was followed by Kayama's 850CSi in 1990, and then by Hockney's work in 1995. David Hockney's maquette is also on display alongside the vehicles themselves. A maquette is a scale model provided by BMW to help the artist create a rough sketch of the company's vision before proceeding to the actual car. Our personal favorite is the Calder piece. The colors used are very un-BMW, yet put together they all complement each other perfectly.
Continue reading below ↓
Recommended Videos
Despite all the effort and creativity the three artists put into their work, we're willing to bet that our traditional Filipino jeepney designs can give them a run for their money.