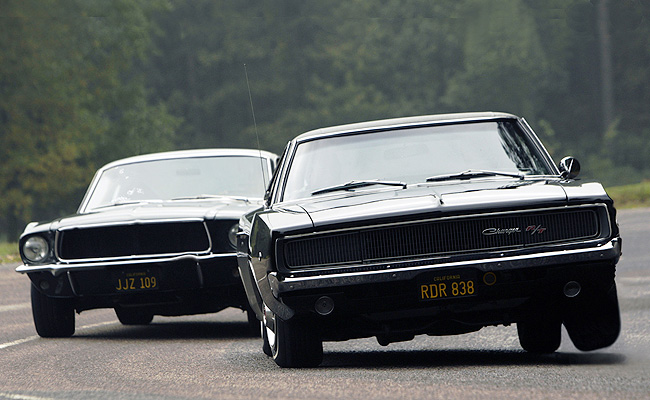 It has been said numerous times that the most dramatic--and perhaps most influential--car-chase scene ever to be put on film is the epic duel between the Ford Mustang GT fastback and the Dodge Charger R/T in the 1968 movie Bullitt, which starred the renowned car guy Steve McQueen.
Now, although the British aren't that fond of American muscle cars (save for a few like Top Gear TV host Richard Hammond), the organizers of the annual Silverstone Classic Motor Racing Festival decided to pay tribute to the movie--and to the Mustang's 50th anniversary--by recreating the aforementioned car chase, done from the Silverstone village to the popular racetrack itself.
The homage is loyal to the movie, from the Highland Green color of the Mustang and the brown jacket of the driver playing McQueen's Frank Bullitt character, to the black sunglasses and leather gloves of the driver in the Charger. The Mustang also appeared in the Charger's rearview mirror prior to the chase, just like in the movie, and there's also the green Volkswagen Beetle that, in the original movie, showed up a number of times.
"It's hard to imagine a better way for us to celebrate the Mustang's forthcoming 50th birthday party than by making this special homage to the classic car chase in Bullitt," said Silverstone Classic event director Nick Wigley. "As you can imagine, we had a lot of fun making this film--not least because it gave us all a great excuse to watch the original movie once again!"
The video was produced to promote the Silverstone Classic event, which is scheduled for July 25 to 27 this year.
ADVERTISEMENT - CONTINUE READING BELOW ↓
Check out the video below.
If you're watching this on a mobile device and can't see the video, please click here.