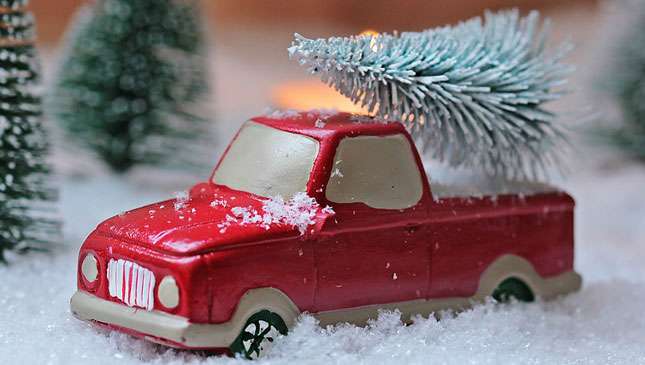 It's almost December, which means Christmas party invites will start filling up your inbox before long. Here are seven tips to ensure that your car is as ready for the festivities as you are:
1) Bring a change of clothes. A lot can happen during the day, like a sudden onset of rain or a smidge of pasta sauce making its way to your shirt, so you best bring a spare set of clothes for the party just in case. You won't always have time to dash back home first. Moreover, some Christmas party invites get sent out at the last minute, even when you showed up to work in non-party attire. All the more reason you should have a spare set tucked away in the car.
Continue reading below ↓
Recommended Videos
2) Have some generic gifts handy. Speaking of last-minute parties, you might be caught off guard as well if you unexpectedly run into someone who's expecting a gift from you. To combat this, you should keep a set of generic gifts ready in your car. Even a small trinket will let them know that you've been thinking about them (even if you really haven't.)
3) Keep some spare change. Not everyone is so fortunate during the holidays. While you're out attending parties, some are struggling to put food on the table. Christmas is about giving, so have some spare change in the car for those who need it most. Instead of giving alms, we prefer to buy sampaguita garlands to hang in the car. And expect the 'parking attendants' to be extra eager these days.
4) Bring a bottle of water. Christmas parties tend to overdo it on indulgence, which can leave you dehydrated, feeling bloated, or both. Store a bottle of water in your car before you go to a party so that you can stay hydrated and alert for the drive home.
5) Make room for more than one. Bringing a car to a Christmas party means that you might end up as the group's bus driver before the night ends. 'Tis the season for giving (rides), after all. So make sure your passenger seats are clear of any unnecessary clutter. Who knows, your crush might need a chauffeur to take her home later.
6) Bring tupperware and re-sealable bags. "Uwi mo na 'to!" yours hosts will say, tugging you by the arm and refusing to let you leave without taking some food home. Rather than refuse their kindness, you can instead prep some tupperwares and re-sealable bags in your car for the occasion. We've learned that holiday ham makes the best snack in the pantry the next day.
6) Have a back-up plan that doesn't involve you driving. A Christmas party can go from a food trip to an all-night inuman session real quick. Even if you don't intend to drink, have a plan in place so that you don't end up behind the wheel if you change your mind. Maybe bring a sober friend, or arrange to leave your car somewhere safe. Even if you have to pay an exorbitant amount to park overnight, it's a small price to pay for your safety.