Fads come and go. That's life for you. But like in fashion, where things like elephant pants were once considered the epitome of cool, some automotive trends are best left to the history books. Here are six of the worst offenders:
1) Flame decals
About 15-20 years ago, for reasons that still aren't quite clear, things with flames on them were really in. They were everywhere, from the sleeve protectors used by tricycle drivers, to Manny Pacquiao's shorts, and yes, on cars. Maybe people thought that they gave the illusion of fiery speed?
2) Fake wooden exterior panels
This fad was all over the place back in the '70s and '80s, and was perhaps best seen on the station wagon from National Lampoon's Vacation. We don't imagine they'd look good on today's sleek designs, so it's probably okay that they've been out of fashion for a while. 
3) Spinning rims
This fad was so big at one point that John Cena actually fashioned his WWE championship belt to feature a spinning logo. The spinning thing was cool back then, but we don't see them coming back in vogue anytime soon. 
ADVERTISEMENT - CONTINUE READING BELOW ↓
4) Faux fashion upholstery
Ever wonder why upmarket fashion brands like Louis Vuitton would ever make seat covers? The real answer is that they don't, so the ones you see on ordinary cars are knock-offs. If you really want to rock LV, then you're better off buying a hand bag. 
5) Neon underbody lights
Every kid who grew up on Need for Speed probably secretly wished that their dad's family sedan came with a bright green glow underneath. It didn't, and these days you're probably better for it. 
6) Blinking head- and taillights
The sad part about this fad is that many cars on the road today are still guilty of having these installed. They're not cool, and they're dangerous to boot. We can't wait for these to die a natural death. 
Bonus: One fad that should come back.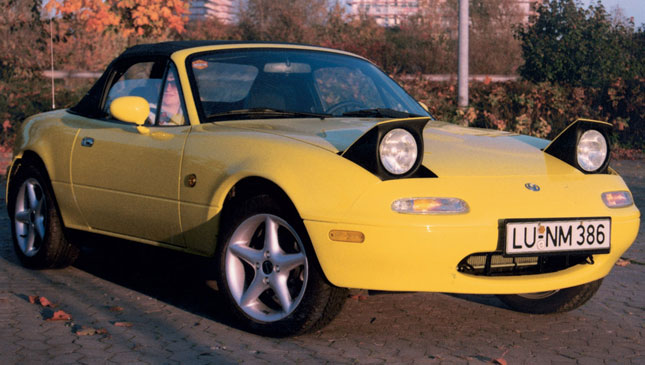 ADVERTISEMENT - CONTINUE READING BELOW ↓
Recommended Videos
Okay, so we know they're prone to all sorts of electrical errors, and there isn't any real need for them, but damn do pop-up headlights look cool. Car gods, please bring these back.