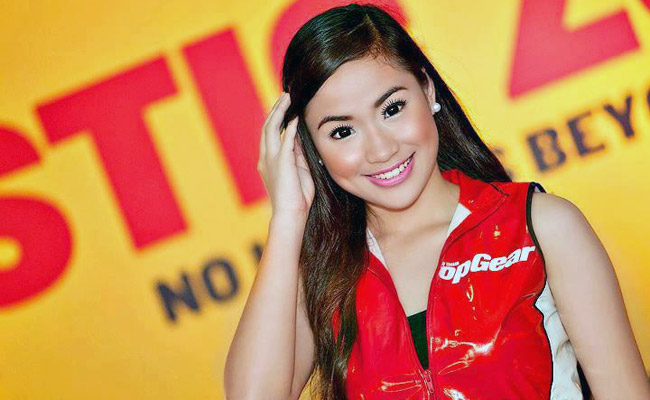 Yesterday, a reader sent us a screenshot of a controversial Facebook post by car-show model (and one-time Top Gear Philippines booth babe) Alyzza Agustin. In the said post, Agustin showed a calling card of PNP director for plans Alexander Ignacio, with the following dedication scribbled by the latter on the back of the card: "PLS ASSIST MY EA, ALYZZA AGUSTIN."
Agustin's caption was: "Nahuli na naman ako dahil coding but because of you Boss Alex wala ng huli-huli. Thank you so much sa napaka-useful mong card with matching dedication pa."
Translated in English: "I got apprehended again because of the number-coding scheme, but because of you Boss Alex, no more apprehension. Thank you so much for your very useful card with matching dedication at that."
We posted the screenshot, which immediately went viral (now with more than 6,100 likes, 3,600 shares and 2,300 comments). Several blogs and news websites even picked it up without proper attribution (Agustin had taken down her post before the buzz reached the aforementioned websites).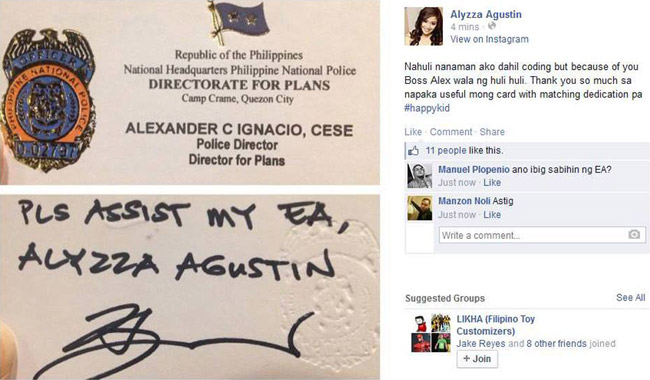 Earlier today, a common friend approached us on behalf of Agustin, inquiring about what could be done about the post. We told the guy that we couldn't take down the post but offered to give Agustin prominent space on the website should she desire to issue a formal statement. We then suggested to the friend that Agustin make a public apology and just admit that she committed a mistake. We said people would understand as Filipinos are known to be a forgiving lot.
We don't really know if the common friend communicated to Agustin our suggestion, but just an hour ago, she posted the following statement on her Facebook page: "I would like to apologize to everyone who was affected and offended by my post: fellow motorists, Director Alexander C. Ignacio and his family, and the PNP institution as a whole. I was just overwhelmed by that moment because I was caught in traffic for hours coming from work. I would like to make it a point that I do not know Director Alexander C. Ignacio personally. I mean no harm to anyone, and just like any Filipino motorist, I would like a little convenience on the road. Naniniwala po ako na ang bawat isa sa atin ay may pagkukulang din naman sa daan. Pasensya na po sa aking pagkakamali."
On second thought, we are somewhat convinced that the friend conveyed our message to Agustin because of her use of the word "convenience," which we kept mentioning to the friend.
ADVERTISEMENT - CONTINUE READING BELOW
Anyway, let this be the end of the issue. We commend Alyzza for admitting her error in judgment. Let this also be a lesson to everyone that the "calling card culture" prevalent in this country is something that has to stop now, because it corrupts our society today as well as our children tomorrow.