The full implementation of Republic Act No. 11229 or the Child Safety in Motor Vehicles Act has been deferred as parents are still left with many questions about the law. One of those is about the expiration dates of child car seats.
According to the law's implementing rules and regulations (IRR), if you have an existing car seat, it needs to be inspected by the Land Transportation Office (LTO) and must meet certain requirements before you can get a clearance to use it. One requirement is that the child seat should not be expired.
But do car seats really have expiration dates? On SmartParenting.com.ph's online parenting community, Smart Parenting Village, one mom messaged a popular child-seat brand to ask where she can find her child seat's expiration date. It turns out that expiry dates vary depending on where the car seat was manufactured.
"For those buying car seats, here's what Joie Philippines replied to me regarding expiration of their car seats," wrote mom Sandra Hazel Lee Chua.
In a screenshot, the car seat manufacturer wrote, "Hi Sandra, the European car seats [do not] have expiry. Car seat expiry is not like expiry of food na it's not safe to consume after expiry. US car seats HAVE expiry because the testing series they are using for the car seat is not explicitly stated in the testing sticker.
"If you will notice on the European car seat, meron silang yellow sticker which states the exact testing series niya. That is why European car seats [don't] have expiry."
ADVERTISEMENT - CONTINUE READING BELOW ↓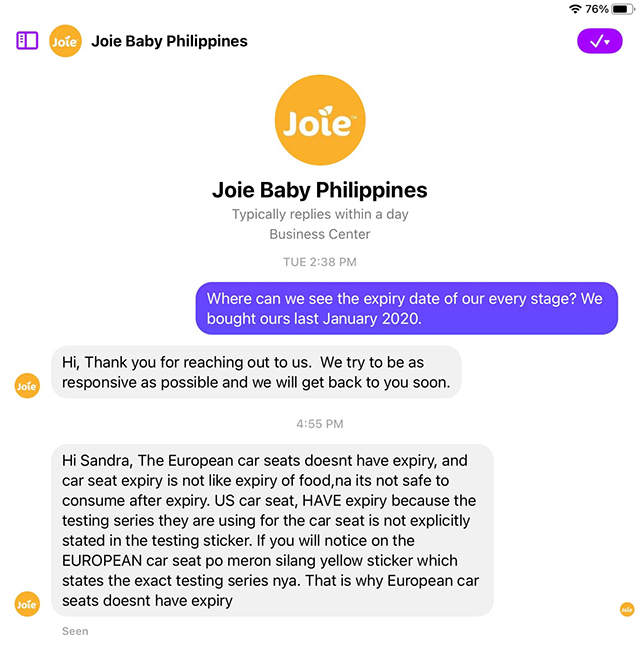 What child-seat expiration dates mean
 According to VeryWell Family, while the United States does not require expiration dates on their child seats, it is the manufacturers who decide to put one based on some general guidelines.
1. The lifespan of child car seats depends on the group it falls under.
According to an article by MadeForMums, child car seats are separated into six categories:
Group 0+ - birth to 15 months
Group 0+/1 – birth up to 18kg (around four years)
Group 1 – 9kg (nine months) to 18 kg (around four years)
Group 1/2/3 – 9kg to 36kg or 135 cm (around 11-12 years)
Group 2/3 – 18kg (around four years) to 36kg or 135 cm (around 11-12 years)
Group 0+/1/2/3 – birth to 36kg or 135cm (around 11-12 years)
Some child seats last longer than others because of their weight and height capacities. Each one has a recommended "service life." Make sure to only use the product until your child reaches the maximum weight limit in the group that it belongs to.
2. Each manufacturer offers a recommended 'service life' date for its products.
 Think of it as a 'best before' date. These are set by the manufacturers and will vary depending on the model.
This also takes into consideration the various improvements in technology and changing safety standards. According to VeryWell Family, "car seat manufacturers periodically update designs to improve the performance of their products. An older car seat that's been passed down from friends or family might look like it's in great condition. But it is unlikely to have recent lifesaving technologies."
If regulations change, the existing products you have now may no longer comply with the set safety standards. Expiration dates can be a guide and assure you that the product you are using is not missing "any important updates."
3. Materials such as plastic may degrade over time.
 The lifespan of a child seat usually lasts six to 10 years. But like other products, child seats eventually become worn down as the materials degrade. 
Plastic can become brittle especially if it's left inside the car and constantly exposed to extreme weather (too hot or too cold temperatures). The damage is not always seen by the naked eye, which is why the expiration date is important, says VeryWell Family.
ADVERTISEMENT - CONTINUE READING BELOW ↓
Where to find child-seat expiration dates
All car seats are required to have a sticker that indicates the date of manufacture. You can find it by checking along the sides or back of the seat, or flipping the seat upside down to see the bottom. You may also check the manufacturer's website—important so you can be informed whether certain models have been recalled for safety issues. 
Can I use secondhand child seats?
According to MadeForMums, safety experts recommend avoiding secondhand child seats. This is because you can't be too sure that it hasn't been involved in an accident, no matter how minor it may be. Damage from a crash may render child seats unsafe.
NOTE: This article first appeared on SmartParenting.com.ph. Minor edits have been made.