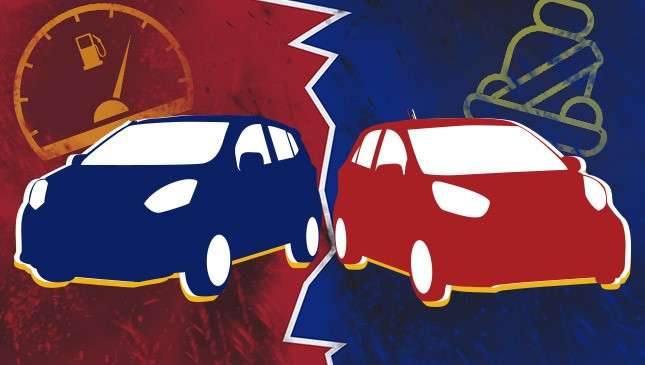 Next to buying a house, a car is perhaps the most significant thing that you will spend your hard-earned money on. And we wouldn't really call it an investment, either. Once that brand-new set of wheels rolls out of the showroom, it is immediately hit by depreciation.
However, if you are reading this article right now, that means you see a car as more than a household appliance. For us at Top Gear PH, a car is a very emotional purchase. We love the automobile and the freedom that it affords us—traffic be damned. After we park our ride, we often look back and say, yeah, that's my car.
Of course, where you are in your life's journey also plays a role in your choice. Below are some popular vehicle segments. Find out which one is a match for you.
1) Subcompact sedan/hatchback (Toyota Vios, Honda Jazz, Mitsubishi Mirage)
This is the segment that has been dominating sales as of late, and you had best believe that competition is very stiff here. This is good for the consumer, because manufacturers are trying to pack as much value as they can into relatively affordable packages. This is also the segment where first-time car buyers look, because the prices are very tempting. Go for a subcompact car if you are looking for a bang-for-the-buck vehicle. Cars in this segment are reliable workhorses—perfect for a first car that will surely be used and abused
ADVERTISEMENT - CONTINUE READING BELOW ↓
2) Midsize pickups (Mitsubishi Strada, Ford Ranger, Nissan Navara)
Models in this segment have grown in size in the past couple of years. Pickups that were sold locally used to belong in the compact segment, but not anymore. These are hulking behemoths that dominate the roads now. Nothing can beat the utility of a pickup truck. The thing is, you will only wish you had one when the need arises to haul heavy and bulky cargo. It really is a case of 'better to have it and not need it,' than 'need it and not have it.' After living with a pickup of our own, we can't imagine our motoring life without it. If you run a business that has mild hauling requirements; or you need to transport building materials for your home renovation projects; or you lead an active lifestyle and need to transport your bicycles and camping supplies, you can't go wrong with a pickup.
3) Midsize SUV (Ford Everest, Isuzu MU-X, Mitsubishi Montero Sport)
More and more people are looking to SUVs for their motoring needs, and who can blame them? Tall ride heights make them the perfect vehicles for tackling floods, and the added convenience of a third row makes them so tempting for growing families. The current crop of midsize SUVs even offer the latest in diesel technologies, so going the distance on the least amount of fuel is the new normal. If there is an all-around vehicle, the midsize SUV is definitely it. There are also some awesome deals to be had, too. Once upon a time the SUV was unattainable, but now not anymore. Go with an SUV if you are looking for road presence, security, and go-anywhere capability.
ADVERTISEMENT - CONTINUE READING BELOW ↓
Recommended Videos
4) Compact SUV (Honda CR-V, Subaru XV, Hyundai Tucson)
The 'crossover' as it is known doesn't have a large footprint compared to the larger midsize SUVs, so they offer a bit more maneuverability in traffic, without sacrificing utility. Again, the dimensions have grown, but if you are looking for a car that is easy to manage, can handle mild off-road duty, and has higher ground clearance than a sedan, look no further than a crossover.
5) Compact wagon (Mazda 6, Subaru Levorg, Volkswagen Golf GT-S)
Often called 'mom-mobiles' by people who don't know any better, the wagon is one of the most versatile vehicles that you can get. It appeals to the car guys with elevated tastes, and who know what they want from a car. We are so glad that wagons are being sold in the Philippines now, and having that choice only means that our economy is doing relatively well. Choose this vehicle if you want the utility of an SUV, but with the handling characteristics of a sedan. There are a number of reasons why a 'sport wagon' is on the top of a gearhead's wishlist. These are fun machines that can double duty as family cars.
6) Compact sports car (Toyota 86, Ford Mustang, Mazda MX-5)
Don't wait until your retirement days to finally enjoy a sports car. Now is the time. You won't be lacking in choices, either. If driving is part of you, and if hitting the open road takes the stress away, by all means choose one of the driving machines above. If you are seriously looking into buying one, you are in a position to treat yourself to a second car. Good for you. But even the 86 is versatile enough to be driven every day. And for sure you will glance back at it while walking away from the parking slot. Happy hunting.
ADVERTISEMENT - CONTINUE READING BELOW ↓