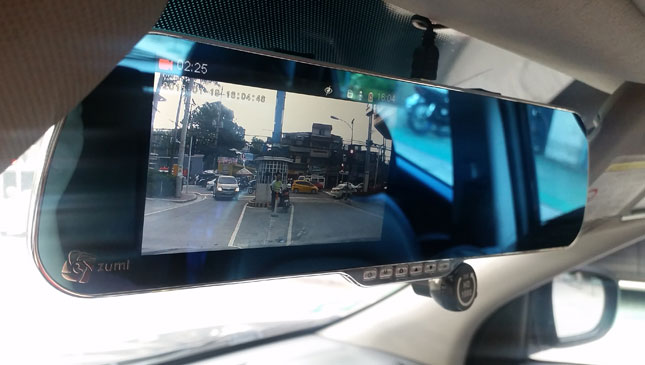 In the lawless frontier known as Metro Manila, we're all too aware of the usefulness of dashboard cameras. But if you're a savvy motorist, you're most likely also using a smartphone mounted on your windshield. Adding a dash cam to your car's interior can result in clutter.
What we discovered recently is a nifty solution to our street-monitoring needs. The Zumi Duo X15 is different in that it supplants your rear-view mirror, and integrates a fully functional dash cam.
Within the X15's surface is a 2.7-inch LCD screen that displays what's being recorded. Attached just underneath the device is the tiny camera that does the recording.
The X15 has all the features of a traditional dash cam. There's auto on/off, G-sensor (for permanently recording what's happening in case of an accident), and loop recording. It also records at 1080p HD, with a wide 170-degree angle to capture the scene in front.
Like its Duo Dash kin, the X15 also has a secondary camera for recording what's going on at the back. Naturally, you can use this as a backing-up camera when parking. To select what's being shown on the X15 screen, you can toggle between split view, picture-in-picture, and front-only or rear-only view.
Continue reading below ↓
Recommended Videos
The Zumi Duo X15 retails for P8,000. We think that's a reasonable price for peace of mind. If you're interested, you can check out Zumi's website.