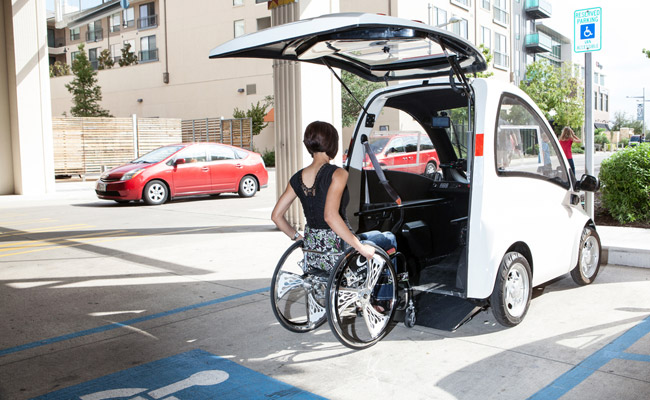 We just got back from a week-long visit of the United Kingdom, where people with disability (PWD) are held in high regard. Over there, a special section is allotted for handicapped individuals at football stadiums. And the taxicabs have a spacious rear passenger area that's big enough to accommodate a wheelchair.
We wish we could say the same was true in the Philippines, but that is hardly the case. Here, moronic (and perfectly healthy) drivers even park their car in designated PWD slots in the name of convenience. Which means people in wheelchairs often find themselves at a greater disadvantage compared to their absolutely fit peers.
The most obvious disadvantage, of course, is the difficulty in moving around. PWDs often need assistance when getting from point A to point B. Sure, we've seen a handful of creative Filipinos putting together three-wheeled machines specially designed for crippled drivers, but how safe and efficient are these?
Enter the Kenguru low-speed vehicle created specifically for people confined to wheelchairs.
"The Kenguru gives you the independence you have been looking for," proclaims the official website. "Whether it is commuting to and from work, visiting family and relatives, or just meeting up with some friends to have fun, the Kenguru will help you to do it on your own."
Continue reading below ↓
Recommended Videos
As you can see from the photos, the Kenguru is essentially a single-passenger car, accommodating just the PWD driving it. Said driver enters through the upward-opening hatch-like rear door, and positions himself/herself forward into the cockpit. We're assuming the hatch closes remotely with a switch or a button. The tiller is more like a motorbike's handlebar than a car's steering wheel.
We can't find technical information about the vehicle, so we don't know what propels it or what safety features it is equipped with. But we do know this: It looks exactly like the heaven-sent gift PWDs are praying for. We also know that you will not be able to use this on the highway as this is a low-speed vehicle, but at least a handicapped person may drive it around a subdivision or even on small city streets.
The company manufacturing this thing--located, by the way, in a city in Texas called Pflugerville--is now accepting reservations for just a minimal fee of $100. We're just not sure whether the offer is also available to customers outside the US. It wouldn't hurt to inqure here.
Anyway, if you have a loved one in a wheelchair and you have the means to acquire this Kenguru car for him/her, this would make for an awesome Christmas gift.