If you're deadly serious about sim racing, like Lando Norris, a 'direct drive' wheel is essential. Rather than belt-driven, the rim is bolted directly to the motor, offering stronger force feedback, but also more detailed and immediate response.
Up until now, though, direct-drive wheels have required: A) an engineering degree to set up and B) a gaming PC. Not so with the Fanatec Podium Racing Wheel F1, which plugs directly into your PS4 or PC (and even Xbox One, with a compatible rim). This bundle pairs the housing with Fanatec's sturdy Clubsport F1 rim, which bristles with buttons and arrives in pleasing, mid-Noughties BMW Williams blue. The kit is pricey, requires pedals and weighs about as much as a collapsed star, so mount it somewhere secure, but it's probably the last sim racing wheel you'll ever need.
Team Sonic Racing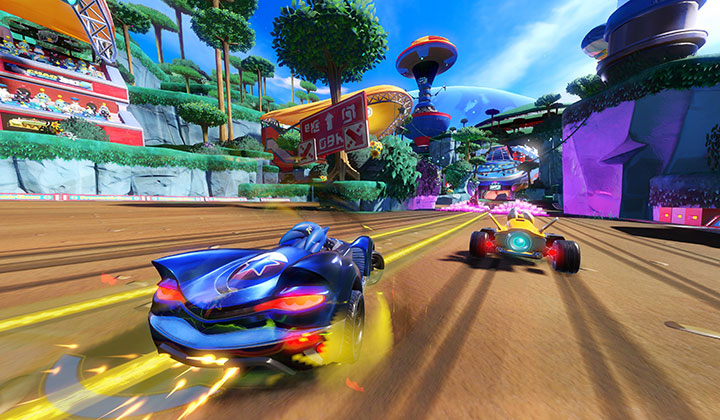 Team Sonic Racing is the latest in a quietly successful, kid-friendly series of kart racers. It doesn't have the effortless genius of Mario Kart 8, but like that game there are dizzying, colorful rollercoaster courses to negotiate and the mandatory four-player split-screen mode for cheerily vindictive couch-based multiplayer action.
You're racing in a squad of three now, and working with your teammates (via slipstreaming, side-drafting and sharing items) is the easiest route to victory. It's frustrating when you lose the race as a team, even though you finished first but if,as is likely, you're playing alongside a little nipper who's struggling to wrap their tiny hands around the controller, let alone drift around a corner, it allows you the option to cooperate and win together. Just remember to swap the Champagne for a juice box.