If you're viewing this on a mobile device and can't see the video, please click here.
There's no denying it: At one point or another, you've been jealous of another person's ride. Maybe it's your neighbor's shiny new sedan, your officemate's daily-driven sports coupe, or a fellow car club member's loaded set of wheels; chances are the green-eyed monster has its sights on it, even just for a second.
This is the thought at play in Daihatsu's ad campaign for the new Wake, albeit on a much more comical note. The videos star a DIY Japanese motorist, his ever supportive partner, a separate couple who happen to own the spacious new Kei car, and priceless expressions like the one you see below: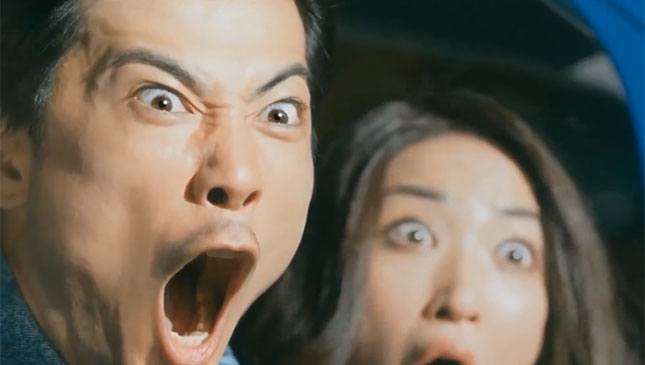 Continue reading below ↓
Recommended Videos
Truly a look only a Japanese set of facial muscles can come up with. Obviously, hilarity ensues. 'Anchan' tries in vain to compete with his neighbor's new Wake by subjecting his humble old vehicle to several forms of abuse, including but not limited to: chopping his roof off with a chainsaw, replacing his rear hatch with an ice bed for freshly-caught fish, and swapping his drivetrain for a pair of bicycles.
Eventually, Ancha gives up on his mission and decides to purchase his own Wake. We can't wait to see what he comes up with when his neighbor decides to move up a segment. You can watch several clips from the Wake ad campaign in the embedded video above. Enjoy!