"I saw a video of your vehicle on TV. Are you all right?" This message—and variations of it—poured into the inbox of Randy Tan last week, when footage of his stalled Land Rover Defender 110 on Araneta Avenue made rounds online and on TV.
While friends and acquaintances who recognized his SUV had the knee-jerk reaction to check on him, other netizens had a different but more common response to other people's mishaps: Bash and be brash.
I wonder if these keyboard warriors, who were quick to make fun of a potentially life-threatening situation, even thought about the safety of the people in the vehicle. Let's wonder no more if they made it alive, because TopGear.com.ph recently sat down and had a chat with Randy, who drove the D110 that rainy Tuesday and lived to tell the tale, and Land Rover Club of the Philippines' president Robby Consunji.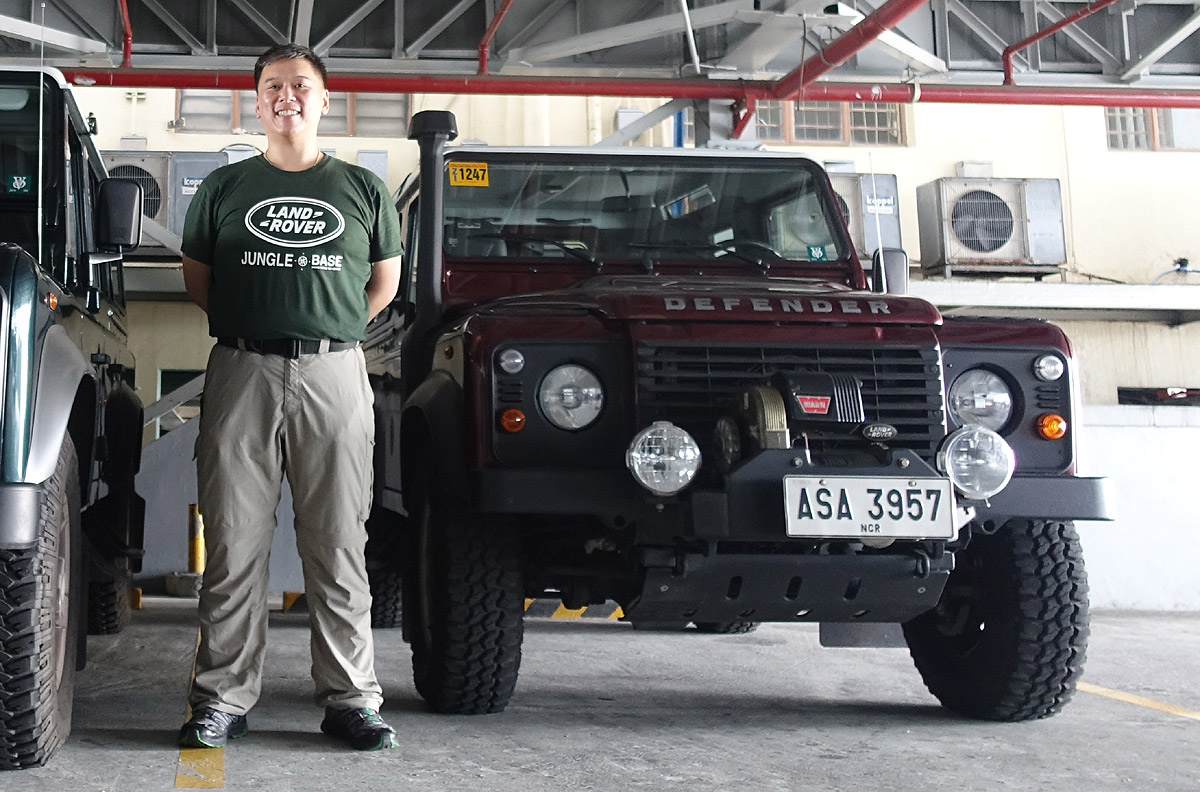 Like Randy's Defender, about six or seven vehicles were immobilized along that stretch. "A Canter 20 feet in front of me was floating," he recounted. "A Ford Everest was behind me, and they were also pushing. There were jeeps and other vehicles."
What most people didn't know is that Randy is an avid and experienced off-roader. He has been taking his Defender, which also serves as his daily driver, to adventures off the beaten path for four years now. Prior to that, he had owned a Toyota Hilux LN166, which he also took to off-road jaunts until he sold it to get a Defender.
Last year, he was an official convoy sweeper of the Philippine leg of the Rainforest Challenge (RFC), a grueling off-road motorsport competition. Randy ferried the supplemental medical team throughout the event, and made sure no official vehicles are left behind. He even shuttled RFC founder Luis Wee when the vehicle he was riding in got stuck in the river.
Randy has tackled deeper waters and obstacles than Araneta Avenue, and he and his Defender had never stalled. Well, until last week.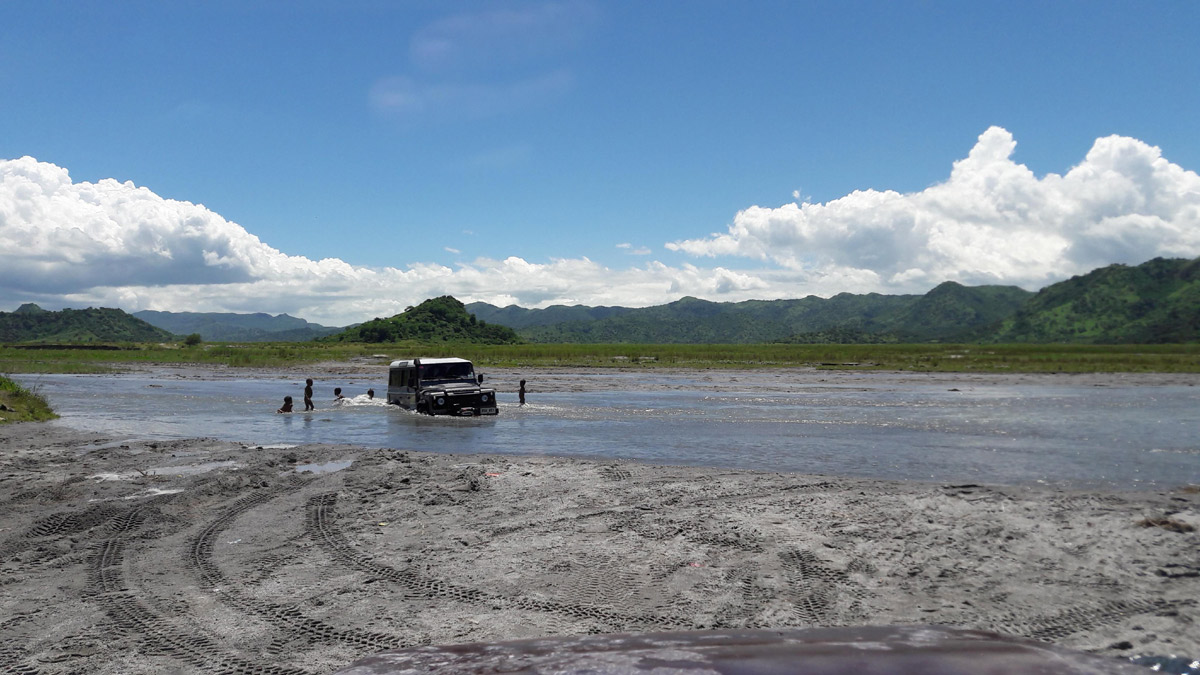 Tasked to fetch his nephew in San Juan a little before noon when classes were suspended for the day, Randy used Waze to get to his destination as fast as possible. He evaluated the route, which he had taken a lot of times.
The sight of a mid-calf-high flood greeted him. Because the heavy rains had toned down to a drizzle, he assessed it to be a manageable situation. "So I turned off my A/C, nag-low range ako as per standard procedure and took the low gear," Randy shared. As he was driving along, his companion noticed that the water was rising quickly. He had come that far, so he decided to keep moving forward.
"As we were going, I hit something under water—could be garbage, a bottle, a log, a hump or something—and my transfer case popped out of low," he said. "I was reaching for momentum and tried to re-engage it, and that's when the vehicle stalled."
Because it must have been his lucky day, the waters rose to the sills and then to the doors and up to waist level.
"What people don't realize is that a guy who knows how to use his 4x4 can get hit by bad luck," Robby chimed in.
"If it weren't actually for my Tcase popping out to neutral, I would have actually made it," said Randy, who can look back at the incident with a chuckle. "But it was like a flash flood, and the water level had gone really bad."
Four children 'swimming' and playing in flood water helped them push the vehicle to safety. Randy and his companion escaped the waters about fifteen minutes past noon. By 1:30pm, his friends from Rover Parts have arrived to help him tow the vehicle and bring it to a shop in Tanay, Rizal, for rehabilitation.
"First things first, life and limb are okay," Randy noted. "It's a bonus that we were able to save the vehicle."
Today, his Defender is "smelling like rotten fish" after being submerged in dirty water, according to Robby, but Randy believes it's in good hands with mechanic Paul Javier. Paul has done preliminary work, such as draining oils and evaluation. He checked the engine for possible damage after the initial water purge. The rehab will not take longer than a few weeks as long as everything goes smoothly, Randy said.
Just in time for RFC this year, in which he'll be sweeper again. "That's why I want his Defender ready as soon as possible," Robby commented with a laugh. Robby is also the country's RFC representative and is in charge of organizing the Philippine leg.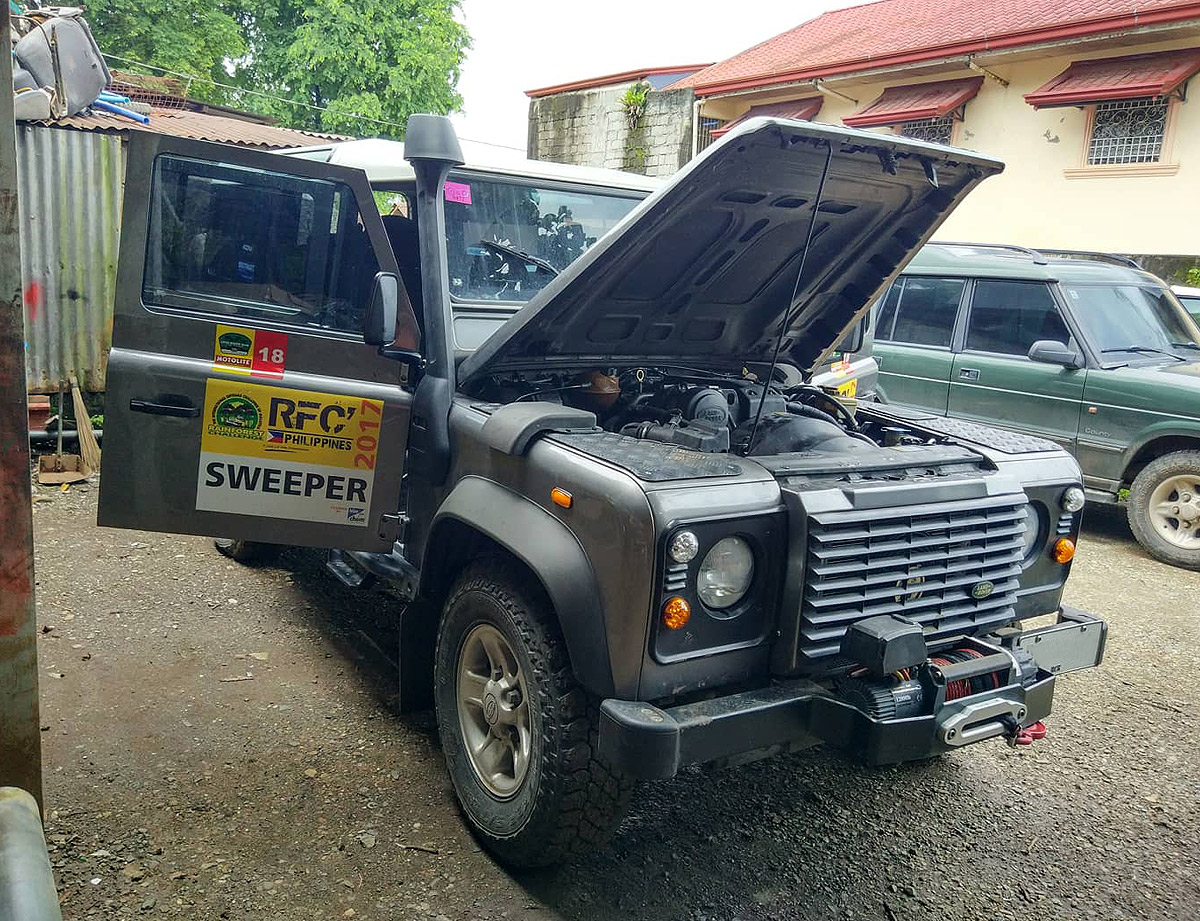 Sourcing parts and specialists for Land Rovers isn't really difficult, according to both enthusiasts. If you're part of a car club, which is like a modern-day tribe, fellow gearheads can lead you to the right person. Parts suppliers of Land Rovers like BritPart are also helpful, Robby said.
"When you ask around and look for a solution, the other guys who have had similar experiences in the past would always pitch in," Robby said. "The guys would share wisdom to help you get your vehicle back and running."
Newbies can also seek tidbits of advice from veteran off-roaders. "They ask what to do to prevent certain incidents and the more experienced guys will chime in," Randy added.
Before we wrapped up the interview, I couldn't help ask these skilled off-roaders for some practical trail lessons that may be applicable to regular motorists. I'm no jungle girl and so are a lot of city dwellers, but the rainy season can turn certain parts of the metro into rivers.
Randy and Robby began throwing in tips that can be turned into another story. "First things first, the conventional wisdom is pag nakita mo ng alanganin, 'wag ka ng pumasok," Randy said. Walk through the obstacles and water before driving through, if possible.
"Treat your vehicle with respect," he added. "Don't trash it."
And when the water builds up unexpectedly, give way to the big boys so they can do their job. Don't block the road and pull over, Robby advised. "Let the big cars and trucks pass through and push the flood out, and drain it," he said.
But these big guys should observe courtesies, too, Robby added. They should be mindful of other motorists and be careful to not splash them with flood water. He added sternly: "The 'I don't care about you, I'm going through the flood and splash you all' mentality and driving is not supposed to be done."
Other tips for motorists who drive 4x4s? Keep the bow wave. Learn gear overlap.
It doesn't hurt to ask the pros, too, because you never know when misfortune will strike. "Yeah, bad luck happens," Randy concluded, laughing at his own experience.
Robby, on the other hand, came to the car's defense: "It's not a lemon."
That looks like a nice tribe to be in, with its leader defending their Defenders and its people proactively sharing off-road knowledge so they all become better drivers. I hope this kind of culture can trickle into the clan of online users. The internet and social media can distribute information faster than the flood water in Araneta Avenue can rise. If we could opt to educate instead of humiliate and to spread sympathy instead of schadenfreude, then we'd be wiser and kinder motorists now.