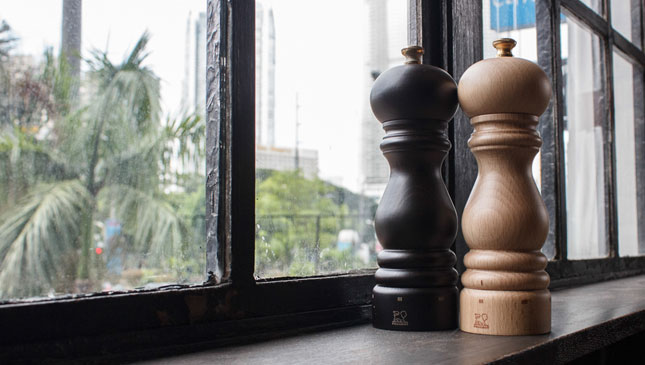 Despite having officially been in our market for a few years now, Peugeot is still a car brand not too many people are familiar with. This is a situation Glen Dasig, the new president of Peugeot Philippines, is trying to rectify. In line with this, we attended an artsy road trip to Antipolo to immerse ourselves in Peugeot's emphasis on style.
But our introduction to the French carmaker's deep heritage really took place at the event rendezvous point in Café 1771. We were surprised to see the salt and pepper mills at the restaurant sporting a lion logo like the ones seen on Peugeot vehicles. This may not come as a surprise to those who have stayed in Europe, especially France, but for us it was very fascinating. Peugeot Philippines had brought these salt and pepper mills as a subtle reinforcement to its branding exercise that day, and it worked.
As a little backgrounder, Peugeot began way back in 1810 solely as a manufacturer of tools and saws. In 1840, it began making coffee mills, starting the transition to food equipment. By 1850, the lion logo appeared and was trademarked. But it wasn't until 1874 that the first pepper mill appeared. It was called Z Model, and it's still being made today!
Another turning point arrived in 1890: Peugeot built its first gasoline-driven automobile. But that's another story (and it's still being written actually).
Today, you can walk into a Peugeot car showroom in France and purchase a pepper mill, presumably after you've inspected the face-lifted 508 or the red-hot 208 GTi.
The Peugeot salt and pepper mills we saw were handsome, as far as dining accoutrements go anyway. The lion logos can be seen at the base, and if you look at the mills' bottoms, you can see the brand and country of origin spelled out.
At some point, you might think: What's the connection between food equipment and good automobiles? Well, it's all about the name. You'll be more inclined to appreciate a car brand that has a rich (and tasty) heritage, than an upstart carmaker with dubious origins.
The Peugeot salt and pepper mills are a connection to the brand's storied past. They are artifacts reflecting the breadth and depth of Peugeot's history, and they can also spice up a meal. At the very least, it makes you want to know this French marque better.
Photos by Alfred Mendoza