Commuters in Metro Manila have a lot of hopes and dreams for our current transport system (especially seeing as it leaves a lot to be desired, but that's a whole other story). And one ultimate fantasy a few might share would be double-decker buses. They can carry more passengers, offer more seating space—anyone who has ever been doomed to stand in the aisle squished between other passengers knows this desire too well—and, well, these buses really do just look so much cooler. Stairs? On a bus? Why the heck not?
While a few premium point-to-point bus lines do currently have double-deckers in their fleet, the number certainly isn't enough to make them an everyday sight along EDSA. But here's something the younger set might not have known: Double-decker buses were once an actual option for commuters in Metro Manila. We lay down its history here.
Matorco tour buses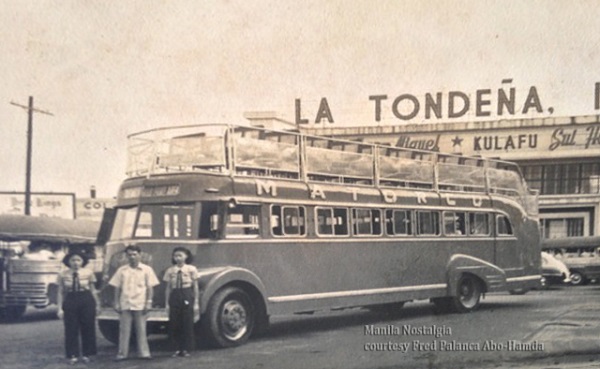 ADVERTISEMENT - CONTINUE READING BELOW ↓
These were arguably the first double-decker buses in Metro Manila that catered to tourists who wanted to take in the sights along Roxas Boulevard. They first popped up after World War II in 1948 when Sebastian Palanca, a son of Don Carlos Palanca—the owner of the then-La Tondeña Distillery (now owned by San Miguel Corporation)—invested in two buses from London, according to Lou Gopal of Manila Nostalgia. These buses came to be known as Matorco buses, short for Manila Motor Coach.
These tourist buses are quite similar to the hop-on, hop-off buses you can usually spot on travels abroad. The upper decks are typically open-air (for maximum sightseeing capability), and based on the picture, it looks like everyone wanted in on the action.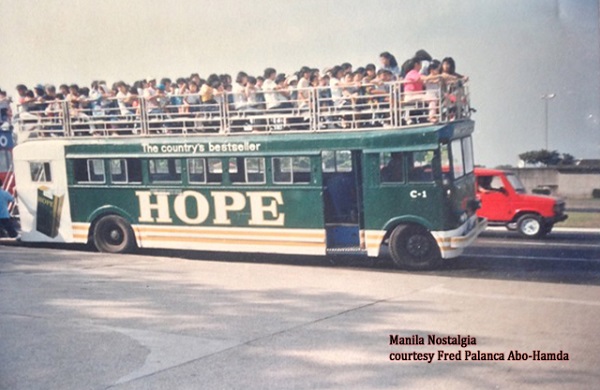 ADVERTISEMENT - CONTINUE READING BELOW ↓
Recommended Videos
The route of the Matorco buses ran from the 13th and Chicago Street in the Port Area of Manila, near the Anda Circle, all the way along Roxas Boulevard—then known as Dewey Boulevard—up to the Redemptorist Church in Baclaran, and vice versa. Tourists could get off around six designated spots along the way, said Gopal, including, of course, Aristocrat Restaurant (the old resto has been serving its cult-classic barbecued chicken since 1936). Plus, you can just imagine the sea views before part of the area was turned into reclaimed land under the Marcos regime.
By the mid-'70s, the fare was set at just 20 centavos, according to Gopal. You could spot the Matorco buses carrying folks across the scenic Roxas Boulevard until as late as 1994. By that time, pollution and congestion probably made a leisurely sightseeing trip on Roxas Boulevard a bit difficult. Most of these buses weren't originally built as double-deckers, either, and the open-air second level was usually made through modifications.
MMTC double-deckers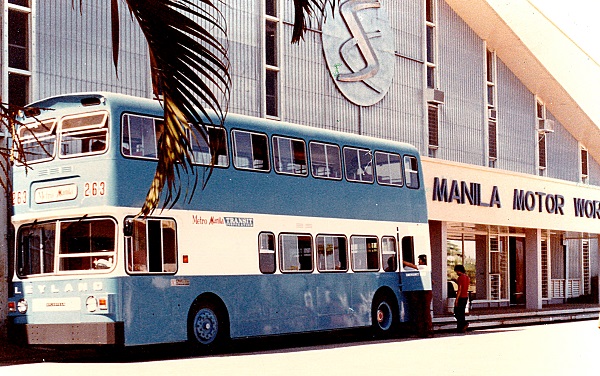 ADVERTISEMENT - CONTINUE READING BELOW ↓
Then, in the early '80s, the first legitimate double-decker buses were brought to Metro Manila. You might remember the good old 'Love Bus' line: It was publicly owned by the Metro Manila Transit Corporation (MMTC), a body created in 1974 through an executive order by then-President Ferdinand Marcos. The Love Bus line itself was an idea by his wife Imelda, and was the first air-conditioned service around—a real luxury back then.
Contrary to popular belief, these double-decker buses were technically not part of the Love Bus line. The MMTC "started with a fleet of regular buses, but eventually developed the air-conditioned Love Bus and then the double-decker buses," explained Ned Reyes in an exchange with SPOT.ph. Reyes is the grandson of Pedro R. Reyes, who in 1928 founded the Manila Motor Works, the same company that eventually became responsible for assembling the double-decker buses for MMTC. Reyes worked with his father, Fernando 'Nanding' Reyes, to get the buses on our roads.
The Love Buses were Hino air-conditioned units imported from Japan."They were developed to encourage private car riders to ride in what was then a luxury: air-conditioned buses. The double-deckers were non-air-conditioned units meant for the general riding public," said Reyes. That wasn't the only difference between the two types of buses, as building a double-decker bus is a whole other story, he added.
"At that time, Hong Kong and Singapore were already using double-decker buses for city transit. Manila wanted to do the same because of the obvious advantage," Reyes explained. According to him, it was likely that their company was tapped by MMTC since they had the largest capacity of the time: "At one point, we were producing one bus per day."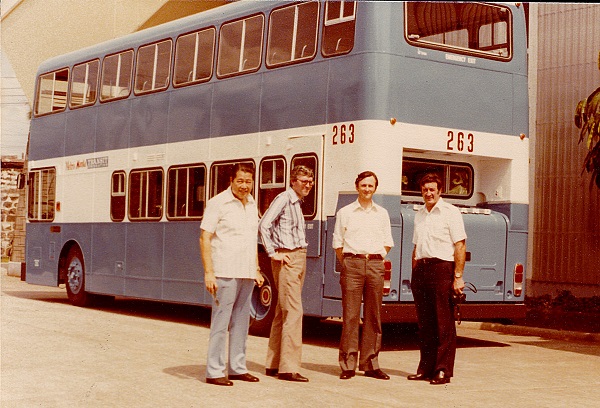 ADVERTISEMENT - CONTINUE READING BELOW ↓
It also helped that they were pretty much chosen by Walter Alexander Ltd., a company based in Falkirk, Scotland, from which the bus body would come from: "The Walter Alexander people visited all the potential assemblers in the Philippines and they declared that they would only offer warranty on the double-deckers assembled by Manila Motor Works."
And so in the summer of 1980, Reyes accompanied his uncle, Ponciano Reyes, on a trip to the Walter Alexander factory in Scotland—where they were met by people with incredibly thick accents."Scottish Brogue, they call it," he said. But luckily for Reyes, his love for a popular science-fiction series saved him: "I could understand it because I was a fan of Star Trek and I was familiar with Scotty's speech."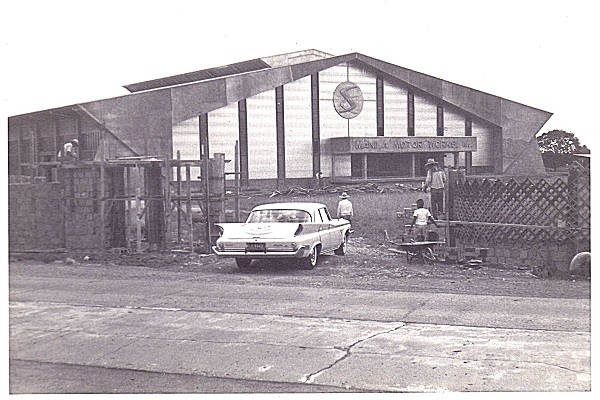 By 1981, assembly had begun in the Manila Motor Works plant in Balagtas, Bulacan. The bus bodies, Atlantean Models, were brought in from Walter Alexander and built on chassis from the British Leyland. A total of 22 units were built—but not completely without a hitch. "After we assembled the double-deckers, we found out that the buses were a few inches taller than the door," Reyes recalled. "We aired out the tires, which gave us just enough clearance. We pushed them out of the building slowly, then simply aired up the tires again."
These double-decker buses then plied several routes in Metro Manila, including EDSA. "The favorite seats were the front seats in the second level. You were like a driver with no control of the vehicle," Reyes said.
But why didn't these buses last? Reyes remembers a conversation between the MMTC executives and his father. "Saan ka naman nakakita ng bus company with a dozen different brands with a dozen different specifications and a dozen different sets of replacement parts?" he pointed out. At the time, the Philippines was receiving a lot of foreign aid, "but it came in the form of commodity purchases. For example, France might give us a grant that came in the form of credit to buy French products. That is how we ended up with 10 Berliet units," Reyes continued, referring to a somewhat"obscure" French manufacturing line. All of this worked against "the first rule of transit operations, standardization."
ADVERTISEMENT - CONTINUE READING BELOW ↓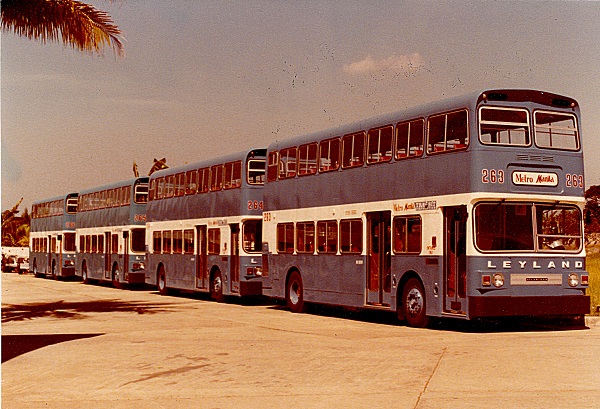 With all the different parts and units coming in, "they did not have any aftermarket support. No parts. So, over time you would cannibalize one unit after another to keep the other units going, until you get down to zero." And with only 22 double-decker buses plying the rough Metro Manila roads, it didn't take long until they disappeared entirely.
The MWW itself shut down in 1990. "In the '70s, the government supported [the] local industry, and we, together with the other companies in our field, prospered. But by the mid-'80s, the government allowed, even colluded, with the importation of cheap new and used buses and trucks from China and Korea," said Reyes. He was, at the time, studying in Japan and was meant to take over the business. "But my father told me, 'Huwag ka nang umuwi, wala ka nang uuwian.'"
So, now you might see one of those sleek-looking double-decker buses going from point A to point B along EDSA—but there is definitely not enough of them to really make an impact for the average commuter. "A double-decker bus uses the road space of three cars and carries over 100 passengers," said Reyes on the MMW Facebook page in relation to Metro Manila's traffic problems. "Even with the relatively modest figure of putting 100 double-decker buses on EDSA, what would the net replacement loss of 100 buses do for the traffic in EDSA? How about 200 double-deckers replacing 400 buses? How will that improve the traffic?"
These are indeed questions worth pondering. He also mentions the need to "reposition overhead power lines, wires, and even overpasses to make this happen." But until we see more units and more accessible double-deckers back on our roads, it will remain a commuter's dream.
NOTE: This article first appeared on Spot.ph. Minor edits have been made.