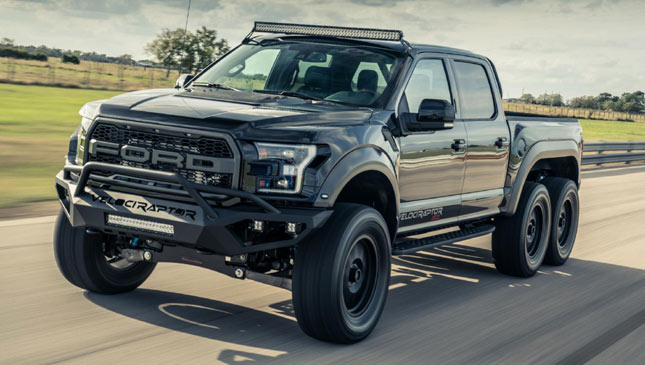 Why does anyone need six wheels?
Well, it's a long-held philosophy that more wheels are better. It's simple math. More wheels equal more rubber, more traction and more social status. A theorem that finds purchase down in Texas, home of tuning outfit Hennessey Performance, which has added an extra axle and pair of wheels to a Ford Raptor. And by that, we of course mean the company's own rambunctious VelociRaptor.
What's a VelociRaptor?
First, it's just one of the best car names ever. Second, it's the latest Ford F150 Raptor—with a 450hp/691Nm 3.5-liter twin-turbo V6 as a base—turned up to either 500, 600 or 700hp courtesy of Hennessey, depending on how much you have in the bank.
For ease and reliability, this 6x6 version gets the 600hp package with an increased 843Nm of torque that sees 100kph in under five seconds. Note the size of the vehicle. Note the number of wheels. Now marvel at the physics for this feat.
The tuning comes via a new high-flow air induction system, Stage 1 Twin Turbo upgrade, bigger intercooler, and a remapped ECU to tickle some more performance out of that blown six-pot. To get another 100hp, you'll need a Stage 2 turbo kit, stainless steel turbo manifolds and wastegates, even better intercooling, twin blow-off valves (which will please the kids), and even more ECU fiddling.
While there's sadly no V8, the 600hp truck gains a new stainless steel cat-back exhaust system, so it sounds pleasantly fruity.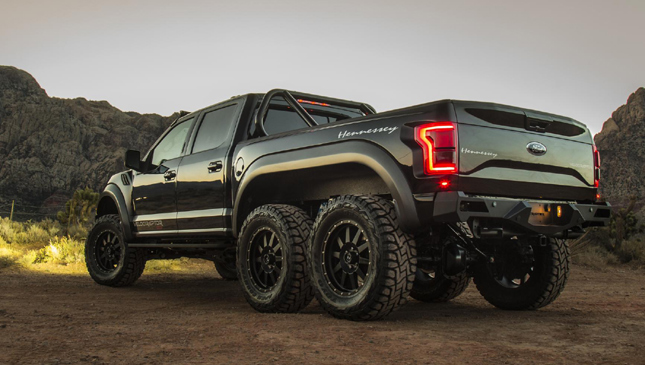 ADVERTISEMENT - CONTINUE READING BELOW ↓
So how has he added the other two wheels?
With the help of an angle grinder and some Texan engineering. The middle axle is exactly where the rear wheels sit on a normal Raptor. John and his team have then grafted an extra two and a half feet further back by getting a custom made nine-inch axle, then inverted a hefty leaf spring that can accommodate both wheels on one pivoting hub without them clapping together like a Newton's cradle. Drive is fed to the rear four wheels which are permanently locked (good for rock crawling) via the standard ten-speed gearbox (yes ten) and a transfer case packed with magic.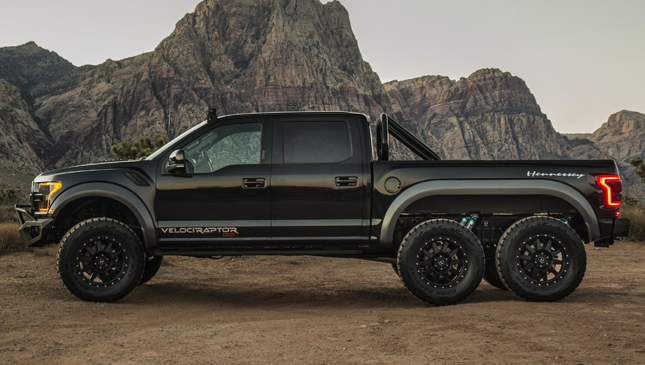 Are there any other modifications?
Sure are. You also get new exhaust tweaks, an upgraded front-mounted intercooler, and a flash of the ECU to give more grunt and goodness. Then there are the options: a Brembo front and rear brake upgrade (highly recommended if you're juicing up the power), larger wheels and tires (beneficial if you have a large Instagram following), LED lighting upgrades, bespoke interiors, and armoring systems (if you get shot at regularly). Then there's upgraded Baja-spec Fox suspension, new 20-inch wheels, chunky off-road rubber, beefy get-the-hell-out-of-my-way front and rear bumpers, a new rollbar, and blinding LED lights.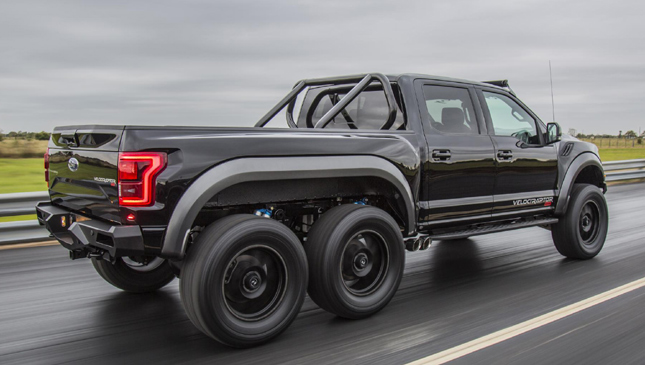 What's it like?
Really vast and wonderfully over the top. Which is exactly what people who buy these kinds of cars want; it's a status car of the highest order and makes a standard VelociRaptor seem tiny. It's largely thanks to this coal-roller's eight-inch lift kit and those extra two and a half feet in the back. It doesn't sound like much, but considering the Raptor's bed has now been swapped out for an eight-footer and then blistered with wider bodywork to fit the Raptor aesthetic, it screams presence.
But what you gain in ride height and status you lose in agility. Adding a lengthy wheelbase and those two cumbersome wheels bumps up the mass at critical points which you can instantly feel behind the wheel. It corners more lethargically and with little feedback. But having the incredibly simplistic leaf-spring suspension setup has also increased the stiffness. Where the standard Raptor impresses with its massive languid water-bed-like Fox shocks (44% bigger than the last ones), the 6x6 has the composure and compliance of an old Hilux at the rear end. Something that's amplified with no weight in the back as your lower spine has to take the brunt of whatever you're riding over, rather than the suspension itself.
ADVERTISEMENT - CONTINUE READING BELOW ↓
But you forgive it quite easily because it's hilarious. Largely through its un-truck-like performance thanks to the two bigger turbos that have been bolted onto the 3.5-liter EcoBoost twin-turbo V6. With a dyno receipt that reads in excess of 600hp it's quite a jump over standard, and you really feel it when it works with the ten-speed transmission. It also sounds quite angry thanks to an overzealous blow-off valve and drainpipe exhaust.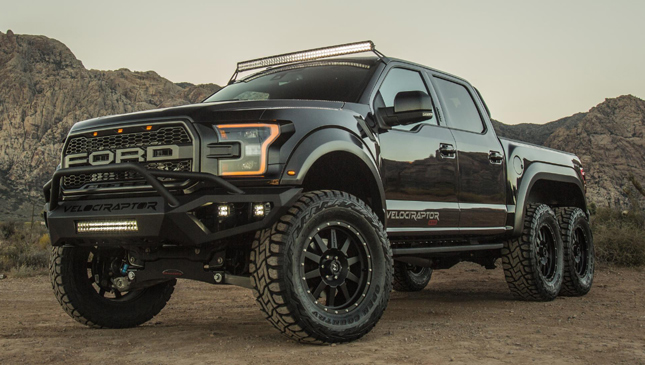 Should I buy one?
In no way is it as sophisticated or well-engineered as Mercedes' six-wheeled G63 (twin suspension for each wheel assembly, portal axles, and more diff locks than you can shake an input shaft at), but Hennessey's Raptor is a lot cheaper than the G63 6x6 yet gives off the same imperious 'mine is bigger than yours' effect. And, with only 100 ever being built, you're not likely to see many around. Especially if you don't live in Texas.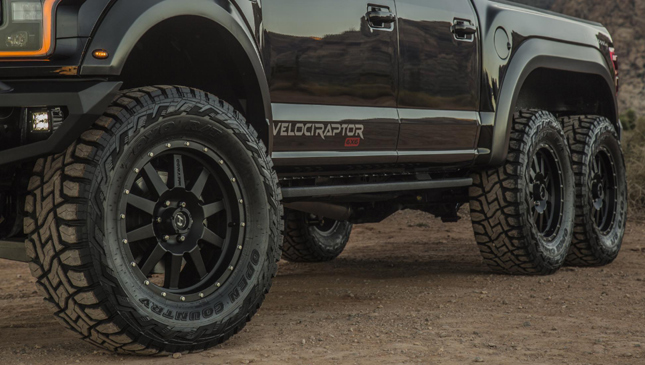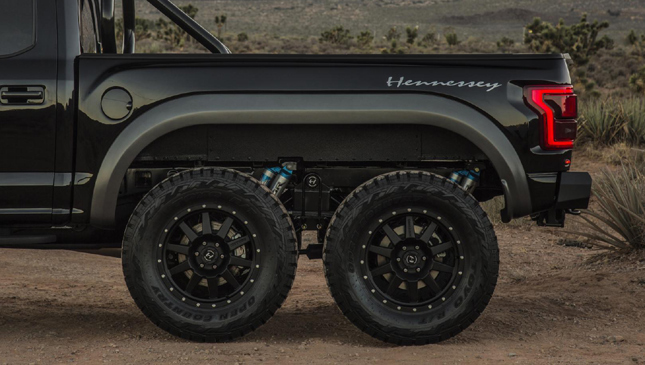 ADVERTISEMENT - CONTINUE READING BELOW ↓
NOTE: This article first appeared on TopGear.com. Minor edits have been made.