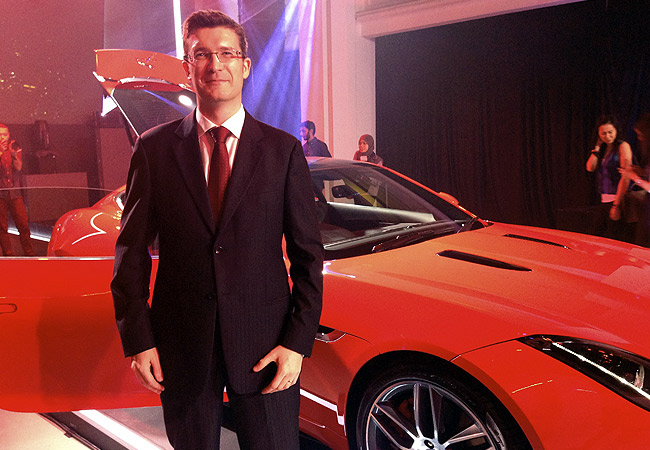 During the Southeast Asian launch of the Jaguar F-Type Coupe held in Singapore last week, where Top Gear Philippines was the exclusive Philippine media guest, we got to chat with Russell Anderson, managing director of Jaguar Land Rover Asia Pacific, about the company's stunning sports car.
We asked: Why was the convertible version of the F-Type the first to be introduced to the public, and not the coupe?
"There has always been a debate within the company about which E-Type came first: the convertible or the coupe," said Russell. "It has been a long time--some 50 years--since the E-Type. But if you ask the average man on the street about his recollection of the E-Type, he'd say it was the convertible. That was in the minds of the designers in the UK when they designed these two cars together."
Russell also shared that the F-Type had been in development for a long period. "It is a car that Jaguar struggled with," he recounted. "The designers didn't want to spoil the heritage and the image of the E-Type. They wanted the F-Type to be exactly right."
Many people say that the E-Type is one of the most beautiful cars ever made. Will the F-Type follow in those same footsteps as well?
Continue reading below ↓
Recommended Videos
"Time will tell, but I would hope so," replied Russell. "Scotsman Ian Callum and his team designed this car. And me being a Scotsman myself, I want to support what he does. He came up with an absolutely class-leading design."
The F-Type is constructed mostly out of aluminum, too. The company has been doing this kind of thing for almost 10 years now, so the construction technology has definitely matured. Russell added: "We can build a car like this now and represent Ian's vision accurately--and not have to compromise."
Which F-Type is his favorite, then?
"Each one is different, but I have a soft spot for the coupe, particularly its rear," he answered. "It is just beauty in motion. It is quite stunning. To again answer the question about whether the F-Type will become a legend: Yes, in time. We have a classic on our hands."
Photos by Paulo Rafael Subido